PROHORMONES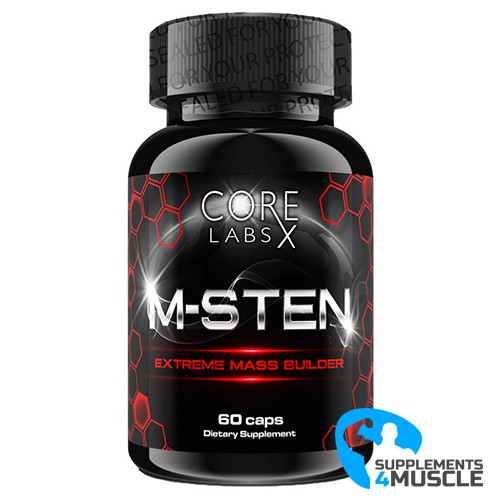 
Core Labs X M-Sten 60 caps
Increases Lean Muscle Mass
Improves Strength & Endurance
Does Not Convert To Estrogen
DESCRIPTION
COMPOSITION
DIRECTIONS OF USE
REVIEWS
DESCRIPTION
60 caps Core Labs X M-Sten
Are you searching for a powerful, but secure supplement to help boost your prostate health as well as enhance your workout routine? If so, you might want to consider Core Labs X M-Sten 60 caps as an option.
Core Labs X M-Sten 60 caps is a muscle-building and sex hormone-raising supplement created from Methylstenbolone, aka M-Sten or Ultradol, a chemically equivalent compound to 5-dihydrotestosterone (DHT).
Core Labs X M-Sten is a tremendously potent compound with great bioavailability, enabling it to augment the amount of circulating testosterone and energize anabolic signal transduction, which translates to remarkable gains in strength, circumference, and size in a limited time frame. It can concoct remarkable results, but it must be used with discernment and care, or else the possible side-effects may be detrimental. Therefore, it is only recommended for expert users.
Core Labs X M-Sten 60 caps is seen as one of the most favored bulking additions available. It encourages considerable increases in muscle size and shape as well as providing you with extraordinary energy and stamina. This supplement helps you make the most out of every weight-lifting, cardio, and strength-training session with no risks of developing skin problems such as zits, oily skin, breast swelling in men, or fluids retention.
Order Core Labs X M-Sten 60 caps now!
COMPOSITION
Serving Size: 1 Capsule
Servings per Container: 60
Amount Per Serving
NAC (N-Acetyl L-Cysteine)
350 mg
M-STEN (2,17

α-dimethyl-5

α-androsta-1-en-17

β-ol-3-one)

10 mg
Vitamin E (TPGS)
10 mg
DIRECTIONS OF USE
As a dietary supplement, take 1 capsule 1-2 times per day. Do not exceed 2 capsules in a 24 hour period and do not take for more than 6 weeks continuously without a 4 week break.
REVIEWS
There is no review
Atsiliepimas Atsiliepimas