PROHORMONES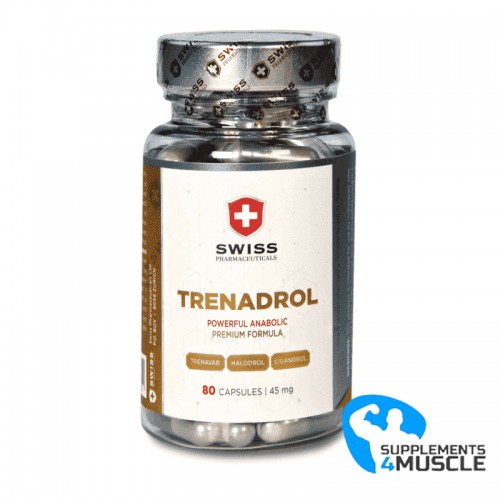 
Swiss Pharmaceuticals TRENADROL 80 caps
Mixture of two anabolic prohormones and a SARM for defined, hard muscle mass!
DESCRIPTION
COMPOSITION
DIRECTIONS OF USE
REVIEWS
DESCRIPTION
Swiss Pharmaceuticals TRENADROL 80caps
TRENADROL allows achievements such as amplified muscle strength and structure, a clear bulging of muscle bulk, heightened nutrient delivery and hard, metal-like musculature with no water retention. This is due to its advanced combination of Trenavar, Halodrol and Ligandrol, making it an unbelievably potent anabolic constituent.
Ligandrol is a phenomenal Selective Androgen Receptor Modulator, commonly known as SARMs, that produces the same effects as anabolic steroids and androgens. This SARM is extremely beneficial for fabrication of muscle mass, gives definition and definition to muscles, and helps reduce body fat.
Trenavar, a metabolite of trenbolone, is significantly more powerful than testosterone and has a middle range of androgenic potency and a tremendous anabolic effect. This can quickly lead to an increase in muscle growth, as well as stimulating your appetite, making it easy to gain mass in a brief period of time.
Halodrol, better known as H-Drol, is a compound formed from the anabolic testosterone hormone. This substance helps build lean, firm muscle while abolishing fat accumulation and water retention. As a result, muscles look more defined and vascularity is increased. Furthermore, this compound boosts libido and increases sexual drive.
Are you looking to gain a lot of lean muscle quickly and reduce fat, improve vascularity, increase libido and get more strength? Then try TRENADROL from Swiss Pharma available at Supplements4muscle!
The benefits of using TRENADROL from Swiss Pharmaceuticals are significant.
Gaining enormous amounts of muscular strength
Extreme growth of muscle size
Gaining muscular size without additional fat and bothersome water retention
Having well-defined, extremely rigid muscles
increasing sex drive and sexual appetite
Melting away of excess body fat
No accumulation of water
COMPOSITION
Serving Size: 1 Capsule
Servings Per Container: 80
| | |
| --- | --- |
| Amount Per Serving | |
| Trenavar (Estra-4,9,11 -triene-3, 17-dione): | 20mg |
| Halodrol (4-chloro-17a-methyl-androst-1,-diene-3b,17b-diol): | 20mg |
| Ligandrol | 5mg |
Other ingredients: gelatine, magnesium stereate
DIRECTIONS OF USE
Dosage: 1 capsule daily with sufficient liquid. Higher dosage for advanced users should be discussed with a doctor or specialist.
Supplements are no substitute for a healthy diet. Consumption and use is at your own risk. Take this product only if you are healthy and over 18 years old. Consult a doctor before use and do not exceed the recommended daily intake. Please do not combine this product with alcohol, drugs or medicines. This product must not be allowed to get into the hands of children. Store in a cool and dry place after opening.