PROHORMONES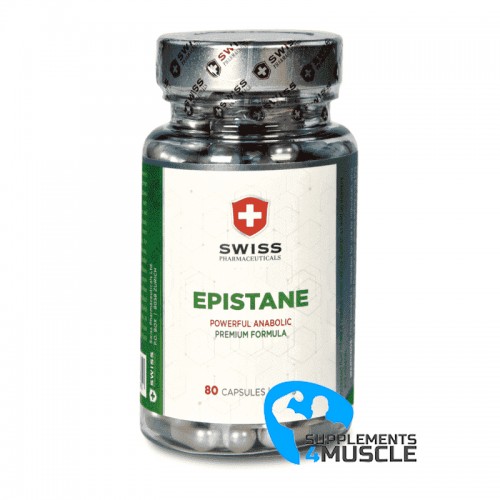 
Swiss Pharmaceuticals EPISTANE 80caps
Strong prohormone with no estrogenic side effects that helps you get hard, lean muscles and more strength and endurance.
DESCRIPTION
COMPOSITION
DIRECTIONS OF USE
REVIEWS
DESCRIPTION
Swiss Pharmaceuticals EPISTANE 80caps
Epistane is a strong prohormone that has been in use for quite some time - formerly in the popular and well-known product Havoc. The compound is a derivative of dihydrotestosterone or DHT. Swiss Pharmaceuticals EPISTANE is extremely effective and strong when it comes to improving your training.
Because Epistane is a prohormone, once it is metabolized it creates an excess of testosterone in your body. Testosterone attaches to the right receptors and provides androgenic and anabolic benefits. The prohormone epistane does not aromatize. So it does not convert to estrogen after use and you have no estrogen-related side effects.
Some of the most popular benefits of EPISTANE are:
is great during the cutting phase and will help you lose excess fat.increases muscle hardness.
helps you achieve the perfect, well-trained, muscular look.
promotes solid, dry, lean muscle growth.
pumps up your muscles without unnecessary water retention.
promotes strength gains.
improves your endurance during training.
Although the use of Epistane alone leads to fast and clear results, it is recommended to use creatine and a multivitamin preparation as support. Combining with other supplements is not for inexperienced consumers. You should therefore only use it as part of an intermediate or advanced cycle if you already have experience of taking similar products. For those who have completed earlier cycles, Swiss Pharmaceuticals EPISTANE can be stacked very well with many other supplements, including both prohormones and steroids.
COMPOSITION
Serving Size: 1 Capsule
Servings Per Container: 80
Amount Per Serving

Epistane

(2a,3a-epithio-17a-methyl-17b-hydroxy-5a-androstan)

25mg
Other ingredients: gelatine (capsules), magnesium stereate
DIRECTIONS OF USE
Dosage / Recommended Intake:
1 capsule daily with sufficient liquid. Higher dosage for advanced users should be discussed with a doctor or specialist.
Supplements are no substitute for a healthy diet. Consumption and use is at your own risk. Take this product only if you are healthy and over 18 years old. Consult a doctor before use and do not exceed the recommended daily intake. Please do not combine this product with alcohol, drugs or medicines. This product must not be allowed to get into the hands of children. Store in a cool and dry place after opening.
REVIEWS
There is no review
Atsiliepimas Atsiliepimas