SARMS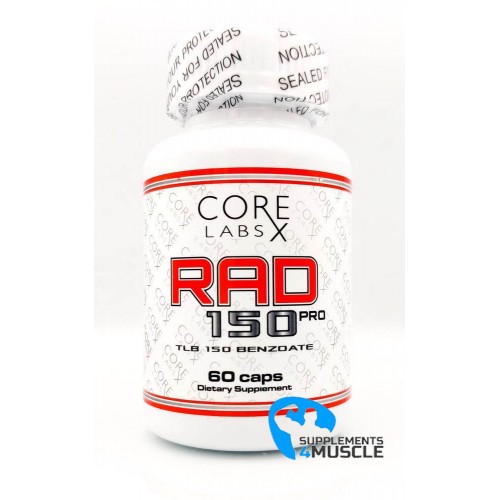 
DESCRIPTION
COMPOSITION
DIRECTIONS OF USE
REVIEWS
DESCRIPTION
Core Labs X RAD 150 Pro 60caps
Have you ever been amazed at the amount of time amateur and professional bodybuilders can train without seeming to experience a decrease in muscle performance or tiredness? Core Labs X RAD 150 Pro 60 capsules have the answer.
Core Labs X RAD 150 Pro 60 pills are well-known for their strong muscle-building and structure-strengthening powers, outpacing other exercise supplements. They can boost like steroids but with no damaging effects on the body, just like other Synthetic Androgen Receptor Modulators. The pills are perfectly safe for usage for 12-18 weeks, in cycles.
Why should you purchase Core Labs X RAD 150 Pro 60 caps? It is a highly effective muscle-building product, it won't inhibit your lipid profile, and provides support for cutting and bulking cycles. Additionally, this supplement will boost muscle development and recovery, while not causing hair loss, gynecomastia, and excess water retention. It also helps to enhance libido and helps to promote longer and more pleasurable intimate cycles. Furthermore, it leads to faster muscle development. Lastly, what sets RAD-150 apart from RAD-140 is its potency.
RAD-140 emerged as a safer replacement to testosterone therapy. Both medications have similar characteristics and purposes; however, RAD-150 is classed as an anabolic ester. The composition of RAD-150 possesses an extra group of benzoate esters that generate more alkalinity which renders it more steady. As a result, it binds more quickly to androgen receptors because its structure closely resembles regular testosterone.
RAD-150 has greater potency and a longer effect in the organism than other Selective Androgen Receptor Modulators.
Grab Core Labs X RAD 150 Pro 60 caps today and unlock the potential within yourself to amaze others in the gym!
COMPOSITION
Serving Size: 1 Capsule
Servings per Container: 60
| | |
| --- | --- |
| Amount Per Serving | |
| NAC (N-Acetyl L-Cysteine) | 350mg |
| Vitamin E (TPGS) | 10mg |
| TLB 150 Benzoate (RAD-150) | 10mg |
Other Ingredients: Ascorbic Acid, Magnesium Carbonate, Calcium Gluconate, Potassium Gluconate, Zinc Gluconate, Magnesium Stearate, Silicon Dioxide.
DIRECTIONS OF USE
Recommended dose: 1-2 capsules a day . The course is 6-8 weeks. Do not exceed 6 capsules in a 24 hour period and do not take for more than 8 weeks continuous use without a 4 week break between cycles.
WARNING: Not recommended for persons under 18 years of age. Consult your physician before using this product. Do not use if you have any medical condition, including but not limited to, prostate hypertrophy, cancer, heart, liver, cardiovascular, kidney, thyroid disease, high blood pressure, low HDL, or are taking any other prescription drugs. Do not use if you are pregnant or nursing. Discontinue use if you experience any adverse reaction to this product. Store in a cool, dry place, tightly closed.
REVIEWS
There is no review
Atsiliepimas Atsiliepimas