SARMS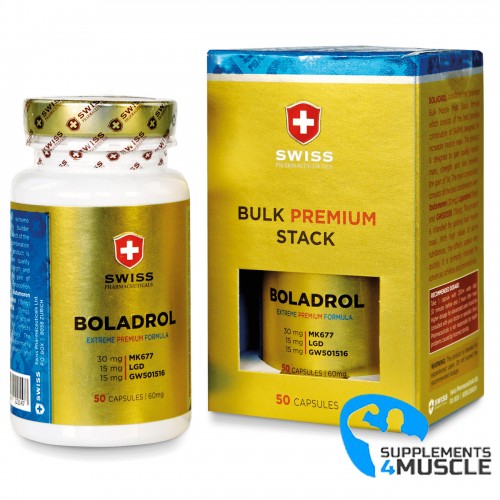 
Swiss Pharmaceuticals BOLADROL 50 caps
SARM stack for massive muscle building and fat loss, for more strength, power, endurance and an optimal metabolism
DESCRIPTION
COMPOSITION
DIRECTIONS OF USE
REVIEWS
DESCRIPTION
Swiss Pharmaceuticals BOLADROL 50caps
This Bodybuilding Supplement includes an impressive mixture of components that provide maximum help with building muscle and maximising fat loss. Its precise recipe of Ibutamoren (MK677), Ligandrol (LGD 4033) and Cardarine (GW501516) increases your metabolism and potency, potency and performance. As it is an advanced combination of items, it is not recommended for the untrained user.
SARMs stands for selective androgen receptor modulators and are compounds which bind to androgen receptors. While they have effects analogous to anabolic and androgenic steroids, they lack substantial negative consequences.
Ibutamoren (MK677) is not a selective androgen receptor modulator but rather belongs to the class of growth hormones. It works by elevating growth hormone (GH) and insulin-like growth factor (IGT-1) levels, allowing for enhanced muscle growth.
LGD-4033, more commonly known as Ligandrol, is one of the most potent SARMs available in the market for muscle growth. It offers a strong anabolic outcome with moderate androgenic effects, resulting in clean and defined muscles in only a few weeks without water retention or fat accumulation.
GW501516 (otherwise known as Cardarine) dramatically boosts a person's capability, power, and achievement, as well as spurring on burning of fat.
The perks of using Swiss Pharmaceuticals Boladrol include: the highest level of muscle growth, remarkable fat burning capability, muscular development with a well-defined physique, greater power and stamina as well as a maximized metabolic rate.
Try Swiss Pharmaceuticals' Boladrol and discover for yourself if it is one of the most efficient SARM stacks on the market! You can conveniently place your order online at Supplements4muscle.
COMPOSITION
Serving Size: 1 Capsule
Servings Per Container: 50
| | |
| --- | --- |
| Amount Per Serving | |
| Ibutamoren MK-677 (R)-1'- (2-methylalanyl-0-benzyl-D-seryl)-1-(methylsulfonyl)-1,2-dihydrospiro [indole-3,4'-piperidine] | 30mg |
| Ligandrol LGD-4033 4-[(2R)-2-[(1R)-2,2,2-trifluoro-1-hydroxy-ethyl] pyrrolidine-1-yl]-2-(trifluoromethyl) bezonitrile | 15mg |
| Cardarine GW 501516 2-(4-((2-(4-(Trifluoromethyl) pheny)-5-methyl/-thiazol-4-YL)methytio)-2-methylphenoxy)acetic acid | 15mg |
Other ingredients: gelatine (capsules), magnesium stereate
DIRECTIONS OF USE
Dosage: 1 capsule with about 250 ml of water 30 minutes before and 2 hours after training. Always start with the lowest dose to test tolerance.
Supplements are no substitute for a healthy diet. Consumption and use is at your own risk. Take this product only if you are healthy and over 18 years old. Consult a doctor before use and do not exceed the recommended daily intake. Please do not combine this product with alcohol, drugs or medicines. This product must not be allowed to get into the hands of children. Store in a cool and dry place after opening.
REVIEWS
There is no review
Atsiliepimas Atsiliepimas