SARMS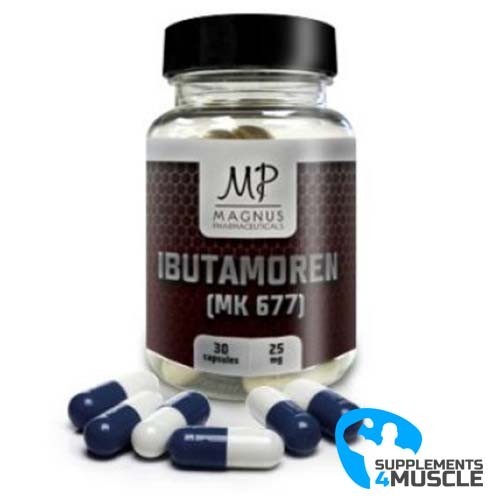 
Magnus Ibutamoren (MK 677)
Increasing GHRH (growth hormone releasing hormone) release.
Amplifying GHRH signaling in somatotrophs of the anterior pituitary gland.
Reducing somatostatin release (somatostatin turns off GH release).
Inhibiting of somatostatin receptor signaling.
DESCRIPTION
COMPOSITION
DIRECTIONS OF USE
REVIEWS
DESCRIPTION
Magnus Ibutamoren (MK 677)
Ibutamoren, also known as MK-677, stands as the most powerful and efficient module taken orally to increase growth hormone secretion. It belongs to a class of Selective Androgen Receptor Modulators (SARMs) that act as secretagogues and promote the production of GH by the pituitary gland - similarly to GHRP-6 and ipamorelin, yet without the need for injections or accompanying side effects. Royal Pharma aimed to use MK-677 as a remedy for muscle degeneration, obesity, and osteoporosis; they also hoped to use it to heal elderly hip fracture patients.
The advantages of using Magnus Pharmaceuticals MK677 include:
In an examination of the consequences on catabolic conditions, an everyday single dose of 25 milligrams of Magnus Pharmaceuticals MK677 was provided to sound younger guys exposed to brief term diet-directed nitrogen squandering. Following seven days of the amount, the members displayed a lasting increment in IGF-1 and development hormone in serum focus; Besides, the nitrogen squandering was switched around, exhibiting extraordinary capability for the treatment of conditions that include muscle wasting.
The results of a trial assessing the influence of Magnus Pharmaceuticals (25 mgs daily for 8 weeks) on curtailing obesity showed a rise in lean body mass, while neither total adipose or visceral adipose tissue was shifted. After two weeks, a growth in basal metabolic rate was recorded and blood tests indicated a higher level of growth hormone, IGF-1 and IGF-1 binding protein-third. It was theorized that the increase in lean body mass originated from the greater storage of calories in the muscle and the reduction in appetite, instead of eliminating fat storage directly.
An investigation into medicating with osteoporosis and bone mineral density demonstrated some expansion in bone thickness, implying there is a genuine effect on bone mineral thickness. Magnus Pharmaceuticals can help with injury recuperation amid your cycle.
What are the potential advantages linked to Magnus Pharmaceuticals MK677?
The use of Magnus pharmaceuticals Ibutamoren (MK 677) can help to improve sleep, complexion, energy levels, nitrogen retention, strength, and a heightened sense of wellbeing.
Research indicates that ibutamoren MK 677 can potentially boost the body's immune system response. This could mean it strengthens the immune system to some extent.
What Benefits Can You Receive from Taking Magnus Ibutamoren (MK 677)?
The powerful effects of having high levels of human growth hormone are well documented, which explains why many people seek access to HGH. That is why ibutamoren MK 677 is so powerful; it helps to raise Growth Hormone and IGF-1 levels.
Research suggests that ibutamoren MK 677 can help people achieve both bulking up and fat loss goals. It isn't as effective as injections of artificial human growth hormones (HGH), but it still can provide boosts to one's natural GH levels without having to endure daily injections. This could be an ideal solution for those looking to benefit from artificial HGH without the need for daily needles.
Magnus Pharmaceuticals provides the capability to verify the authenticity of their products via the internet. Through their product authenticity checking system, customers can be certain that they are getting an authentic Magnus Pharmaceuticals product.
COMPOSITION
Serving Size: 1 capsule
Serving Per Container: 30
Amount per serving

%DV

MK 677
(R) -1'-(2-methylalanyl-0-benzyl-0-seryl)-1-(methylsulfonyl)-1,2-dihydrospiro(indole-3,4'-piperidine)

25 mg*
Other ingredients: Gelatin (capsules), Magnesium stearate.
DIRECTIONS OF USE
Suggested use: 25 mg per day dosed once a day.
Related Blog Posts