PROHORMONES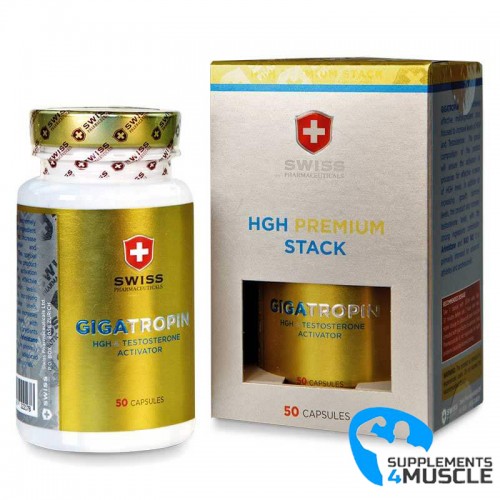 
Swiss Pharmaceuticals GIGATROPIN 50 caps
Premium Stack with 5 ultra anabolic ingredients (the SARMs RAD140, LGD-4033, MK-677 and YK11 plus the prohormone Epistane) and the estrogen blocker Arimistane
DESCRIPTION
COMPOSITION
DIRECTIONS OF USE
REVIEWS
DESCRIPTION
Swiss Pharmaceuticals GIGATROPIN 50caps
GIGATROPIN is an extremely efficient combination of components aimed at boosting muscle growth. It houses 4 SARMs, namely RAD140, LGD-4033, MK-677 and YK11, along with the prohormone Epistane, plus the estrogen blocker Arimistane to give users all the components desired for optimal performance.
If you don't wish to invest a large amount of time attempting to discern which SARMs, prohormones, and muscle building products should be taken in unison, Stacks would be your best bet. GIGATROPIN additionally supplies a smart blend of energizing, profoundly anabolic active ingredients.
GIGATROPIN Ingredients And Effects
Testolone, otherwise known as RAD 140, is a highly helpful SARM that is relatively new to the market. One of its greatest advantages is the increased level of testostron it provides and its remarkable anabolic results.
LGD-4033, also known as Ligandrol, belongs to the same class of SARMs as anabolic steroids, but with the advantage of having no adverse side effects. Taking Ligandrol is known to substantially increase muscle mass while simultaneously reducing body fat.
Ibutamoren, which is also known as MK677, is valued for its capacity to reduce body fat and promote the development of muscle mass and strength. It works by boosting the natural hormones in the body, including the growth hormone IGF-1.
YK11 is a strong myostatin inhibitor. It reduces myostatin levels, as an elevated level obstructs muscle growth.
Epistane is like an anabolic steroid in that it induces significant muscle development and boosts protein synthesis, allowing customers to bulk up even when dieting.
Arimistane can be extremely helpful since it suppresses the conversion of testosterone into estrogen and cuts down the amount of estrogen found in the body. This helps to promote muscle growth, as well as having highly effective anti-catabolic effects.
The benefits of using Swiss Pharmaceuticals GIGATROPIN include:
A huge growth in muscle size and strength due to combining four SARMs, one prohormone, and the Arimistan aromatase inhibitor. This combination will not only create sizable muscle gains, but also provide an anti-catabolic effect and reduction of body fat. Additionally, it will result in greater power and pump.
The GIGATROPIN provides a powerful combination of supplements to help you build muscles quickly.
You should always keep Cycle Support in mind when employing prohormones and combinations.
COMPOSITION
Serving Size: 1 Capsule
Servings Per Container: 50
| | |
| --- | --- |
| Amount Per Serving | |
| Arimistane | 40mg |
| Epistane | 10mg |
| RAD 140 | 5mg |
| LGD | 10mg |
| MK 677 | 15mg |
| YK11 | 4mg |
Other ingredients: gelatine (capsules), magnesium stereate
DIRECTIONS OF USE
Dosage: 1 capsule before training and/or 1 capsule daily with meal. Always start with the lowest dose to test tolerance.
Supplements are no substitute for a healthy diet. Consumption and use is at your own risk. Take this product only if you are healthy and over 18 years old. Consult a doctor before use and do not exceed the recommended daily intake. Please do not combine this product with alcohol, drugs or medicines. This product must not be allowed to get into the hands of children. Store in a cool and dry place after opening.