PROHORMONES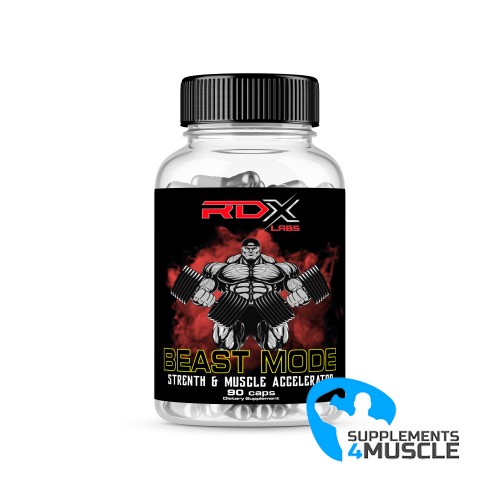 
RDX Labs Beast Mode 90caps
BUILD MUSCULAR & WELL-BUILD MUSCLES
PROMOTE A MASSIVE/ COMPACT FIGURE
PRO-ANABOLIC FORMULA
DESCRIPTION
COMPOSITION
DIRECTIONS OF USE
REVIEWS
DESCRIPTION
RDX Labs Beast Mode 90caps
The supplement Beast Mode is a combination of prohormones and therapeutic herbs which can generate a buff, strongly built physique. This strong supplement is advisable for experienced bodybuilders, and folks who desire very powerful skeletal muscle.
"Being in Beast Mode is like having a powerful beast residing in a form that appears humble, that will help create ultra-strong muscles!".
It is clear to see the results that this produces. When you utilize it, you can have peace of mind that your liver will be safe due to the incorporation of Uva Ursi and Milk Thistle.
L-arginine-alpha-ketoglutaric acid (AAKG) is essential to produce nitric oxide (NO). NO can activate the blood vessels' endothelium, boosting blood circulation to the muscles which then receive more oxygen, nutrients, and anabolic hormones. This also increases muscle growth and training intensity. Additionally, taking AAKG has been associated with an increase in growth hormone levels, muscle protein anabolism, sexual performance, and improved immunity. Long-term consumption has even been associated with stable blood pressure.
Uva Ursi, commonly referred to as Bearberry, is known for its therapeutic benefits due to substances such as gallic acid, choline, and isoquercetin. This mild diuretic helps to purify the body from metabolic by-products and toxins, as well as battle the destructive impact of free radicals. The compounds act together to cause the body to rid itself of toxins when passing urine, which is advantageous for internal mechanisms too and enables improved muscularity when eliminating extra water from the body.
Milk Thistle has been observed to boost digestive functioning and protect the liver from the adverse effects of alcohol and tiny toxins. Its antioxidant qualities are beneficial for guarding against cirrhosis of the kidney and heart. Furthermore, it works to reduce the levels of bad cholesterol in the bloodstream, often serving as an alternative to traditional therapies for hypercholesterolemia. Additionally, it impedes the formation of gallstones and deposits, moderating the metabolic rate of lipids, which is effective in stalling the growth of epidermal keratosis. This plant is a great choice for individuals who have been vulnerable to hazardous chemicals, habitually take drugs, and contract hepatitis. It is also prescribed to target acne and psoriasis.
Hexadrone does not tax the liver, making it possible to mix it with different prohormones. It provides gains that are almost the same as epistane and halodrol, but with a decreased possibility of adverse effects. When compared to androgens, it has an anabolic strength ratio of 300 to 1 and assists in developing lean muscle, increased power, and better perseverance without the concern of water preservation or gynecomastia, as it can not be changed over to estrogen.
This relatively novel prohormone known as Protomax is known for carrying minimal liver impact due to its methylated state. Protodrol/Protomax is further known to have comparatively few side effects and have been found to be responsible for producing significant gains in both strength and lean muscle mass.
Methyldiazirinol is known for its high anabolic ratio, low androgenic levels, and strong resemblance to anavaru. It works like a more potent version of cynostane, effectively causing an increase in pure muscle mass.
COMPOSITION
Servings per container: 45
Serving size: 2 capsules
Ingredients
2 capsules

L-Arginine Alpha Keto Glutarate (AAKG)

1000 mg

Uva Ursi (Leaf) (Arctostaphylos Uva-Ursi)

400 mg

Milk Thistel (80% Silymarin)

200 mg

Hexadrone

6a-Chloro-androst-4-en-17b-ol-3-one

25 mg

Protomax

17a-methyl-5a-androst-17b-ol

25 mg

Methyldiazirinol

3,3-azo-17a-methyl-5a-androstan-17-b-ol

20 mg
Other Ingredients: Magnesium Stearate, Rice Flour, Gelatin (Capsule)
DIRECTIONS OF USE
Dosage: 2 capsules once a day
REVIEWS
There is no review
Atsiliepimas Atsiliepimas