PROHORMONES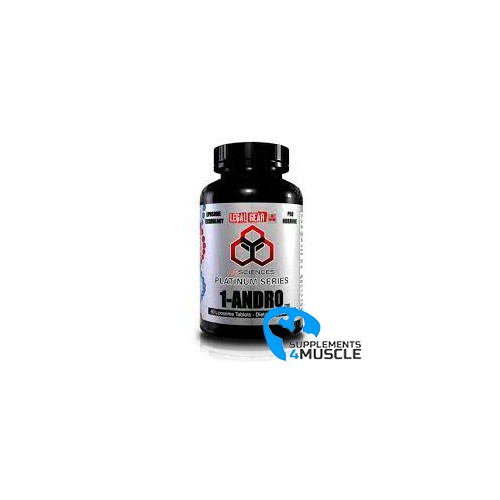 
LG Sciences 1-ANDRO 60tabs
Good for Cutting
Increases Vascularity
Cyclosome Technology
Improves Muscle Mass and Strength
DESCRIPTION
COMPOSITION
DIRECTIONS OF USE
REVIEWS
DESCRIPTION
Attention! Product expiration 2022-08-31
LG Sciences 1-ANDRO 60tabs
LG Sciences 1-Androstenolone (1-DHEA) presents one of the most reasonably powerful and legally allowed bodybuilding prohormones and testosterone build-up enhancers on the market at this time. Generally, when prohormones like 1-Androstenolone are taken orally, the body transforms only around 1.5-3.0% of the hormone. But because of LG Sciences' Cyclosome Technology, active prohormones like 1-Androstenolone can now be almost entirely bioavailable, therefore making a highly anabolic environment in the body and thwarting enzymes that damage these hormones.
1-ANDRO, or 1-androstenolone, is a naturally occurring androgenic sex hormone that comes from DHEA isomer and cannot convert to estrogen or DHT. Instead, it transforms into 1-testosterone, a compound that does not contain estrogen. Since 1-Androstenolone has anti-estrogenic effects, it is the best supplement for weight loss. Moreover, it improves the androgen to estrogen ratio without causing side effects.
What should I anticipate?
Rapid increase in lean muscle mass 
Greater ability and power 
Heightened libido 
More positive emotional state 
Upbeat natural energy 
Stimulating anabolic activity 
Faster recuperation 
Minimal water storage 
Opposing of estrogenic effects
COMPOSITION
Serving Size: 1 tablet
Servings Per Container: 60
1 capsule
3b-Hydroxy-androst-1-ene-17-one
50mg
Other Ingredients: Microcrystaline Cellulose, Phosphatidylcholine 75%, Hydroxypropyl, beta cyclodextrin, Phytostrols, Magnesium Stearate, Silica, FD&C Blue 2, FD&C Red 40.
DIRECTIONS OF USE
Directions: Take 2-4 tablets per day in divided doses with or without food. Do not exceed 4 tablets per day
FOR MEN OVER 21 ONLY!
REVIEWS
There is no review
Atsiliepimas Atsiliepimas