PROHORMONES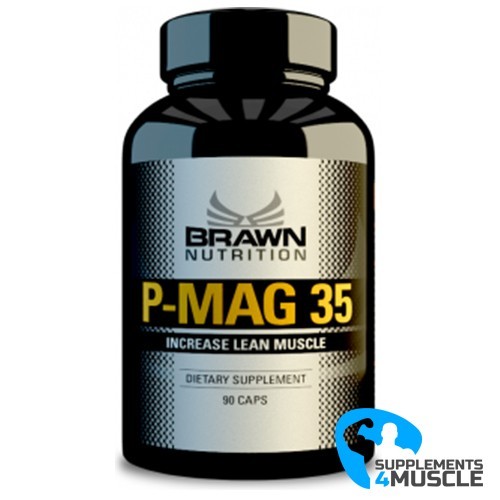 
DESCRIPTION
COMPOSITION
DIRECTIONS OF USE
REVIEWS
DESCRIPTION
Brawn P-Mag 35
Brawn P-Mag 35 is a weak anabolic steroid that promotes the development of muscle tissue, bone mineralization, fat breakdown, and red blood cell creation. Despite having almost the same strength of testosterone, its androgenic effects are limited. It can result in minor side effects due to conversion to dihydroxytestosterone, especially when misused.
This compound, due to its 4-chloro group, is not conducive to the process of aromatization, which is the conversion to estrogens. This helps to reduce any negative effects, such as reduced sex drive, the retention of fluids, unwanted fat buildup, or development of breast tissue in males.
The methyl group on the 17-alpha carbon of Chloromethylandrostenediol makes it able to withstand metabolism by the liver, meaning it remains in the body longer and works effectively over a greater period of time.
P-MAG 35 is a gentle anabolic-androgenic supplement that encourages the development of muscle tone and the reduction of unwanted fat, resulting in a densely muscled and defined build. Because of its meager side effects and instantly observable effects, it would be perfect for newbies and an ideal addition to more sophisticated training regimens.
A typical massing diet over a five-week period with a 75mg dose can produce weight increases of 5-7kg. A recomposition diet over the same cycle with the same dose could result in 3-5kg increments with a 1-2% reduction in body fat. A typical reduction diet over five weeks at 75mg might cause 1-2kg increments with a 2-3% decrease in body fat.
COMPOSITION
Serving Size: 1 Cap
Servings Per Container: 90
| | |
| --- | --- |
| Ingredients | Per Serving |
| 4-chloro-17a-methyl-andros-4-ene-3b, 17b-diol | 35 mg |
Other Ingredients: Rice flour, Gelatine (capsule).
DIRECTIONS OF USE
As a dietary supplement, take 2-4 capsules per day for 4-6 weeks.
REVIEWS
There is no review
Atsiliepimas Atsiliepimas