PROHORMONES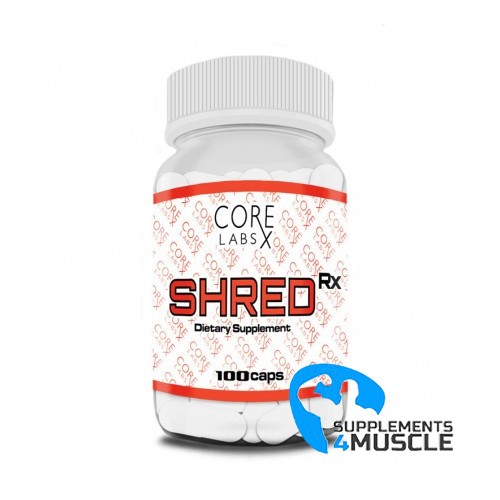 
DESCRIPTION
COMPOSITION
DIRECTIONS OF USE
REVIEWS
DESCRIPTION
Core Labs X Shred RX 100caps
Core Labs Shred RX is a superior drug for fat loss and building lean muscle mass, which consists of 3-2-pyrazole-5alpha-etioallocholan-17-beta-tetrahydropyranol, also known as 17beta-hydroxy-5alpha-androstano [3,2-c ] pyrazole. With the addition of vitamin E TPGS and NAC to the product, liver function is improved and the regenerative impact is increased. Taking Shred RX allows you to achieve dry and dense muscles, while eliminating any additional fat. The American brand Cor Labs Shred RH promotes muscle growth, increasing blood circulation as well as sexual drive. The drug supplies muscles with the energy and strength necessary to endure intense and repetitive sets in preparation for competitions. Shred rx does not demonstrate any estrogenic activity, making it a safe option during intake.
The supplement is recommended for athletes and amateurs who train to prepare the muscles of the maximum, competitive shape!
Core Labs Shred RX contains N-Acetyl Cysteine (NAC), a modified form of cysteine that is connected to an acetyl group. This has the ability to boost the amount of antioxidant glutathione in the body, lessening tissue damage at the cellular level, speeding up the post-injury rebuilding and enabling more lean muscle growth. Reducing cellular damage is also associated with decreasing the speed of aging. There is also evidence that NAC binds and clears out the toxic by-products that are generated as a result of steroids going through the liver.
Prostanozol is a derivative of DHT that can significantly raise the amount of testosterone in a person's body. This raises anabolism, or the building of muscle, and positively impacts nitrogen levels in the muscle cells. It metabolizes into Winstrol in the body. Users of Prostanozol may expect to gain quality muscle mass with little fat or water retention. Although this drug is reliable, it requires close attention and commitment to use.
Vitamin E TPGS is an advanced form of the indispensable nutrient natural vitamin E, utilized as a solubilizer and absorptive enhancer. Not only that, it also serves as an antioxidant. In addition, it can be used both as a therapeutic source of natural vitamin E and in nutritional supplements.
COMPOSITION
Serving Size: 1 capsule
Servings Per Container: 100
| | |
| --- | --- |
| Ingredients | per serving |
| NAC (N-Acetyl L-Cysteine) | 350mg |
| Prostanozol (2-c pyrazole-5alpha-etioallocholan-17beta-tetrahydropyrano 1-stanozolol) | 50mg |
| Vitamin E (TPGS) | 10mg |
Other Ingredients: Magnesium Stearate, Silicon Dioxide, Magnesium Carbonate, Calcium Gluconate, Potassium Gluconate, Zinc Gluconate
DIRECTIONS OF USE
As a dietary supplement take 1 capsule 1-3 times per day. Do not exceed 3 capsules in a 24 hour period and do no take for more than 6 weeks continuously without a 4 week break.
REVIEWS
There is no review
Atsiliepimas Atsiliepimas