PROHORMONES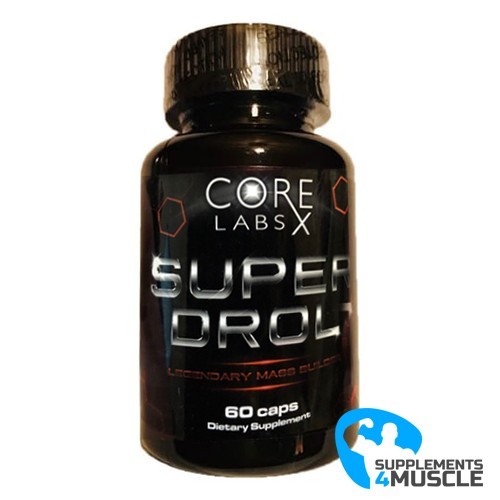 
Core Labs X SuperDrol 60 caps
Extreme Lean Muscle Mass Builder
Increased Muscle Hardness & Density
Incredible Strenght & Endurance
DESCRIPTION
COMPOSITION
DIRECTIONS OF USE
REVIEWS
DESCRIPTION
Core Labs X Super Drol
Core Labs X Super Drol can be an intense supplement for athletes who are dedicated to gaining muscle mass and strength quickly. It produces maximum muscle mass without adding adipose tissue when taken with a caloric diet high in carbohydrates. Eating foods rich in protein, carbohydrates, and essential fatty acids (EFAs) will produce great results. When preparing meals, make sure to include clean calories such as complex carbs.
It's important to have a high carbohydrate intake when taking Superdrol because it can boost glycogen stores. Take extra precaution with this methylated compound by using liver protection products like silymarin or NAC. New users should start with a low dose, maybe around 20mg, for a 3-4 week cycle. Don't exceed this length of time. With the right protective measures, a 4-5 week cycle can be used.
Go with Core Labs X Super Drol if you don't ever want to accept anything but top-notch performance-enhancing supplements. This dietary supplement from Core Labs rapidly enhances your gains. It's famed for creating large amounts of muscle, vigor, and muscle strength with no problems like water gain, puffiness, oily skin, pimples, or hair loss. A great reward of Core Labs X Super Drol is that it improves the amounts of nitrogen retention and protein blend, making it safe, speedy and easy to develop libido and testosterone levels. With Core Labs X Super Drol, you can modify your individual lifestyle and the strength, level and length of close gatherings. Perfect for both decreasing and building bulk cycles, Core Labs X Super Drol fortifies muscle and causes solidifying of the form. Upgrade the nature of your extreme exercise, cardio, and quality preparing meetings with the simple and secure Core Labs X Super Drol. Add to your body fat and arrive at greatest muscle mass in a high-calorie climate with Core Labs X Super Drol. Request Core Labs X Super Drol now and get ready to release the past the sight of Hulk in you.
COMPOSITION
Serving Size: 1 Capsule
Servings per Container: 60
| | |
| --- | --- |
| | Amount Per Serving |
| NAC (N-Acetyl L-Cysteine) | 350 mg |
| Superdrol (2a, 17a-dimethyl-etiocholan-3-one-17b-ol) | 10 mg |
| Vitamin E (TPGS) | 10 mg |
Other Ingredients: Magnesium Stearate, Silicon Dioxide, Magnesium Carbonate, Calcium Gluconate, Potassium Gluconate, Zinc Gluconate.
DIRECTIONS OF USE
As a dietary supplement, take 1 capsule 1-2 times per day. Do not exceed 2 capsules in a 24 hour period and do not take for more than 6 weeks continuously without a 4 week break.