PROHORMONES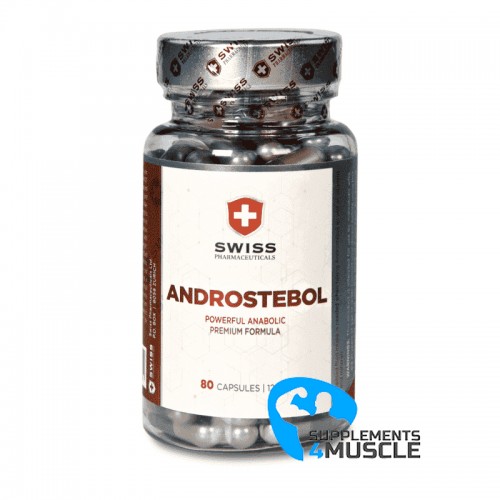 
Swiss Pharmaceuticals ANDROSTEBOL 80 caps
1-Andro: The prohormone for advanced athletes who want maximum muscle growth without fat and water retention!
DESCRIPTION
COMPOSITION
DIRECTIONS OF USE
REVIEWS
DESCRIPTION
Swiss Pharmaceuticals ANDROSTEBOL 80caps
If you want the highest grade of Androstebol (1-androstene-3b-ol,17-one), then Swiss Pharmaceuticals is the best option. This is because of its exceptional purity and lack of extra ingredients.
Warning: Because of its strong impact, 1-Andro is not meant to be used by inexperienced people. We refer to it as the most powerful oral anabolic compound for a reason, so only users who have some experience should attempt using it. Start out with smaller doses when you first use it in order to test the effects.
1-Andro is ideal due to its higher level of anabolic activity relative to testosterone - about 700% more powerful. As a DHEA byproduct, it also has very low androgenic effects and suppression of estrogen, so you won't end up with more fat or water weight as you increase muscle mass.
Do you wish to acquire a large quantity of dry muscle mass? Purchase Androstebol from Swiss Pharma here in our Online-Shop!
Benefits Of ANDROSTEBOL:
Gaining an extremely large amount of muscle with minimal fat and no water retention, resulting in defined, hard muscles, an improved sex drive, and a decrease in body fat.
COMPOSITION
Serving Size: 1 Capsule
Servings Per Container: 80
Amount Per Serving

Androstebol

(1-androstene-3b-ol,17-one)

12mg
Other ingredients: gelatine (capsules), magnesium stereate
DIRECTIONS OF USE
Dosage / Recommended Intake:
1 capsule daily with sufficient liquid. Higher dosage for advanced users should be discussed with a doctor or specialist.
Supplements are no substitute for a healthy diet. Consumption and use is at your own risk. Take this product only if you are healthy and over 18 years old. Consult a doctor before use and do not exceed the recommended daily intake. Please do not combine this product with alcohol, drugs or medicines. This product must not be allowed to get into the hands of children. Store in a cool and dry place after opening.
REVIEWS
There is no review
Atsiliepimas Atsiliepimas