PROHORMONES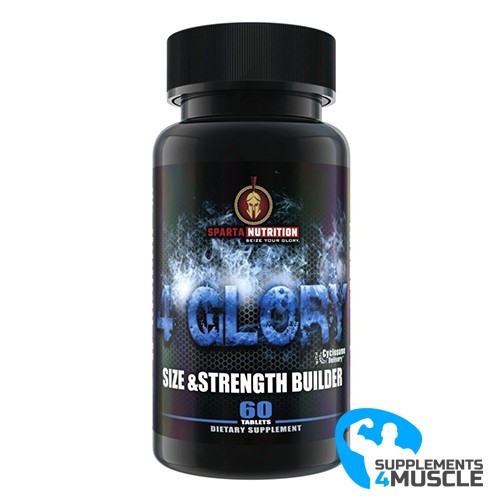 
Sparta Nutrition 4 Glory
Cyclosome Technology for increasing the bioavailability of the compound by 90%
One of the most effective prohormones available on the market
Has a quite limited impact on the user's organs
Improves physical performance
Promotes well-being
Promotes recovery
Boosts libido
DESCRIPTION
COMPOSITION
DIRECTIONS OF USE
REVIEWS
DESCRIPTION
Sparta Nutrition 4 Glory
Sparta Nutrition 4 Glory is a dietary supplement which contains one of potentially the best prohormones, 4-Andro (4 androstene-3b-ol, 17-one), one of the metabolites of dehydroepiandrosterone (DHEA). What is more, it is indicated as an improved form of this compound because a different position of the double bond is associated with decreased affinity for estrogen receptors. It is a precursor of testosterone (at two stages – at first it is converted into 4-androstenedione or 4-androstenediol and finally directly into testosterone). In a nutshell, 4-Andro is a "testosterone base", as a single product or combined with other prohormones.
4-Andro supplementation may show numerous positive effects on the body:
It increases free testosterone levels – the basic and key feature of 4-Andro. Testosterone is a primary male hormone and its normal levels are essential to healthy development and maintaining male personality traits. It is responsible for development of male sex characteristics and normal homeostasis in the male reproductive system. It boosts libido and has an anabolic effect (stimulates muscle protein synthesis).
It reduces cortisol levels – it improves DHEA/cortisol ratio which regulates levels of cortisol in the case of its excess production (hypercortisolism). A decrease in cortisol levels has an overall impact on reducing stress. It is especially essential to reducing the effect of neurosis, depression and other neurological disorders.
It has a positive impact on the cardiovascular system – it has a protective effect on endothelium of blood vessels (by interacting with G protein-coupled receptors which consequently boosts levels of nitrogen oxide and cGMP). Because of its potential ability to convert into oestrogen in the case of its deficiency, DHAE may also improve the body's lipid profile.
It helps control body mass – studies show a decrease in calorie intake, especially those derived from fat, due to greater satiety. This effect results from the regulation of the function of PPAR receptors in adipocytes and modulation of the activity of SREBPs and ALBP.
It improves mood – as a result of increased secretion of beta-endorphins and other neurosteroids responsible for feeling of happiness. This effect is said to be very important for adrenal insufficiency.
It has a positive impact on the nervous system – studies indicate that DHEA has a similar action to neurosteroids (compounds which affect neuronal excitability). It may also contribute directly to promoting well-being and be an element of treatment for posttraumatic stress disorder (via the mechanism improving connections between the hippocampus and amygdala). Increased DHEA levels have also a positive effect on cognitive functions.
It improves bone tissue density – emergency DHA supplementation mitigated this effect in the event of diseases associated with decreased bone density.
To sum up, Sparta Nutrition 4 Glory is a very interesting suggestion for men seeking effective support for testosterone balance in the body. It will work especially in the case of naturally low testosterone levels without the need to struggle with typical steroid cycles. Apart from boosting testosterone levels in the body, the product has been also shown to provide support for the whole body, especially the nervous system.
COMPOSITION
Serving Size: 1 Tablet
Servings per Container: 60
Amount Per Serving
4-Androsterone
4 androstene-3b-ol, 17-one
115mg
DIRECTIONS OF USE
As a Dietary Supplement, take 1 tablet twice a day. Dosed evenly throughout the day. Do not exceed the recommended dosage in a 24 hour period.
REVIEWS
There is no review
Atsiliepimas Atsiliepimas