PROHORMONES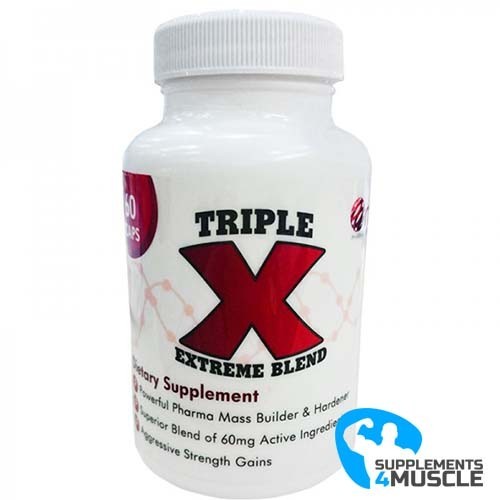 
ORB Triple X 60 caps
Powerful Pharma Mass Builder & Hardener
Superior Blend of 60mg Active Ingredients
Aggressive Strength Gains
DESCRIPTION
COMPOSITION
DIRECTIONS OF USE
REVIEWS
DESCRIPTION
ORB Triple X
This product is meant for athletes who are looking to build strength and hone their skills. ORB Triple X is packed with components designed to propel them to the next level. It also contains a strong, powerful combination to give sportsmen an advantage over their competitors worldwide.
It increases the hardness and density of your muscles.
The Triple X is composed of three strong prohormones, among them the 2a, 17a-di-methyl-etiocholan, a variation of Drostanolon that includes 2-methyl-DHT, generally used to reduce body fat and water buildup. It also assists in increasing muscular volume and density.
An All-In-One Remedy for Wellness
Estra-4,9-diene-3,17-dione, which is akin to a potent, non-methylated anabolic agent named Trent, binds to receptors present in reproductive tissue, muscle, and fat, making up 30mg of Orb Triple X. Additionally, Milk Thistle, a natural dietary supplement used to detoxify and preserve liver health, is included in the formula. Hawthorne Berry, which is known to be beneficial in the treatment of angina, high blood pressure, congestive heart failure and cardiac arrhythmia, is also featured as an element to bolster the heart.
The Triple X dietary supplement would be ideal for adventurous people, as well as professional adventurers. Take 1-2 capsules per day, but don't exceed two capsules in one day. Don't use it for more than four weeks without taking a break of eight weeks.
Features
Decreasing body fat and minimizing water retention, treating angina, hypertension and congestive heart failure, and being perfect for professional athletes.
COMPOSITION
Serving Size: 1 Capsule
Servings Per Container: 60
| | |
| --- | --- |
| Amount Per Serving | %Daily Value |
| Proprietary Formula | 60mg* |
| 2a,17a Di Methyl Etiocholan 3-One,17b-Ol | 10mg |
| Estra-4,9-diene-3,17-dione (tren) | 30mg |
| 2a,3a-epithio-17a-methyletioallocholanol (epistane) | 20mg |
| Milk Thistle | 100mg |
| Hawthorne Berry    | 90mg |
*%Daily Value not established
Other Ingredients: Maltodextrin and Gelatin Capsules.
DIRECTIONS OF USE
Directions: As a dietary supplement take 1-2 capsules daily. Do not exceed 2 capsules per day. Do not take for longer than 4 weeks without an 8 week off period.
REVIEWS
There is no review
Atsiliepimas Atsiliepimas