PROHORMONES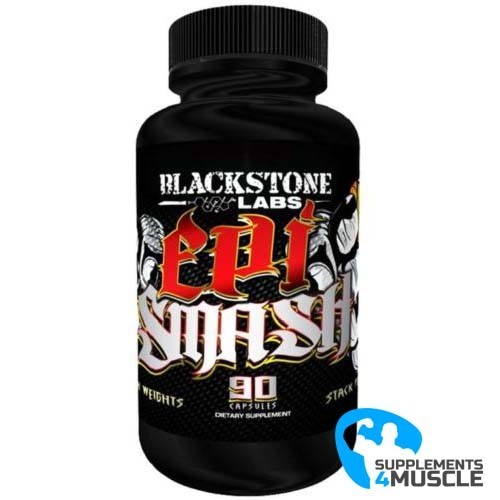 
DESCRIPTION
COMPOSITION
DIRECTIONS OF USE
REVIEWS
DESCRIPTION
Blackstone Labs EPI Smash
Blackstone Labs EPI Smash is a manufactured simulation of chemicals that help boost muscle power, bulk and endurance, while also helping to reduce fat.
Blackstone Labs EPI Smash is the perfect choice for individuals who desire a combination of lean body mass and intense strength. It is unmatched in its anabolic properties and a reliable supplement for achieving beneficial results.
Epi Smash from BlackStone Labs is an effective prohormone with lean size and strength added to it without causing any major side effects. Utilizing both hexadrone and epistane, this product's anabolic properties are greater than testosterone but with minimal androgenic effects. It balances the testosterone levels while suppressing the estrogen production. It even has the potential to help with gynecomastia control and minimize disruption towards the endocrine system. With a permanent dry muscle growth, Epi Smash is the go-to prohormone for any bodybuilder.
Increase your body's testosterone levels and decrease the production of estrogen so you don't have to worry about potential issues such as developing enlarged breasts. You will have better dry, lasting muscle tone and power than ever before. Go to the gym like a force to be reckoned with! Get Blackstone Labs EPI Smash now!
COMPOSITION
Serving Size: 1 Capsule
Servings per Container: 90
AMOUNT PER SERVING

%DV

6a-Chloro-androst-4-en-17b-ol-3-one


30mg

*

2a, 3a-epithio 17a-methyl-17b-hydroxy-5a-androstane

10mg

*
Other Ingredients: Magnesium Stearate, Silicon Dioxide, Titanium Dioxide.
DIRECTIONS OF USE
Directions: As a dietary supplement, take one (1) to three (3) capsules per day with food. Use in cycles of 4 weeks taking at least 4 weeks off in between cycles. Post Cycle Therapy (PCT) is recommended after completion of a cycle.
REVIEWS
There is no review
Atsiliepimas Atsiliepimas