SARMS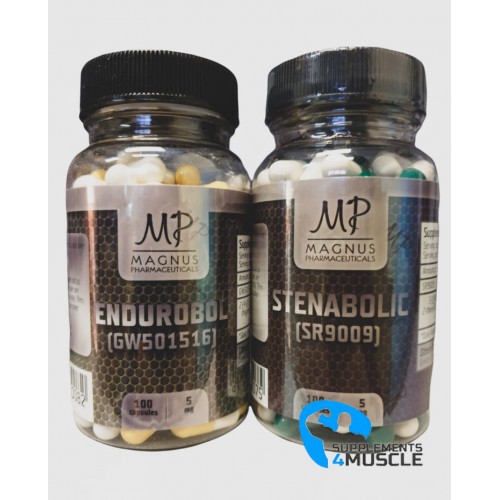 
Magnus Stack for cutting: GW501516+SR9009
Magnus SR9009+ Magnus GW501516 is perfect stack for cutting and endurance, Have energy like never before, your cardio will be through the roof! This is the perfect combination for those seeking to lose a few pounds of fat and for those seeking breaking new records.
DESCRIPTION
COMPOSITION
DIRECTIONS OF USE
REVIEWS
DESCRIPTION
Magnus Stenabolic (SR9009)
Magnus Stenabolic (SR9009) is a synthetic Rev-Erb ligand, which is taken orally. This is a very unique compound. By stimulating the Rev-Erb protein, SR9009 has the ability to greatly influence a lot of regulatory mechanisms in the human body. For instance, it can affect the circadian rhythms, lipid and glucose metabolism, fat-storing cells, as well as macrophages. Hence, Stenabolic will allow the user to lose fat and drastically increase endurance, both of which are very desirable effects for an athlete.
Magnus Endurobol (GW501516)
Magnus Endurobol (GW501516) stimulates glucose uptake and skeletal muscle tissue. It burns fat by stimulating fatty acid oxidation. It's suggested as a potential treatment for obesity because of it's ability to rapidly melt fat. Also, Cardarine is said to increase HDL by an average of 79% (good cholesterol) and decrease LDL (bad cholesterol) in current Phase II trials. GW 501516 is a PPARδ agonist. These help increase your HDL levels from an enhanced expression of the cholesterol transporter ABCA1.
In the last 20 years no side effects have been seen by anyone studying the drug.
GW 501516 & Cancer
There has been many forum comments expressing the concerns of GW501516 and it's relationship to cancer and tumor development. The hypothesis for this controversy stems from GW's ability to improve angiogenesis in the body at an extremely high rate and the rate of cancer growth in the colons of lab mice. Angiogenesis refers to the bodies ability to increase blood supply to feed the cells throughout the body.
This is a common occurrence among endurance athletes and children going through adolescence. Scientist had speculation that if there were tumor cells active in the body, that they would be especially susceptible to angiogenesis and cause the tumor to grow at a much faster rate. Since 2004 many experiments have been done to prove this hypothesis, but so far, all of them have been largely unsuccessful.
COMPOSITION
Magnus Stenabolic (SR9009)
Serving Size: 1 capsule
Serving per container: 100
Amount per serving
%DV
SR9009:
3-[[[(4-Chlorophenyl)methyl][(5-nitro-2-thienyl)methyl]amino]methyl]-pyrrolidine-carboxylic acid ethyl ester
5mg*
*Daily Value not established
Other ingredients: Gelatin (capsules), Magnesium stearate.
Magnus Endurobol (GW501516)
Serving size: 1 capsule
Serving per container: 100
Amount per serving
%DV
GW501516
2-(4-((2-(4-(Trifluoromethyl)phenyl)-5-methyl-thiazol-4-YL)methylthio)-2-methylthio)-2-methylphenoxy)acetic acid
5mg*
Others ingredients: Gelatin (capsules), Magnesium stearate.
DIRECTIONS OF USE
Magnus Stenabolic (SR9009)
SUggested use: The normal dose for SR9009 is between 10-20 milligrams per day.
Magnus Endurobol (GW501516)
Suggested use: 10-20 mg per day is a sufficient dose. It is recommended to start at 10mg per day to take advantage of the host's sensitivity to the new chemical. 10 mg a day is aimed for endurance, and the higher the dosage the greater the fat loss benefits are going to be.