SARMS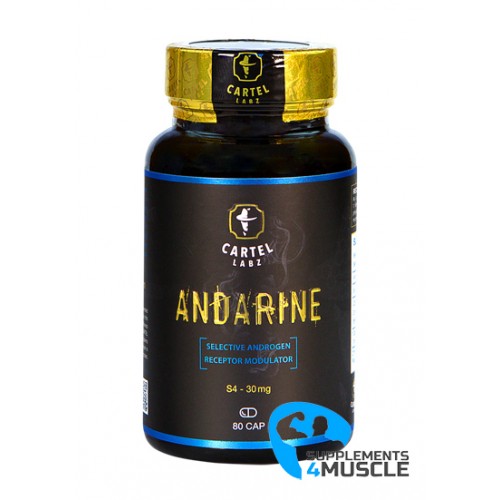 
Cartel Labz Andarine S4 80 cap
Cartel Labz Andarine S4 80cap
Andarine, also called S4, binds to androgen receptors in the body. This compound was initially created to handle afflictions associated with bone thinning and muscular deterioration. Research suggests Andarine may be beneficial in increasing strength, muscle growth and bone density.
DESCRIPTION
COMPOSITION
DIRECTIONS OF USE
REVIEWS
DESCRIPTION
Cartel Labz Andarine S4 80cap
The Cartel Labz Andarine S4 SARM is an effective supplement to build muscle and strengthen bones while simultaneously helping to burn fat. This product works fast as its rapid bioavailability quickly gets absorbed by your body, so you can attain your desired fitness goals within a short period of time. By taking this supplement, you can expect to get noticeably muscular and lean physique in no time.
Andarine S4, offered by Cartel Labz, is one of the cutting-edge SARMs available and boasts 80cap per capsule or serving. It is hassle-free when it comes to consumption, as it only needs to be taken orally and does not require an injection. Purchasing this fantastic product online will ensure greater workout sessions and quicker beneficial outcomes.
Cartel Labz's Andarine S4 80cap has many advantages. In addition to aiding in muscle building, it boosts bone density, diminishing the risk of injury. As a SARM, it is extremely anabolic but without the negative side effects typically associated with steroids. Some of the acknowledged benefits of Andarine S4 80cap include:
Building muscles quickly, bolstering bone structure, minimizing injury risks, achieving a strong, muscular physique, melting fat, having no steroidal aftermath, able to be taken orally, and approved by all European nations - this is what you can expect from the use of this product.
COMPOSITION
Serving Size: 1 Capsule
Servings Per Container: 80
Amount Per Serving

Andarine S-4

(2S) -3- (4-acetamido-phenoxy) -2-hydroxy-2-methyl-N- (4-nitro-3-trifluoromethyl-phenyl) -propionamides

30mg
Other ingredients: Organic Rice, Rice Flour, Gelatin (Bovine), Magnesium Stearate.
DIRECTIONS OF USE
Recommended dosage:
As a dietary supplement use 1 capsule 1 time daily. Higher doses consult with physician or specialist. NEVER exceed the recommended dosage.
WARNING:
For adults only, not recommended for persons under 18 years of age. Do not use this product if you have any health problems. Always consult a doctor before using the product. CARTEL LABZ, Inc. is not responsible for health problems caused by incorrect dosing. The sale of materials is intended only for laboratory and research purposes. KEEP OUT OF REACH OF CHILDREN.
REVIEWS
There is no review
Atsiliepimas Atsiliepimas