SARMS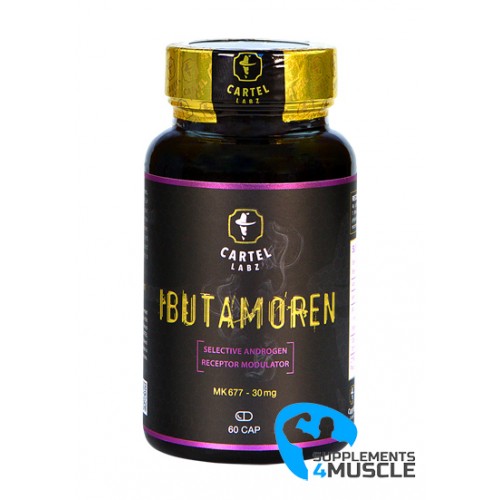 
Cartel Labz Ibutamoren MK-677 60cap
Cartel Labz Ibutamoren MK-677 60cap
MK-677, otherwise known as Ibutamoren, boasts many tangible benefits. It helps to increase human growth hormone in the body, ramp up your metabolism, and build muscle mass and quality. Furthermore, Ibutamoren bolsters bone density and is conducive to a faster healing and recovery process. Lastly, it stimulates the proliferation of muscle cells, making it the most significant trait.
DESCRIPTION
COMPOSITION
DIRECTIONS OF USE
REVIEWS
DESCRIPTION
Cartel Labz Ibutamoren MK-677 60cap
Cartel Labz Ibutamoren MK-677 enhances muscle expansion by raising the levels of human growth hormone (HGH). This outstanding SARM directs muscle tissues and causes them to grow. It is excellent for muscle developers at the time of a bulking cycle. Ibutamoren MK-677 boosts the amount and quality of muscle mass significantly.
In addition to benefits provided by Cartel Labz Ibutamoren, your recovery and bone density could be enhanced. This can safeguard you from physical injuries, as well as increase your body's ability to heal wounds more quickly.
Cartel Labz offers an effective product with a dosage of 30mg of Ibutamoren per capsule/serving. Its convenient oral usage eliminates the need for injections making buying Ibutamoren online a wise choice for improved training sessions and swifter results!
The advantages of taking Cartel Labz Ibutamoren MK-677 at 30mg are quickly evident; it promotes increased growth hormone secretion and thereby enhances the quality of muscle tissue, the production of muscle cells, and the strength of bone density. Additionally, it accelerates the healing process of injuries.
It has been proven to increase human growth hormone levels, create extra muscle cells, create bigger and sturdier muscle mass, strenghen bones, assist with healing and recuperation, and has no undesirable steroid side effects. It is even permitted to be taken orally in every European nation.
COMPOSITION
Serving Size: 1 Capsule
Servings Per Container: 60
Amount Per Serving

Ibutamoren (MK-677)

(R)-1'- (2-methylalanyl-0-benzyl-D-seryl) -1-(methylsulfonyl)-1,2-dihydrospiro [indole-3,4'-piperidine]

30mg
Other ingredients: Organic Rice, Rice Flour, Gelatin (Bovine), Magnesium Stearate.
DIRECTIONS OF USE
Recommended dosage:
As a dietary supplement use 1 capsule 1 time daily. Higher doses consult with physician or specialist. NEVER exceed the recommended dosage.
WARNING:
For adults only, not recommended for persons under 18 years of age. Do not use this product if you have any health problems. Always consult a doctor before using the product. CARTEL LABZ, Inc. is not responsible for health problems caused by incorrect dosing. The sale of materials is intended only for laboratory and research purposes. KEEP OUT OF REACH OF CHILDREN.
REVIEWS
There is no review
Atsiliepimas Atsiliepimas