SARMS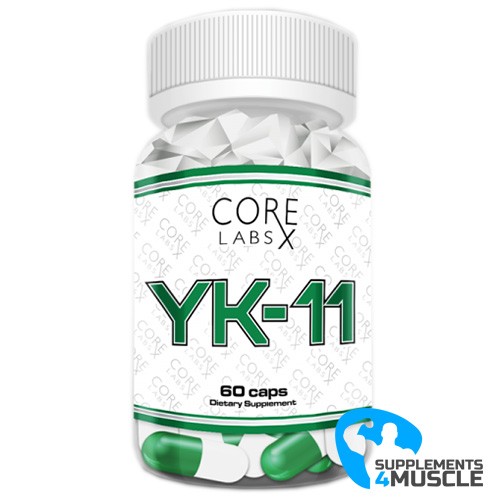 
Core Labs X YK-11 60 caps
Myostatin Inhibitor
Increase Muscle Mass
Boost Strength & Endurance
DESCRIPTION
COMPOSITION
DIRECTIONS OF USE
REVIEWS
DESCRIPTION
Core Labs X YK-11 60 caps
This product, YK-11, is a 60 capsule formulation based on a particular substance known as SARM (17α, 20E)-17.20- [(1-methoxyethylidene) bis (oxy)] - 3-oxo-19-norpregna-4,20-diene-21-carboxylic acid Methyl ester, which stimulates androgen receptors in the body. This results in an increase of follicles, which allows for the creation of new muscle cells. The addition of vitamin E helps the body absorb the active ingredient more easily. Plus, Folistatin blocks the activity of myostatin and this leads to increased muscle growth. YK11 stimulates stronger bones and also enhances the production of Protein B Kinase. Furthermore, N-acetyl-1-cysteine helps the liver work efficiently and strengthens the levels of the antioxidative 'glutathione'.
YK-11-17-alpha, 20E) 17.20-[(1-methoxyethylidene) bis (oxy)], 19-dien-4, 20-norpregna 3-oxo ester 21-carboxylic acid is the latest type of chemical compound with characteristic SARMs properties. The connection it has with the androgen receptor means that it's not directly responsible for the typical side effects, e.g. excess hair growth, larger adrenal glands and increased levels of aggression, associated with the androgen group. Research two years later showed that the risk of side effects is greatly minimized, which is typical for SARMs. More than that, YK-11 demonstrated a higher anabolic result compared with DHT nanomoles amount, demonstrating stronger abilities in producing lean muscle mass.
NAC is an altered version of the amino acid cysteine, which has been linked to an acetyl group. Its presence is associated with elevated levels of the antioxidant-glutathione, thereby decreasing cellular damage, speeding up tissue repair after an injury and stimulating the growth of lean muscle mass. The reduction of cell injury correlates heavily with slower aging. Furthermore, NAC serves to eliminate toxic metabolites in the body when steroids are processed in the liver.
A water-soluble form of natural vitamin E, known as Vitamin E TPGS, is a revolutionary breakthrough in the world of absorption. This nonionic surfactant is utilized to amplify absorption and serve as an antioxidant. It is also utilized as an efficient means of providing therapeutic and nutritional vitamin E.
COMPOSITION
Serving Size: 1 Capsule
Servings Per Container: 60
Amount Per Serving
NAC (N-Acetyl L-Cysteine)
350 mg
Vitamin E (TPGS)
10 mg
YK-11


(17α, 20E) -17.20 - [(1-methoxyethylidene) bis (oxy)] - 3-oxo-19-norpregna-4,20-diene-21-carboxylic acid Methyl ester

5 mg
Other Ingredients: Magnesium Stearate, Silicon Dioxide, Magnesium Carbonate, Calcium Gluconate, Potassium Gluconate, Zinc Gluconate.
DIRECTIONS OF USE
As a dietary supplement, take 1 capsule 1-2 times per day for 6-8 weeks. Do not exceed 2 capsules in a 24 hour period and do not take for more than 8 weeks continuous use without a 4 week break between cycles.*
REVIEWS
There is no review
Atsiliepimas Atsiliepimas
Related Blog Posts