SARMS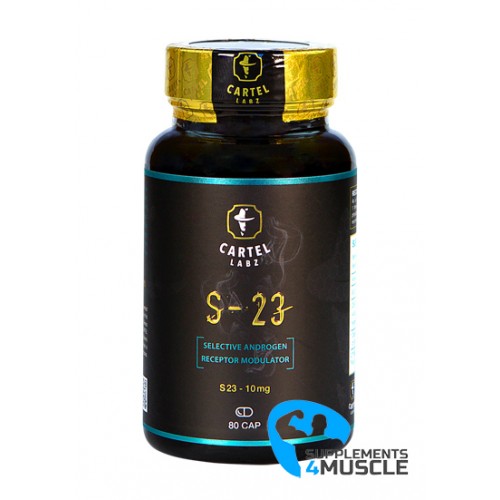 
Cartel Labz S-23 80cap
Cartel Labz S-23 80cap
Using S-23 will result in an increase of lean muscle, as well as improved bone strength. It also stimulates the production of lean muscle mass, leading to gains in muscle without any increase in fat or excess water weight.
DESCRIPTION
COMPOSITION
DIRECTIONS OF USE
REVIEWS
DESCRIPTION
Cartel Labz S-23 80cap
Cartel Labz's S23 80cap is incredibly effective and speedy in its results. It contributes to fast building of muscle and bolsters up the bones to prevent any harm. It is particularly suitable for those who seek to gain lean muscles as it erases any reasons for water buildup and fat storage. Within a blink of an eye, you will obtain the physique you desire without any fat deposits!
Regarding its effectiveness, S-23 is exceptionally strong. Cartel Labz produces a top-notch item, with 10 milligrams of S23 per serving. You can conveniently take it orally, there's no need for an injection. Get S23 online for optimum exercise sessions and rapid developments!
Cartel Labz S23, a top-notch SARM, can aid in developing muscle and also support bones while defending against injuries. Below are its advantages:
Gaining muscle mass, decreasing body fat, growing strength and stamina, giving muscles a lean and defined look, blocking water retention and avoiding steroid-related side effects are all possible with a supplement that can be taken orally and is lawful in all European nations.
COMPOSITION
Serving Size: 1 Capsule
Servings Per Container: 80
Amount Per Serving

S-23

(2S)-3-(4-chloro-3-fluorophenoxy)-N-[4-cyano-3-(trifluoromethyl) phenyl]-2-hydroxy-2-methyl-propanamide

10mg
Other ingredients: Organic Rice, Rice Flour, Gelatin (Bovine), Magnesium Stearate.
DIRECTIONS OF USE
Recommended dosage:
As a dietary supplement use 1 capsule 1 time daily. Higher doses consult with physician or specialist. NEVER exceed the recommended dosage.
WARNING:
For adults only, not recommended for persons under 18 years of age. Do not use this product if you have any health problems. Always consult a doctor before using the product. CARTEL LABZ, Inc. is not responsible for health problems caused by incorrect dosing. The sale of materials is intended only for laboratory and research purposes. KEEP OUT OF REACH OF CHILDREN.
REVIEWS
There is no review
Atsiliepimas Atsiliepimas