SARMS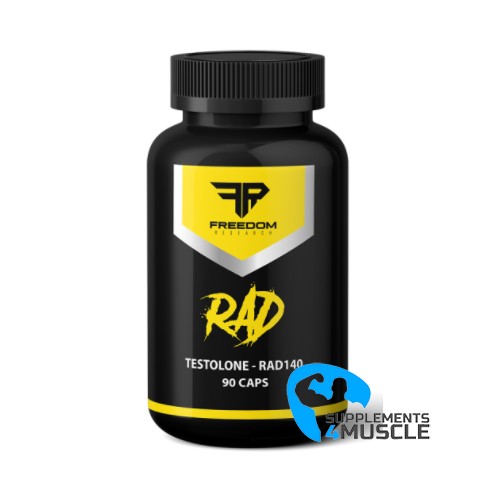 
Freedom Formulations RAD 140 90caps
Helps Build Lean Muscle Mass
Increase Strenght & Endurance
Prevents Muscle Loss
DESCRIPTION
COMPOSITION
DIRECTIONS OF USE
REVIEWS
DESCRIPTION
Freedom Formulations RAD 140 90caps
Looking for a powerful fat burner that can quickly and safely meltdown body fat? If your answer is a big yes, it's time for you to know about Freedom Formulations Rad-140 90 caps. This powerful fat-burning and muscle-building SARM specifically targets the androgen receptors in bones and muscle tissue. Freedom Formulations Rad 140-90 caps also improve the levels of overall muscle strength and bone density.
Why Buy Freedom Formulations Rad-140 90 caps?
Significantly improves testosterone levels
Excellent alternative for testosterone replacement therapy
Stimulates feelings of positivity, well-being, and excitement
Improves libido and the quality of intimate sessions
Helps you lift heavy weights and perform challenging activities with ease
Doesn't lead to water retention, bloating, or gynecomastia
Promotes muscle growth and recovery
Improves muscle mass, definition, and size
Improves memory and other brain functions
Doesn't cause damage to the liver and kidneys
Looking for a powerful selective androgen receptor modulator to redefine your gym performance? If your answer is a big yes, Freedom Formulations RAD-140 90 caps are all you ever wanted by your side. It dramatically improves testosterone levels and doesn't lead to bloating, gynecomastia, or water retention. Known for delivering explosive results, this selective androgen receptor modulator is an excellent choice for testosterone replacement therapy. Bring out the hidden and unexplored beast in you with Freedom Formulations RAD-140 90 caps that improve the quality and duration of intimate sessions. Hit the gym harder and longer, buy Freedom Formulations RAD-140 90 caps now.
COMPOSITION
Serving Size: 1 Capsule
Servings Per Container: 90
| | |
| --- | --- |
| Amount Per Serving | |
| RAD140 | 10mg |
Other ingredients: Gelatin, Silica, Rice Flour
DIRECTIONS OF USE
RECOMMENDED DOSAGE: Take 1 capsule with 250ml water daily. Take a maximum of 2 capsules a day. Higher dosage for advanced users should be consulted with your doctor or specialist.
REVIEWS
There is no review
Atsiliepimas Atsiliepimas