SARMS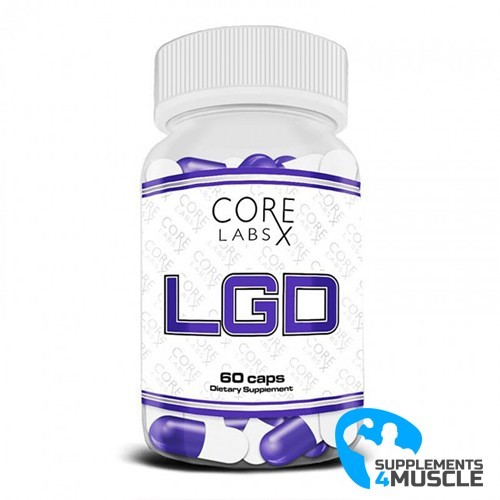 
Core Labs X LGD 60 caps
Increased mass & strengh
High anabolic activity
Muscle tissue selective
Preventative muscle atrophy
DESCRIPTION
COMPOSITION
DIRECTIONS OF USE
REVIEWS
DESCRIPTION
Core Labs X LGD
Explore the highest levels of health, fitness, athleticism, muscle building, and wellness through Core Labs X LGD! Boost the quality of your workout routines, cardio activities, and weightlifting sessions to improve body composition, reduce hard-to-lose abdominal and visceral fat, and experience extreme pumping of the muscles. This superior anabolic supplement is adept at reinforcing muscles and can even help those with muscular dystrophy and osteoporosis.
Building impressive muscles with LGD is straightforward. Furthermore, it can also boost the amount of free and circulating testosterone present in the body. On top of that, it increases libido, rigidity of erections, and satisfaction during intimate encounters. Get Core Labs X LGD from a reliable and reputable place to purchase the highest quality dietary supplements.
Core Labs X LGD is a form of SARM that attaches to high affinity androgenic receptors. The LGD-4033 compound produces a muscle-building result, hinders the absorption of bone minerals, and invigorates the mineralization of bones. Utilization of this substance to create muscle mass does not have any effect on the prostate or sebaceous glands.
Higher muscle mass and strength 
Promoting anabolic activity 
Targeting muscle tissue specifically 
Avoiding muscle degeneration.
During clinical trials it was found that Ligandrol (LGD 4033) had the strongest capacity for building lean muscle mass. It was also seen to be the most effective SARM for burning off excess bodily fat with the aim of achieving an aesthetically pleasing physique. Furthermore, it contains natural vegetable components which can increase sexual drive, in addition to improving the mood. Vitamins have been specifically included in its composition to provide optimum functioning of the nervous and cardiovascular systems, as well as fostering an increase in serotonin levels which helps to boost feelings of well-being and encourages one to take action.
LGD-4033, more commonly known as Ligandrol, works as a selective androgen receptor modulator but its chemical structure is not similar to that of a steroid. It works by attaching to the androgen receptor and prompting an increase in the body's anabolic activity, resulting in an increased weight. It is widely thought to be the strongest anabolic substance available for legal consumption, initially designed for medical use in order to prevent the muscle tissue deterioration associated with certain illnesses. Although it is not as common as other similar compounds, research results reveal that it is not only very powerful but can be used in very small doses to decrease the risk of adverse effects. Additionally, the testing showed LGD to be more effective than ostarine, a dietary supplement traditionally seen as a natural steroid alternative.
Initial attempts demonstrate the tremendous opportunity this substance holds for larger renown and endorsement from the public. This is right for anybody looking to take their supplements to the finest level of sophistication, as well as those who have already tested all the products out there and are in pursuit of the most powerful available.
If you're looking for something to help you increase muscle mass and strength, Core Labs X LGD is the best choice for you. This extremely powerful bulking SARM has unique anabolic activity that combats muscle loss and helps to get ripped. It stimulates androgen receptors in the muscle and bones to foster a quicker healing and hardening process, so you can train harder and longer without fatigue. Get your own dose of Core Labs X LGD today!
COMPOSITION
Serving Size: 1 Capsule
Servings Per Container: 60
Amount Per Serving
NAC (N-Acetyl L-Cysteine)
300 mg
DHEA (Dehydroepiandrosterone)
200 mg
Naringin
20 mg
Grape Seed Extract 95%
20 mg
Vitamin E (TPGS)
10 mg
Piperine 95%
5 mg
LGD-4033
4-((R)-2-((R)-2,2-trifluoro-1-hydroxyethyl) pyrrolidin-1-yl-2-trifuloroMethyl) benzonitrile
5 mg
Other Ingredients: Magnesium Stearate, Silicon Dioxide, Magnesium Carbonate, Calcium Gluconate, Potassium Gluconate, Zinc Gluconate.
DIRECTIONS OF USE
As a dietary supplement, take 1 capsule 1-2 times per day. Do not exceed 2 capsules in a 24 hour period and do not take for more than 12 weeks continuous use without a 4 week break between cycles.
Related Blog Posts