PROHORMONES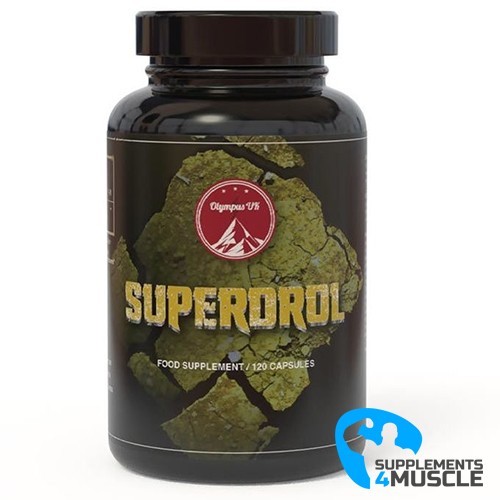 
Olympus Labs Superdrol
Extreme Mass Gains
Potent Lean Mass Builder
Rapid Strenght Booster
Enchanced Muscle Fullness
DESCRIPTION
COMPOSITION
DIRECTIONS OF USE
REVIEWS
DESCRIPTION
Olympus Labs Superdrol
If you are looking to approach your gym workouts with extra intensity, but don't want to become too hot, Olympus Labs Superdrol can help you drastically change how well you perform at the gym and in the bedroom.
Olympus Labs Superdrol is an intense supplement designed for athletes who desire extreme muscle mass and strength gains. For maximum returns, it is best to keep your carbohydrate intake high. Therefore, you can achieve significant muscle growth without adding fat cells. An appropriate diet filled with protein, carbohydrates and essential fatty acids will yield the best results. Ensure that you get your calories from clean sources, such as complex carbohydrates.
When Superdrol is taken, one's glycogen levels increase substantially, that's why it's advised to take in plenty of carbs in order to take advantage of the drug's benefits and minimize fatigue and the risk of hypoglycaemia. As Superdrol is methylated, you need to utilise liver protection supplements such as Milk Thistle or NAC. The cycle should begin at the lowest possible dose and then increased accordingly. A 20mg dose is recommended for newcomers, cycling it for a period of 3-4 weeks, but no more. For those with the right precautions, a 4-5 week cycle is acceptable.
If you're looking to gain serious mass in a short amount of time, Olympus Labs Superdrol is the way to go. You'll notice a hefty increase in your weight - up to 10-20 lbs. - within 8-12 weeks. You'll also benefit from increased muscle pumps and dry muscle gains! Not to mention, you won't have to worry about dealing with estrogenic side effects. Unlock your 'gym beast mode' today by ordering your own Olympus Labs Superdrol.
COMPOSITION
Serving Size: 1 Capsule
Servings Per Container: 120
| | | |
| --- | --- | --- |
| | Per Serving | %RI |
| 2a,17a-dimethyl-5a-androst-3-one-17b-ol | 5mg | ** |
DIRECTIONS OF USE
As an adult dietary supplement, take 1 capsule 3 to 5 times daily (spread evently throughout the day), with meals. Do not consume more than 6 capsules in a 24 hour time period. Take SUPERDROL for up to 4 weeks maximum.
REVIEWS
There is no review
Atsiliepimas Atsiliepimas