PROHORMONES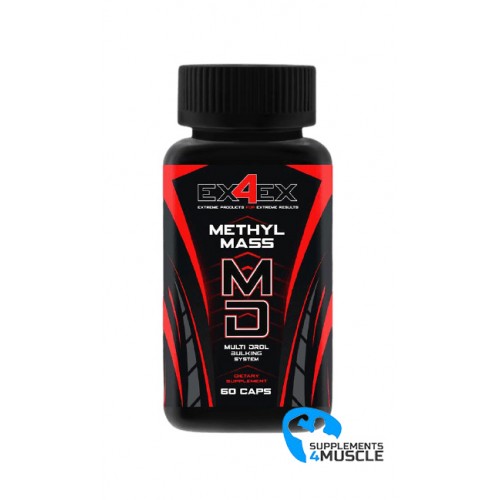 
DESCRIPTION
COMPOSITION
DIRECTIONS OF USE
REVIEWS
DESCRIPTION
Prohormone Stack EX4EX Methyl Mass
EX4EX designed Methyl Mass, a power bundle, specifically for experienced users and expert athletes. It is composed of prohormones, aromatase inhibitors, and potent anabolic steroids, all of which are intended to help speed up the development of solid muscle mass. This is not a product for individuals lacking experience.
This EX4EX Methyl Mass Prohormone Stack has it all! It enhances testosterone production and suppresses estrogen so that you can bulk up without breaking down fatty tissue. This muscle building supplement is filled with extremely potent ingredients that are perfectly dosed and perfectly mixed to support you in different areas. The components include SARM MK 677 for muscle development and weight loss, specific items to control estrogen and cortisol production, ingredients for protecting the liver, and components that aid in making the active ingredients more absorbable.
The EX4EX Methyl Mass Prohormone Stack offers the following benefits:
This anabolic stack is only recommended for experienced users--it boosts testosterone levels in the system and decreases those of estrogen, while reducing cortisol amounts too. It encourages the growth of lean muscles and reduces body fat, as well as fostering the creation of growth hormones and providing speedy recovery.
COMPOSITION
Serving size: 1 capsule
Servings per container: 100
| | |
| --- | --- |
| | Amount Per Serving |
| Laxosterone | 150mg |
| MK-677 | 10mg |
| M-Drol | 5mg |
| M1-T | 5mg |
| Prostanozol | 75mg |
| Epistane | 15mg |
| Trenadrol | 15mg |
| Mucuna Pruriens | 150mg |
| Arimistane | 15mg |
| Anastrozole | 0.5mg |
| NAC | 600mg |
| Milk Thistle | 300mg |
| TUDCA | 225mg |
| Rosmarinic Acid | 150mg |
| Vitamin E TPGS | 30mg |
| Grape Seed Extract | 30mg |
| Piperine | 15mg |
| Naringenin  | 15mg |
DIRECTIONS OF USE
Dosage: 1 capsule up to 3 times a day
REVIEWS
There is no review
Atsiliepimas Atsiliepimas