PROHORMONES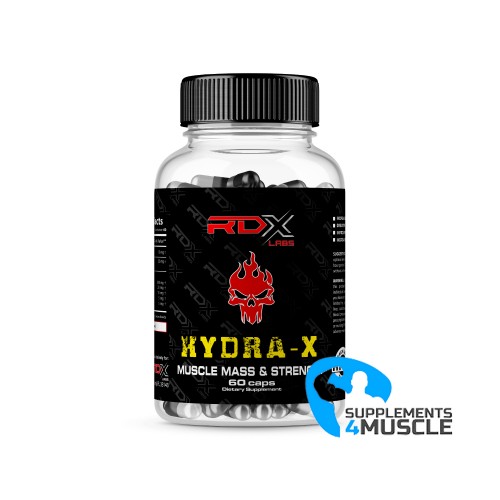 
RDX Labs Hydra X 60caps
INCREASE MUSCLE FIBRES
GREATER MUSCLE STRENGTH & SIZE
IMPROVES VESCULARITY
INCREASED ENERGY LEVELS
DESCRIPTION
COMPOSITION
DIRECTIONS OF USE
REVIEWS
DESCRIPTION
RDX Labs Hydra X 60caps
Hydra X from RDX Labs is a highly effective prohormone system that includes the most up-to-date delivery mechanism. It significantly increases the development of pure muscle mass, makes muscles stronger and more visible. Endurance, vigor, and strength levels are all heightened. Comparable results to many other products, however, its not accompanied with the same negative effects and is much safer for your well-being.
Halodrol is a compound consisting of 4-chloro-17a-methyl-androst-1, 4-diene-3-17b-diol.
Halo boosts the number of androgen receptors, heightening the effects of hormones like growth hormone, insulin, and IGF-1, thereby augmenting the benefits of these hormones. Additionally, Halo stimulates protein synthesis and encourages the development of a considerable new volume of muscle tissue by connecting with androgen receptors.
Halodrol is the most well-known and time-honored prohormone accessible at this moment. Among all the prohormones, Haladrol is an excellent decision for first-time clients on account of its notoriety for minor reactions and its ability to produce moderate, simple to keep up mass additions once the cycle is over. Halodrol is the oral form of turinabol. Typically, dosages are somewhere in the range of 50-75 mg/day, however for further developed competitors, up to 100 mg per day might be most appropriate. A course is evaluated for 4-6 weeks. Haladrol clients can expect enhancements in mass without water maintenance, typically gaining 4-7 kg with regards to their diet and training. In addition, there can be an expansion in quality, muscle mass. Furthermore, better blood stream. These impacts will stay flawless after the cycle if feasting on and preparing schedules are followed. Support during the cycle and post cycle treatment (PCT) are prescribed.
Mentabolan is a compound made up of 7a-methyl-estra-4-en-3,17-dione.
Mentabolan was initially made by PHF/IBE and researched for its anabolic and androgenic effects back in 1963. It is based on the injectable anabolic steroid Trestolone, similar to nandrolones, yet distinct since it is comprised of a 19-nor derivative with a 17-ketone instead of a 17b-hydroxy function and holds a 7a-methyl group.
The 7a-methyl addition produces a flattening effect on the molecule, which enhances its ability to bind to androgen receptors. Ment is an especially potent mixture due to the resulting conformational change of the 7a-methyl group, which increases its affinity to the androgen receptor.
Estra-4.9-diene-3,17-dione (Trenavar) is known for not turning into any form of estrogen when used. This is beneficial because it will not cause subcutaneous water retention. Surprisingly, this pro-hormone is highly efficient in building muscle mass and strength despite not containing a high amount of estrogen.Trenbolone is thus often considered to be one of the strongest muscle builders.
Furthermore, Trenavar does not interact with 5-alpha reductase. This enzyme reduces testosterone and its related hormones, which bring about conditions such as hair loss, enlarged prostate, acne, and loose skin. As a result, using Trenavar will not bring about any of these undesirable effects. Therefore, Trenavar can be combined with other pro-hormones with androgenic activity, enhancing the anabolic effect without exacerbating the androgenic side effects.
The specific effect of this pro-hormone can be attributed to its anabolic and anti-catabolic properties. Trenbolone promotes the speed of muscle protein synthesis and at the same time prevents the degeneration of proteins by restricting the discharge of nitrogen from the body.
This hormone is perfect for developing top-notch muscle with no conversion to estrogen. Because of its low androgenic properties and cortisol-receptor-blocking ability, it is useful for keeping your shape and size while you slim down. It likewise grants the advantage of improving your overall appearance during an energy deficit.
This drug delivery system consists of creatine hydrochloride, vitamin E, grape seed extract, narygnine, and piperine. It can augment strength and stamina, enhance the conveyance and assimilation of prohormones, quicken metabolism, and guard the liver.
COMPOSITION
Servings per container: 60
Serving size: 1 capsule
Ingredients
1 capsule

7a-Methyl-estra-4-en-3,17-dione

15mg

4-chloro-17a-methyl-androst-1,

4-diene-3-17b-diol

25mg

Drug Delivery System:

Creatine HCL

500mg

Grape Seed Extract 95%

20mg

Vitamin E TPGS

10mg

Piperine 95%

5mg

Naringenin

5mg
Other Ingredients: Magnesium Stearate, Silicon Dioxide
DIRECTIONS OF USE
Dosage: Course 1-4 Weeks  RDX Labs Hydra X  2 capsules per day. We do not recommend exceeding a 6 week course, and a dosage of 3 capsules / day. As a dietary supplement, take one (1) capsule three (3) times daily. Use a course of 4-6 weeks, at least for a period of 6 to 8 weeks, take a break between courses.
WARNING
do not exceed the recommended dose or duration of use. This product should only be used by healthy adults 21 years of age or older. Do not use if you are pregnant or nursing, or if you are at risk for or are being treated for diabetes, liver problems, or high blood pressure.
REVIEWS
There is no review
Atsiliepimas Atsiliepimas