PROHORMONES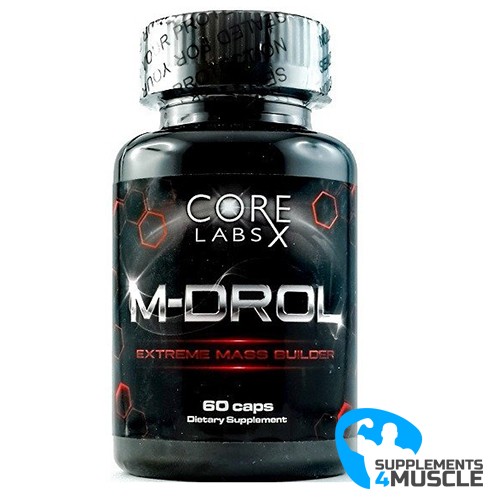 
DESCRIPTION
COMPOSITION
DIRECTIONS OF USE
REVIEWS
DESCRIPTION
Core Labs X M-Drol 60 caps
Core Labs X M-Drol 60 caplets is a powerful enhancer with anabolic properties. While taking it, users will experience an increase in lean muscle. You can trust that you won't see any water retention as Superdrol prevents the storage of water inside of the body.
Superdrol is the perfect supplement for anyone trying to slim down. It helps to maintain muscle mass, even during a restrictive diet, making it easier to achieve a lean and toned physique. By using this compound to help facilitate your weight loss goals, you can ensure that you are working towards a body with strong, fat-free muscles.
M drol's use grants a person the optimal circumstances for growing incredibly strong muscles.
The benefits of using:
Enhanced protein synthesis yields greater metabolic capacity and a significant rise in lean muscle mass. Muscles are allowed to proliferate quicker than average, allowing for a boosted rate of nitrogen synthesis, which is requisite for the production of new muscle tissue in the body. This lets athletes obtain twice the amount of lean muscle mass in a much shorter time frame. Additionally, more red blood cells are produced to guarantee increased strength, energy, and a proficient immune system. The application necessitates no anti-estrogens because the androgen levels after implementation are low. This product being popular among athletes and bodybuilders is highly attributable to its ability to help with fat loss while sustaining and creating muscle mass, which is an attribute one expects from the majority of steroids.
N-acetyl-L-cysteine (NAC) is an acetylated derivative of the endogenous sulfuric amino acid cysteine, which is naturally present in our bodies and in protein-rich foods. It plays a role in protein synthesis and is an important part of certain enzymes and structural proteins. Combined with glutamine and glycine, it is necessary in the formation of glutathione (GSH), one of the most significant antioxidants in the body. N-acetyl-L-cysteine is particularly absorbable, which accounts for its widespread usage among athletes. It can help build endurance, stamina and resistance to fatigue, contribute to regeneration, reduce inflammation and counter the oxidative stress caused by intense training.
M-DROL is an anabolic steroid which goes by the name of methyl drostanolone and has been enhanced with methyl groups which secure safety after taking it and confer more anabolic potency. Taking this ingredient causes the body to not retain as much water and helps to maintain lean muscle.
During intense physical exercise, the amount of free radicals in the body increases and can cause damage from the entry of toxins. Vitamin E helps to protect against such radicals by eliminating them from your body, as well as strengthening enzyme systems. It not only shields muscle cells but also guards liver cells, red blood cells, and blood vessels. It additionally prevents weariness in your muscles and contributes to the body's creation of steroid hormones. In addition to that, it stops germs and illness, as well as injuries.
COMPOSITION
Serving Size: 1 Capsule
Servings per Container: 60
Amount Per Serving
NAC (N-Acetyl L-Cysteine)
350 mg
M-Drol (2,17

α-dimethyl-5

α-androsta-1-en-17

β-ol-3-one)

10 mg
Vitamin E (TPGS)
10 mg
DIRECTIONS OF USE
As a dietary supplement, take 1 capsule 1-2 times per day. Do not exceed 2 capsules in a 24 hour period and do not take for more than 6 weeks continuously without a 4 week break.
REVIEWS
There is no review
Atsiliepimas Atsiliepimas