PROHORMONES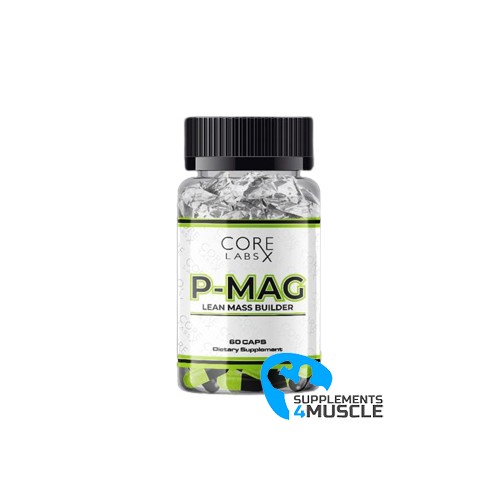 
DESCRIPTION
COMPOSITION
DIRECTIONS OF USE
REVIEWS
DESCRIPTION
Core Labs P-Mag 60caps
Core Labs P-Mag 60caps is a mild anabolic agent, demonstrating 50% anabolic testosterone activity and little androgenic effects. It boosts the stimulus that causes the growth in muscle cells and bone density, the reduction of extra fat and the production of oxygen-carrying red blood cells. Its minor side effects related to DHT may appear in certain situations if used incorrectly.
Four-chloro-17a-methylandrost-4-ene-3b is not susceptible to aromatase, so it won't turn into an estrogen. By avoiding this transformation, it helps prevent certain side effects related to the overactivity of estrogens, such as a loss of sexual desire, water buildup, increasing fat levels, or even the formation of breasts in males.
The methyl group in 17-alpha carbon makes Chloromethylandrostenediol difficult to break down in the liver, resulting in more of it staying in the body for a longer period of time and making the effects last longer.
P-MAG 35 is an anabolic androgenic agent that encourages the development of muscle mass and slimming of containing unnecessary fat. This can result in a defined, dehydrated and larger physique. With limited potential side effects and immediate visible results, it may be perfect for those just starting out in bodybuilding or suitable to combine with more intense cycles.
Mass diet typically brings about a 5 week cycle with a 75 mg dose, amounting to 5-7kg increments. 
For a body recomposition diet, the 5 week cycle with the same 75mg dose will bring about 3-5kg increments, with a fat loss of 1-2%. 
In a typical reduction diet, a 5 week cycle with a 75mg dose will bring about 1-2kg increments and a fat loss of 2-3%.
COMPOSITION
Serving Size: 1 Cap
Servings Per Container: 60
| | |
| --- | --- |
| Ingredients | Per Serving |
| 4-chloro-17a-methyl-andros-4-ene-3b, 17b-diol | 35 mg |
| Grape Seed Extract 95% | 10 mg |
| Vitamin E TPGS | 10 mg |
| Piperine 95% | 5 mg |
Other Ingredients: Magnesium Stearate, Silicon Dioxide.
DIRECTIONS OF USE
As a dietary supplement, take 2-4 capsules per day for 4-6 weeks.
REVIEWS
There is no review
Atsiliepimas Atsiliepimas