PROHORMONES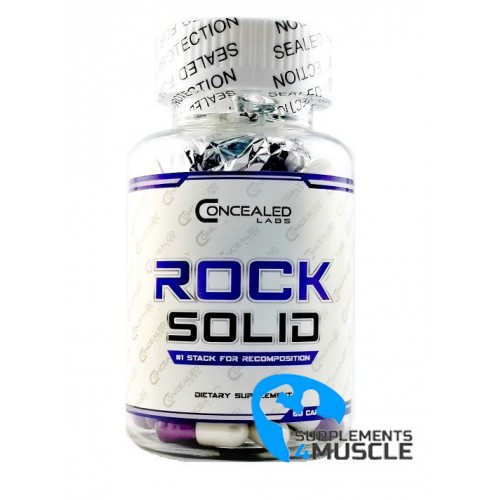 
Concealed Labs Solid Rock 60caps
LEAN & DRY GAINS
ROCK HARD CUT PHYSIQUE
PRO-ANABOLIC MASS & HARDENING COMPLEX
DESCRIPTION
COMPOSITION
DIRECTIONS OF USE
REVIEWS
DESCRIPTION
Concealed Labs Solid Rock 60caps
CONCEALED Labs recently set into motion Solid Rock; an athletic-focused complement with two active elements that promise fast expansion in muscle and enhanced strength and endurance. This prehormone is of the greatest quality and its transport system optimizes the anabolic capability of its ingredients. Its intense concentration, advanced absorption, and all-encompassing bioavailability grant the most excellent outcomes. Solid Rock creates a larger anabolic response than pure testosterone, so athletes can gain a boost of lean muscle mass and huge increases in power and endurance.
Estra-4,9,11-triene-3,17-dione has incredible anabolic properties that are comparable to trenbolone. Users can notice a significant increase in lean muscle and strength levels quickly when using this supplement for either bulking or cutting reugsimes. Its primary benefit is that it does not cause the body to convert to estrogen, so there is no fear of water retention due to elevated estrogen levels. In conclusion, this makes Estra-4,9,11-triene-3,17-dione one of the most robust performance enhancers when it comes to building muscle and strength.
This hormone is more powerful at building muscle than the prohormones of the past, yet has a smaller chance of causing side effects. It has a very strong anabolic effect with a comparatively small androgenic effect. It activates multiple receptor sites which cause a significant increase in testosterone and a reduction in estrogen levels.
NAC helps safeguard the body's cells from harm and boosts immunity by quashing reactive oxygen species and staving off oxidative stress. Athletes will develop more stamina, yielding enhanced performance and an increased capacity for fatigue. It further endorses expectoration, airflow and oxygenation, amplifying regeneration following exercise and reducing inflammation from overuse. In addition to administering acetyl groups, it promotes the synthesis of testosterone. Furthermore, some athletes use it in combination with pro-hormones and steroids to spurring the revival of damaged liver cells (hepatocytes) both before and after a cycle.
Rosemary is particularly recognized for its calming effects on the urinary tract, digestive system and veins found in the legs of older individuals. Rosmarinic Acid is taken internally for circumstances such as cramps, bile and urine difficulty, and circulation troubles which are especially common in older people and might be linked with senior-related heart issues. Additionally, it may help reduce the presence of gallstones, as well as heighten hunger and assist with digestion.
The extract of milk thistle, which contains silymarin as the main active component, is called Milk Thistle Extract. It also consists of phytosterols, flavones, phenolic glycosides, vitamins E and F, and provides various health benefits, such as stabilizing cellular membranes, acting as a cleansing and detoxification agent, reducing inflammation and regulating digestion. It is particularly helpful for those individuals that have been exposed to toxic compounds, experienced the negative effects of alcohol and drugs, or who have hepatitis.
The rich concentration of beneficial compounds in grape seed extract, such as phenolic acids, anthocyanins, flavonoids and oligomeric proanthocyanidin complexes, makes it a powerful antioxidant. Through its antioxidant properties, grape seed extract can help to combat oxidative damage, inhibit inflammation, and ward off disease.
Vitamin E has been established as a preventive measure to protect against the oxidation of LDL cholesterol and the formation of atherogenic plaques. It produces anticoagulants, maintains cell membranes permeability, and inhibits platelet aggregation which reduces the probability of blood clots. Consequently, those with high cholesterol are prescribed vitamin E. Research has indicated it may provide protection against heart attacks and some types of cancer. Moreover, it promotes insulin production and helps regulate regular glucose levels. As an extra benefit, it plays a role in the transmission of nerve signals throughout the body.
COMPOSITION
Serving Size: 1 Capsule
Servings per Container: 60
| | |
| --- | --- |
| Amount Per Serving | |
| Pro-Anabolic System: | |
| Estra-4,9,11-triene-3,17-dione | 15mg |
| 2,3a-epithio-17a-methyl 5a androstane 17b-ol | 10mg |
| Liver Support System: | |
| NAC  | 500mg |
| Rosmarinic Acid | 100mg |
| Milk Thistle Extract  | 100mg |
| Grape Seed Extract | 10mg |
| Vitamin E (TPGS) | 10mg |
Other Ingredients: Magnesium Stearate, Silicon Dioxide.
DIRECTIONS OF USE
As a dietary supplement, take 2 capsules daily for optimal result. Do not exceed 3 capsules in a 24 hour period and do not take for more than 4 weeks continuously without a 8 week break.
REVIEWS
There is no review
Atsiliepimas Atsiliepimas