PROHORMONES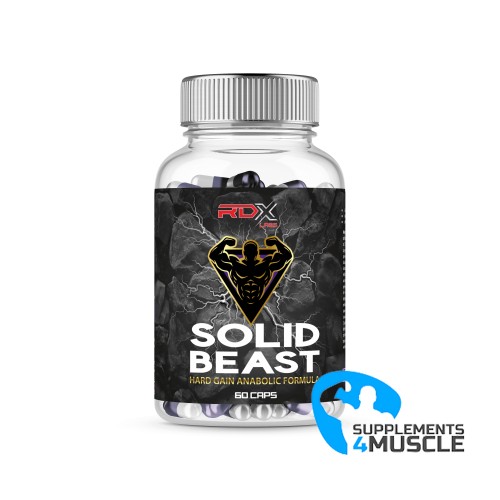 
RDX Labs Solid Beast 60caps
LEAN & DRY GAINS
ROCK HARD CUT PHYSIQUE
PRO-ANABOLIC MASS & HARDENING COMPLEX
DESCRIPTION
COMPOSITION
DIRECTIONS OF USE
REVIEWS
DESCRIPTION
RDX Labs Solid Beast 60caps
RDX Labs is introducing their new product, Solid Beast. This includes two potent anabolic components that make it perfect for athletes, giving them an instantaneous boost in strength and endurance. Solid Beast is a pro-hormone, with an exceptional shelf grade that is only maximized by a special delivery system. This technology helps make the anabolic components of the product 100% functional, improving the absorption rate with concentrated effects. This yields higher anabolic output than testosterone alone, leading to greater muscle gain while still boosting strength and vitality.
Estra-4,9,11-triene-3,17-dione is an incredibly powerful androgen which has great anabolic capability. Being a derivation from trenbolone, it carries its own unique properties. Taking this pro hormone results in an immediate and substantial growth of muscle size and power. It can be used both when aiming for muscle growth and when attempting to slim down. What makes this steroid even more attractive is its lack of aromatization, meaning that it does not alter into any form of estrogen in the body. This is a major plus point considering it will not lead to any water retention beneath the skin. Due to this, trenbolone is highly respected and considered among the most effective ways for muscle growth and strength.
2,3a-epithio-17a-methyl-5a-androstane-17b-ol, provides impressive muscle growth without the negative effects of earlier prohormones. It has significant anabolic characteristics and minimal androgenic qualities. Additionally, this hormone amplifies testosterone levels and impedes estrogen action as a result of its several receptor interactions.
NAC helps to defend cells from harm and aids the body in building a stronger immunity. It provides better endurance for athletes, giving them more stamina and fewer chances of experiencing fatigue. NAC can clear mucus from the airways, allowing for improved respiration and oxygen intake. Additionally, it decreases any harm done from over-training and boosts testosterone production. Its positive effects can be helpful for athletes to use in their cycles of taking pro-hormones and steroids, aiding in liver cell recovery.
Rosemary's rosmarinic acid has a calming effect on the smooth muscles of the urinary, digestive, and peripheral vessels, particularly in the legs of seniors. It is taken internally to help ease intestinal spasms, bile movement, and urinary issues. Additionally, it is used as a means of addressing peripheral circulation issues in elderly individuals, including those resulting from aged heart changes. It can also stimulate the appetite and regulate digestion.
Milk thistle is the origin of silymarin, a bunch of flavonoligans in the casing of the milk thistle. The raw material also includes beneficial components such as phytosterols, flavones, phenolic glycosides, and vitamins E and F, which provide stability to cell membranes, act as cholagogic, clear out toxins, display anti-inflammatory and muscle-relaxing powers, and modulate the transit of intestinal contents, defending liver cells from the damaging effects of alcohol and micro poisons. Due to those properties, it is often suggested to individuals exposed to the hazardous impacts of chemical compounds, hepatitis, and illegal drugs.
Grape seed is an abundant source of antioxidants such as phenolic acids, anthocyanins, flavonoids and oligomeric proanthocyanidin complexes. The antioxidant properties of grape seed extract make it an ideal protector against oxidative stress, tissue damage, inflammation and disease. GSE is supposed to be one of the best known sources of proanthocyanidins.
Vitamin E is useful for preventing LDL cholesterol from oxidizing, which would otherwise lead to the plaques of atherosclerosis. In addition to this, it helps create anticoagulants, keeps cells from becoming too permeable, and stops platelets from clumping, thus preventing blood clots in vessels. It is recommended for those with high cholesterol levels, while studies have proven its cancer-fighting capabilities. At high doses, it assists insulin action and normalizes glucose levels in the bloodstream. Moreover, it helps signals travel to different parts of the body.
COMPOSITION
Servings per container: 60
Serving size: 1 capsule
Ingredients
1 capsule

Pro-Anabolic System:

Estra-4,9,11-triene-3,17-dione

15 mg

2a-3a-epithio-17a-methyl-5a-androstan-17b-ol

10 mg

Liver Support System:

NAC (n-acetyl L-cysteine)

500 mg

Rosmaric Acid

100 mg

Milk Thistle Extract (80% Silymarin + 30% Silybin)

100 mg

Grape Seed Extract

10 mg

Vitamin E TPGS

10 mg
Other Ingredients: Magnesium Stearate, Silicon Dioxide
DIRECTIONS OF USE
Dosage: 1 capsule 2 times a day.
REVIEWS
There is no review
Atsiliepimas Atsiliepimas