All products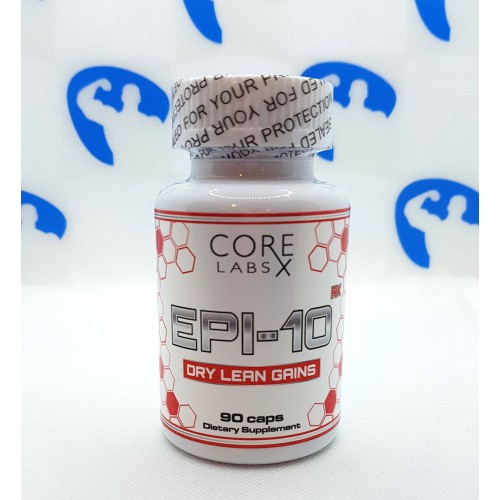 
DESCRIPTION
COMPOSITION
DIRECTIONS OF USE
REVIEWS
DESCRIPTION
Epistan prohormone from Core Labs EPI-10 RX (90 capsules) can provide a noticeable increase in weight gain and accelerate fat burning. It also causes the excretion of excessive water, which leads to more defined muscle definition and makes the Core Labs EPI-10 RX 90 capsule a great product for cutting.
EPI-10 RX has been proven to drastically upsurge muscle quality and finish off your shape in one sitting without any fear of side effects or uneasiness. As a bonus, this prohormone boosts sex drive, makes you feel better, and provides you with extra endurance and vitality. It also serves as a highly powerful anti-catabolic compound, keeping muscle loss to a minimum even during demanding workout routines and restricted diets.
A capsule contains 10mg of 2,3a-epithio-17a-methyletioallo-chloan-17b-ol, an Epistan Prohormone, which markedly boosts pure muscle recruitment, speeds up fat burning, and enhances strength performance, resulting in firm, drawn-up muscles and restraining muscle breakdown.
COMPOSITION
Serving size: 1 capsule
Servings per container: 90
| | |
| --- | --- |
| Amount Per Serving | %DV** |
| NAC (N-Acetyl L-Cysteine) | 350 mg |
| 2.3a-epithio-17a-methyletioallo-cholan-17b-ol | 10 mg |
| Vitamin E (TPGS) | 10 mg |
Other ingredients: Magnesium Stearate, Silicon Dioxide, Magnesium Carbonate, Calcium Gluconate, Potassium Gluconate, Zinc Gluconate.

**Daily Value not established.
DIRECTIONS OF USE
Dosage: Take one capsule of Vitamin E (10 mg) along with morning and evening meals to improve your hormonal system, boost antioxidant levels, enhance the synthesis of sex hormones and maintain libido. Additionally, we recommend one capsule of NAC (350 mg) twice daily with meals to safeguard kidney function, protect the liver from damage caused by toxins, and to act as another strong antioxidant and immunomodulator.
REVIEWS
There is no review
Atsiliepimas Atsiliepimas