PROHORMONES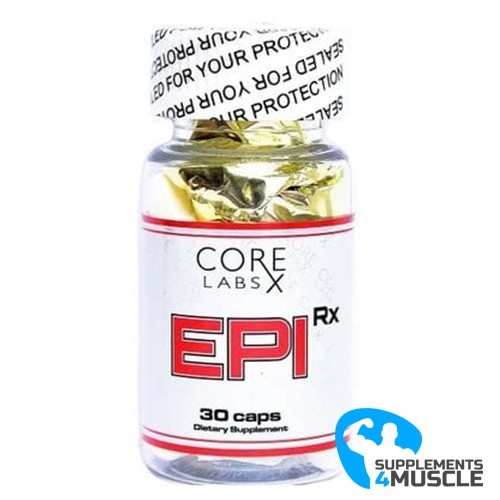 
DESCRIPTION
COMPOSITION
DIRECTIONS OF USE
REVIEWS
DESCRIPTION
Core Labs X EPI Rx
Dietary supplement Core Labs X EPI Rx featuring up to 15mg of 2,3a-epithio-17a-methyletioallo cholan-17b-ol per capsule, a substance also identified by its market names: Epistane, Epi, Havoc, Oxanavar, and Methyl E.
Epi Rx is an effective product that intends to build a well-defined, strong physique by reducing body fat and water unnecessary for the body. Athletes can also expect an increase in their strength and muscular endurance due to its anabolic to androgenic ratio, which lessens side effects, as well as the elevated testosterone and blocked estrogen receptors. Moreover, of all prohormones, Epi Rx has the least effect on disrupting one's hormonal balance.
What advantages does Epi Rx offer?
It has been found to cause a significant increase in lean muscle mass, raise testosterone levels while decreasing estrogen, boost sexual performance and libido, improve blood flow, and work both anabolically and anti-catabolically, resulting in an increase in dry muscle mass, as well as enhanced strength and endurance.
The formulation of EPI Rx has been supplemented with 350mg of N-Acetyl L-Cysteine, helping to defend liver cells and boost their performance, as well as preventing any potential damage. Moreover, the product contains 10mg of Vitamin E TPGS increasing the absorption and utilization of anabolic ingredients, leading to enhanced lean body mass and strength progress.
What should be kept in mind when using Epi Rx?
When taking Epi Rx, make sure to take in a greater than average amount of protein, as it breaks down more easily to create muscle mass. An adequate source of energy, such as carbohydrates and fats, must also be provided, as increased muscle production requires a great deal of energy. Since prohormones speed up your metabolism, it is essential to drink a lot of water and supplement with vitamins, minerals and electrolytes to keep your body going.
It is vital to employ PCT Rx following use of the item to bring back the user's body's regular hormonal levels. For prolonged cycles or using multiple prohormones together, it is best to take advantage of A when the cycle comes to an end. Furthermore, ensure to still provide ample protein post-completion of the cycle in order to maintain developed muscle. Additionally, making use of revolutionary creatine products of the Quatro Load genre and anti-catabolic agents that will constrict muscle loss and retain the desired shape is recommended.
It is beneficial to use a product that promotes liver health, for example Liver3. This is one of the novel products accessible now that assists with liver renewal.
COMPOSITION
Serving Size: 1 Capsule
Servings per Container: 90
| | |
| --- | --- |
| Amount Per Serving | % Daily Value** |
| NAC (N-Acetyl L-Cysteine) | 350mg |
| 2,3a-epithio-17a-methyletioallo cholan-17b-ol | 15mg |
| Vitamin E (TPGS) | 10mg |
Other Ingredients: Magnesium Stearate, Silicon Dioxide, Magnesium Carbonate, Calcium Gluconate, Potassium Gluconate, Zinc Gluconate.
DIRECTIONS OF USE
Directions: As a dietary supplement, take 1 capsule 1-3 times per day.
REVIEWS
There is no review
Atsiliepimas Atsiliepimas