All products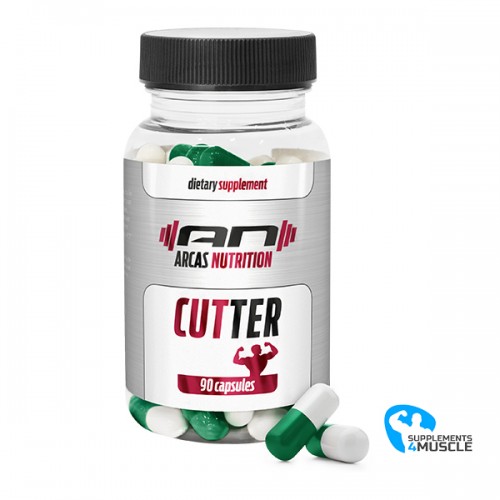 
DESCRIPTION
COMPOSITION
DIRECTIONS OF USE
REVIEWS
DESCRIPTION
Cutter, from Arcas Nutrition, is a prohormone that will keep your muscles looking full and defined. It is formulated with Epistane, an ingredient that can help increase focus and physical performance, as well as reduce muscle soreness - all without causing significant water retention. 
If you're looking to shed pounds while gaining hard, dry muscle mass, Cutter prohormone will work for you, as it won't cause much water retention. You'll have fuller muscles that are still well defined. Achieving lean, strong muscles is a common aim for many who exercise. Prohormones are a recent development that provides noteworthy advantages for muscle growth, testosterone levels, strength, and stamina. Combining prohormones with caffeine and taurine will help you reach your goal of cutting body fat.
Cutter is a mixture of Epistane, Caffeine, and Taurine. Epistane is known to contribute to dry and firm muscle gains, as well as improved strength levels. It can also reduce excess fat and increase overall health and arousal. Furthermore, it can increase strength gains and help increase muscle size. If you only want the Epistane component, click the link.
Caffeine can decrease your hunger and bolster your body's capacity to create heat and energy. It has advantageous outcomes in regards to sports as well. Fifteen out of seventeen examinations demonstrated that ingesting caffeine gave critical enhancements in exercise performance and nine out of eleven examinations demonstrated the advantages of caffeine utilization during weight training. In case you're searching for only Caffeine supplementation, click here.
Taurine, an amino acid, has been found to boost athletic performance; moreover, it aids in weight-loss by increasing the body's utilization of fat for energy. Research involving cyclists revealed that a 1.66 gram dosage of taurine caused a 16% rise in fat burning.
COMPOSITION
Serving Size: 1 Capsule
Servings Per Container: 90 Servings
| | |
| --- | --- |
| Amount Per Serving | |
| 2A, 3A-Epithio-17AMethyl-5A-Androstan-17B-OL (Epistane) | 10 mg |
| Caffeine | 150 mg |
| Taurine | 50 mg |
Other ingredients: Gelatin (capsule), Magnesium Stearate
DIRECTIONS OF USE
Dosage: The recommended dosage for men is 2-6 capsules per day, each of which contains 10mg Epistane, 150mg Caffeine, and 50mg Taurine. The package contains 90 capsules in total.
REVIEWS
There is no review
Atsiliepimas Atsiliepimas