Xtreme PWO formulas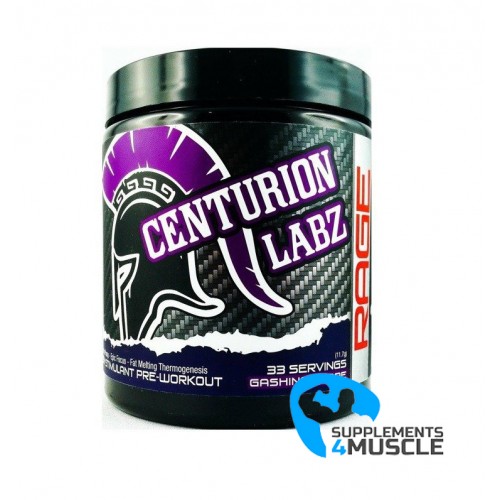 
DESCRIPTION
COMPOSITION
DIRECTIONS OF USE
REVIEWS
DESCRIPTION
Centurion Labz Rage DMHA 386g
Centurion Labz RAGE (DMHA) is the definite leader in the area of pre-workout enhancers, surpassing other well-known products such as jack3d or mesomorph. This is all due to the fact that its active ingredients are specifically chosen to work together in synergy, thus creating an almost ideal pre-workout supplement that can please even seasoned athletes.
RAGE DMHA gives you a huge energy boost by combining l-arginine agmatine, 200 mg DMHA, synephrine, Hordein, and higenamine. This incredible mix is enough to make you feel like a beast, and with two versions of DMAA and DMHA currently available, a third is in the works. This DMHA version is a great choice for those who want the power of the original version with DMAA and yohimbiną, but don't feel well in response to them.
DMHA is a stimulant similar to geraniums with a powerful impact on the central nervous system that boosts the neurotransmitters dopamine and norepinephrine. Its use in conjunction with working out can have excellent outcomes like cutting down hunger, reducing body fat, extending memory and creativity, and even relieving anxiety by combating exhaustion. It's a great choice for those who desire the effects of DMAA but do not tolerate it very well due to its similar chemical structure to DMHA.
Agmatine exhibits neuroprotective, anticonvulsive, antidepressant, anti-anxiety, and pain-relieving abilities. It also promotes the production of nitric oxide, leading to greater muscle stimulation.
Hordenine, resulting from L-Tyrosine, works like ephedra and enhances thermogenic processes. Additionally, it boosts dopaminergic output. If consumed with caffeine or synephrine, it can lengthen the stimulant action and avoid the decrease in energy that happens with a sudden "crash". Additionally, this mixture extends the period of increased metabolism.
Higenamine stimulates the breakdown of fat through oxidation.
L-arginine is recognised for its capacity to create nitric oxide, which enlarges blood vessels. This aids in the transportation of nutrition and oxygen to active cells, as well as the elimination of poisonous metabolic waste products, hindering metabolic activities.
Beta-Alanine is primarily used to increase the levels of carnosine in muscles and not for expanding the size of muscle cells. The main benefit of this is that it delays the acid buildup in the muscles during both aerobic and anaerobic physical activity. This means that people can take part in more intense and effective workouts, leading to greater endurance and strength.
Synephrine is a stimulant alkaloid that shares similar structure and effects to ephedrine. People looking to reduce their body fat and bodybuilders benefit from its thermogenic properties, which increases fat burning. Besides that, it sparks off the process of lipolysis (fat breakdown). It also boosts the physical performance of the body due to the increased blood pressure, improved blood circulation, accelerated heart rate, and dilated bronchi, which are all beneficial to athletes.
COMPOSITION
Serving Size: 1 Heaping Scoop (11.7g)
Servings Per Container: 33
Amount Per Serving

%DV

Vitamin D

2000IU

333%

Vitamin C

300mg

400%

Calcium

1mg

1%

Folate

200mcg

40%

Vitamin B12

30mcg

125%

Creatine Monohydrate

3.000mg

**

L-Arginine

3.000mg

**

Beta Alanine

2.500mg

**

Agmagtine Sulfate

1.000mg

**

Caffeine Anhydrous

300mg

**

Cocoa Bean Extract

200mg

**

Theobromine

200mg

**

Kaempferol

100mg

**

Synephrine

65mg

**

Hordenine

60mg

**

Naringin

50mg

**

Mucuna Pruriens

50mg

**

D-Glucurono-3,6,lactone

50mg

**

Higenamine

20mg

**

2-Amino-5-methylheptane

200mg

**
**No Daily Value Established
Other ingredients: Citric Acid, Maltodextrin, Calcium Silicate, Natural & Artificial Flavours, Sucralose, Acesulfame-K.
DIRECTIONS OF USE
Dosage: 1 brand 30 minutes before training
REVIEWS
There is no review
Atsiliepimas Atsiliepimas