Xtreme PWO formulas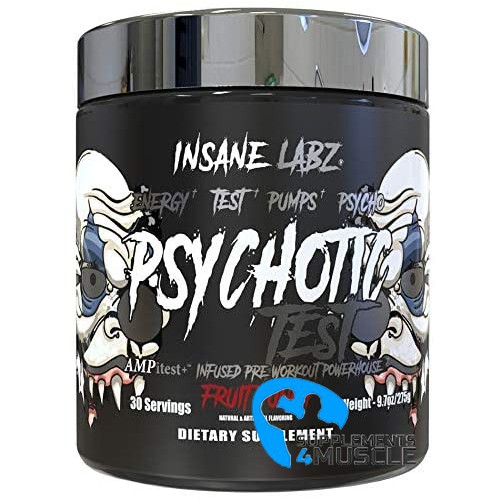 
DESCRIPTION
COMPOSITION
DIRECTIONS OF USE
REVIEWS
DESCRIPTION
Insane Labz Psychotic Test 276g
Insane Labz offers a powerful and intensive pre-workout supplement that promises to deliver outstanding exercise results.
Psychotic Test is an innovative combination of components giving an intense, long-lasting muscle pump as well as a reliable shot of energy. It has been developed to upsurge muscle size and manage the creation of testosterone in the body. It can be considered one of the strongest pre-workout supplements accessible in the US with an intense stimulant effect. This supplement contains the well-known AMPitest formula, which decomposes to raise testosterone levels. It additionally aids to intensify concentration and endurance during exercise.
AMPiberry's patented blend is a great choice for athletes who require an energy boost while training rigorously. Its special components can lower oxidative stress, inflammation and delayed-onset muscle soreness, and increase testosterone levels - helping anyone who works out to optimize their performance.
This extraordinary mixture works together to give you remarkable strength and vigor, while also assisting your body in getting back to shape after exercising. Get the newest supplement of the PSYCHOTIC series immediately and really let loose at the gym!
Psychotic TEST boasts a completely novel Energy matrix that gives consumers the ultimate pre-workout stimulant to maximize each workout.
This comprehensive blend of D- Aspartic Acid, Chlorophytum Extract, and AMPitest gives your muscles a major boost of testosterone, giving them the power to keep growing even following your exercise regimen.
Psychotic TEST carries the leading qualities in boosting testosterone, making it ideal to get those muscles growing even after the exercise session is over.
COMPOSITION
Serving size: 1 scoop (9.2g)
Servings per container: 30
Amount Per Serving

9.2g

PUMP & ENDURANCE MATRIX:

Beta Alanine, Glycerol Monostearate, Creatine HCL, OXYGOLD (Fulvic Acid)

3.8g
TESTOSTERONE MATRIX:
D-Aspartic Acid, AMPitest+ (Mucuna Pruriens Extract (98% L-Dopa)(seed) & Chlorophytum Extract (Chlorophytum Borivilianum)(whole herb))
3.4g
ENERGY & FOCUS MATRIX:
Caffeine Anhydrous, Choline Bitartrate, Citicoline Sodium, AMPiberry (Juniperus Communis)(berry), DMAE Bitartrate, Rauwolfia Vomitoria Extract (std. min 90% alpha yohimbine)(rootbark)
502mg
Other Ingredients: Citric Acid, Natural and Artificial Flavoring, Silica, Sucralose, Sodium Chloride, Calcium Silicate, FD&C Red #40
DIRECTIONS OF USE
Dosage: 1 scoop 30 minutes before training.
REVIEWS
There is no review
Atsiliepimas Atsiliepimas