PREWORKOUTS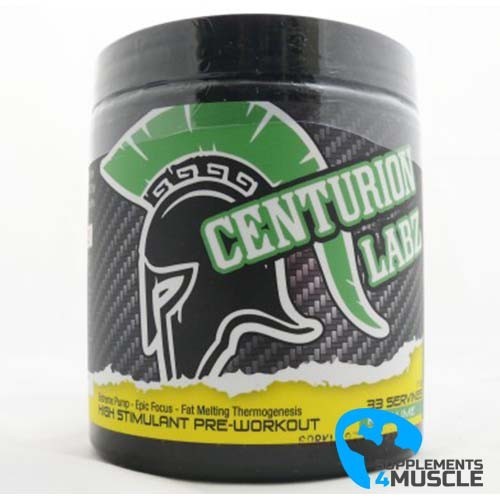 
Centurion Labz Rage DMAA
60mg 1,3-Dimethylamylamine
3g L-Arginine
1g Agmatine Sulfate
300mg Caffeine Anhydrous
DESCRIPTION
COMPOSITION
DIRECTIONS OF USE
REVIEWS
DESCRIPTION
Centurion Labz Rage
Centurion Labz Rage is a pre-workout supplement with a strong collection of ingredients which give considerable benefits for a great workout. It functions as a pre-workout supplement but the effects of the combination may continue to be felt even when you are finished with your workout.
People who purchase Centurion Labz God of Rage do not just do so because it is effective; they also purchase it because the company is known for producing reliable and excellent goods. God of War Black, which preceded the newly released God of Rage, was very popular. With the release of God of Rage, the brand has progressed while still preserving its good standing.
According to the latest research in the field of science
God of Rage surpasses the average supplement mixture. It consists of l-arginine, plus a few elements which can't be found anywhere else. The components and their muscle-strengthening properties will be talked about in more detail later, but for now, you should know the blend does not involve any artificial ingredients which could be dangerous to your health.
For instance, this supplement consists of elements that are all-natural and free from additives, fillers, chemicals, substandard components, and synthetics. Thus, you can be confident that it will not lead to any negative outcomes when consumed.
The Deity of Fury has Stimulants Included
The supplement does not contain anything dangerous, yet it does have a few stimulants. Stimulants can be beneficial if used in moderation, as they can help increase metabolism and burn fat. Centurion Labz God of Rage contains stimulants that are effective for fat burning and boosting metabolism.
L-Arginine is best known for its capability to produce nitric oxide, a compound that widens blood vessels. Subsequently, arginine enhances the speed of nutrient and oxygen delivery to functioning cells and the elimination of metabolic toxins, which hinder metabolic action.
Anhydrous caffeine, the most widely-used stimulant on the planet, has a stimulating effect, reduces the amount of Adenosine in the body, and hampers the disintegration of cAMP.
Beta-Alanine is mainly utilized to elevate the amount of carnosine in the muscles rather than to increase the size of muscular cells. The benefit of this is that it considerably decreases the acidification of skeletal muscles during both aerobic and anaerobic activity. As a result, workouts become more strenuous, intense and successful, and both endurance and muscular strength become amplified.
Agmatine has been shown to possess neuroprotective, anticonvulsive, antidepressant, anxiolytic, and painkilling abilities. Additionally, it has been observed to increase the creation of nitric oxide, which amplifies the effect of the "muscle pump."
Hordenine, derived from L-Tyrosine, has similar effects to that of ephedra and furthermore promotes the warm-up of thermogenic processes while heightening dopamine production. In union with caffeine or synephrine, stimulation lengthens without unexpectedly declining energy levels or facing a sudden crash. Additionally, the span of heightened metabolism is expanded.
Geranium acts as a powerful energizer, aiding in the decrease in fat mass and enhancing the power of workouts.
A substance known as D-glucurono-3,6, lactone (Glucuronolactone) is advantageous in eliminating any damaging compounds produced during the procedure of metabolism associated with physical activity. It is a precursor for ribose that assists in transforming glucose into energy, in addition to aiding the transportation of carboxylic acids to muscle cells so they can be used as an energy resource.
Higenamine can speed up the burning of fat, which is the metabolic process of breaking down fats for energy.
COMPOSITION
Serving Size: 1 Heaping Scoop (11.7g)
Servings Per Container: 33
| | | |
| --- | --- | --- |
| | Amount Per Serving | %DV |
| Vitamin D | 2000IU | 333% |
| Vitamin C | 300mg | 400% |
| Calcium | 1mg | 1% |
| Folate | 200mcg | 40% |
| Vitamin B12 | 30mcg | 125% |
| Creatine Monohydrate | 3.000mg | ** |
| L-Arginine | 3.000mg | ** |
| Beta Alanine | 2.500mg | ** |
| Agmagtine Sulfate | 1.000mg | ** |
| Caffeine Anhydrous | 300mg | ** |
| Cocoa Bean Extract | 200mg | ** |
| Theobromine | 200mg | ** |
| Kaempferol | 100mg | ** |
| Synephrine | 65mg | ** |
| 1,3-Dimethylamylamine | 60mg | ** |
| Hordenine | 60mg | ** |
| Naringin | 50mg | ** |
| Mucuna Pruriens | 50mg | ** |
| D-Glucurono-3,6,lactone | 50mg | ** |
| Higenamine | 20mg | ** |
| Yohimbine HCL | 2mg | ** |
**No Daily Value Established
Other ingredients: Citric Acid, Maltodextrin, Calcium Silicate, Natural & Artificial Flavours, Sucralose, Acesulfame-K.
DIRECTIONS OF USE
Directions: For beginners, mix 1 heaping scoop with 200-300ml of water and consume 30 minutes before training. For the truly hardcore, go into RAGE-MODE by mixing 2 scoops with 500ml and consume 30 minutes before training. Then....PREPARE TO RAGE.