Xtreme PWO formulas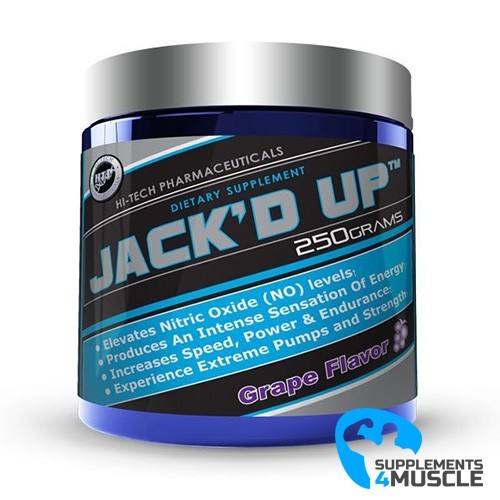 
HI-TECH PHARMACEUTICALS Jack`d Up
Elevates Nitric Oxide (NO) levels
Produces An Intense Sensation Of Energy
Increases Speed, Power & Endurance
Experience Extreme Pumps and Strenght
DESCRIPTION
COMPOSITION
DIRECTIONS OF USE
REVIEWS
DESCRIPTION
HI-TECH PHARMACEUTICALS Jack`d Up
Hi Tech Pharmaceuticals have created Jack'd Up due to the rising demand of stimulant-reliant athletes. This is the most potent pre-workout supplement ever formulated, and it's even stronger than Jack3d, the popular pre-workout from USPLabs that has since been pulled off the market by the FDA. With Jack'd Up, users can expect to lift more weight in the gym, have better pumps, perform more reps, and be more vascular than ever; with no unwanted side effects like bloating, headaches, or a crash.
With your first use of Jack'd Up you will experience an extreme surge of energy. The nitric oxide enhancing components create significant muscle pumps and much more prominent veins. Containing four distinct types of creatine, Jack'd Up facilitates faster muscle development and greater muscle fullness than usual.
COMPOSITION
Serving Size: 1 Scoop (5.55 grams)
Servings Per Container: 45
Amount Per Serving
% Daily Value
Proprietary Blend
L-Arginine Alpha-Ketoglutarate 2:1, Creatine Monohydrate, Beta Alanine, Creatine HCI, Creatine Nitrate, Disodium Creatine Phosphate, Caffeine, 1,3-Dimethylamylamine HCI, Agmatine Sulphate (AgmaPure®), Schisandra Chinensis (Berry) Extract
4145mg
*
Other Ingredients: Citric Acid, Natural Flavors, Acesulfame-K, Sucralose, Silicon Dioxide, Grape Skin Extract.
DIRECTIONS OF USE
Directions For JACK`D UP: Stir 3 Ultra-Concentrated scoops with 4-8 ounces of cold water and consume 30-45 minutes before beginning activity. Due to extreme potency, it`s highly recommended to assess tolerance by using a 1.5 scoop serving before consuming full dose, especially if you are sensitive to stimulants. Some individuals may find 1, 1.5 or 2 scoops per serving is the ideal dose for extremely intense workouts. DO NOT EXCEED 3 SCOOPS IN ANY 24 HOUR PERIOD.
REVIEWS
There is no review
Atsiliepimas Atsiliepimas