Xtreme PWO formulas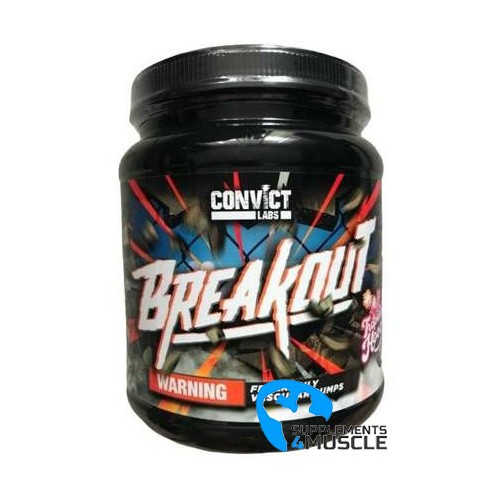 
DESCRIPTION
COMPOSITION
DIRECTIONS OF USE
REVIEWS
DESCRIPTION
Convict Labs Breakout 600g
This incredible pre-workout stack has effects on almost every aspect of the body and mind, which are essential during strenuous physical activity. It's ideal to use while going through high-intensity workouts and great for anyone looking for an intense boost.
A pre-workout supplement of 100 mg 1.3 Dimethylamylsmine (DMAA) is incredibly well-crafted, resulting in a sensational muscle pump. It helps to improve strength and endurance, heightening the intensity of your training while reducing the feeling of weariness. Essential vitamins are delivered, creating an outstanding level of enthusiasm and focus.
BREAKOUT was created with experienced exercisers in mind who want to push the limits of their training. It is more than just a regular exercise aid, it can actually help you shape your body and enhance your performance. Thanks to the myriad features of its active ingredients, you can feel the full effects of the product. It is suitable for any stage of physical effort where your body is pushed to its limits.
Those that choose to take BREAKOUT will find that pre-workout supplements can be incredibly useful. It is suitable even for those who would normally be averse to stimulants. What makes it successful is not just the amount used, but the quality of the individual components and how they are combined. Not only does this support the nervous system, but it enables the user to zone in on their exercise and block out anything else happening in their immediate environment.
COMPOSITION
Serving Size: Single Dose 10g; Double Dose 20g
Servings per container: 30-60
| | | |
| --- | --- | --- |
| Supplement Facts: | | |
| Servings per container | 60 | 30 |
| Serving size | 1 scoop (10g) | 2 scoops (20g) |
| L-Citruline | 2500 mg | 5000 mg |
| Citrulline Malate (2:1) | 1500 mg | 3000 mg |
| Beta Alanine | 1000 mg | 2000 mg |
| Glicerol Monostearate | 500 mg | 1000 mg |
| N-acetyl L-tyrosine | 500 mg | 1000 mg |
| Arginine AKG | 500 mg | 1000 mg |
| Creatine HCL | 500 mg | 1000 mg |
| Taurine | 250 mg | 500 mg |
| Caffeine Anhydrous | 250 mg | 500 mg |
| Ascorbic Acid | 250 mg | 500 mg |
| Agmatine Sulfate | 250 mg | 500 mg |
| L-Carnitine Tartrate | 250 mg | 500 mg |
| ALC | 250 mg | 500 mg |
| Deanol Bitartrate (DMAE) | 200 mg | 400 mg |
| Betaine Anhydrous | 150 mg | 300 mg |
| Creatinol o Phosphate | 100 mg | 200 mg |
| DMHA | 75 mg | 150 mg |
| Beta-cyclo-dextrin | 50 mg | 100 mg |
| Alpha GPC 99% | 50 mg | 100 mg |
| L-theanine | 50 mg | 100 mg |
| DMAA | 50 mg | 100 mg |
| Citrus Aurantium | 50 mg | 100 mg |
| Betaine HCL | 25 mg | 50 mg |
| Potassium | 25 mg | 50 mg |
| Hordenine HCL | 25 mg | 50 mg |
| Grape Seed P.E 95% OPC | 20 mg | 40 mg |
| Huperzine A | 10 mg | 20 mg |
| Vitamin B6 | 5 mg | 10 mg |
| N-methyl Tyramine HCL | 3 mg | 5 mg |
| Naringenin | 3 mg | 5 mg |
| Yohimbine HCL | 1 mg | 3 mg |
DIRECTIONS OF USE
Suggested Use: Mix 1-2 scoops with 8-10 ounces of cold water and consume 30-45 minutes before training
For your safety: Take 1-2 days off every 2-3 days of consecutive use
REVIEWS
There is no review
Atsiliepimas Atsiliepimas