Xtreme PWO formulas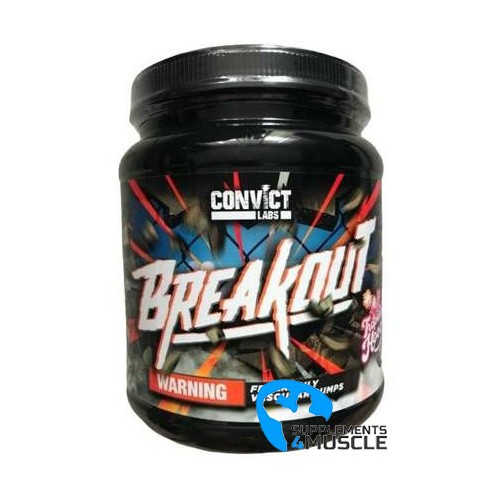 
DESCRIPTION
COMPOSITION
DIRECTIONS OF USE
REVIEWS
DESCRIPTION
Convict Labs Breakout 600g
BREAKOUT - This is a brilliant pre-workout stack that affects almost all parameters of our body and mind that are important during physical exertion. It is perfect for heavy training periods and for people looking for a strong and intense stimulation.
- 100 mg 1.3 Dimethylamylsmine (DMAA)
- Extremely thought-out pre-workout supplement
- Spectacular muscle pump
- Significant improvement in strength and endurance
- It allows you to increase the training intensity
- Reduces the feeling of fatigue
- Provides important vitamin compounds
- Extreme motivation and concentration
BREAKOUT is a product designed for advanced people who want to take their training to a higher level again. Thanks to the diverse characteristics of the active ingredients, we can perfectly feel its action on many levels. It is much more than just another training booster, it is a product that can significantly contribute to a change in our figure and performance at the gym. It can be used at every training stage in which we subject our body to extreme physical effort.
People using BREAKOUT will certainly rediscover the potential of pre-workout supplements. It is perfect even for people who are highly resistant to stimulant ingredients. The secret of action lies not only in the quantity, but above all in the quality of specific substances and in their optimal combination. This supplement works in many directions, not only stimulating the nervous system, but also thanks to advanced ingredients, it allows us to focus only on training and completely isolate ourselves from the world around us.
COMPOSITION
Serving Size: Single Dose 10g; Double Dose 20g
Servings per container: 30-60
| | | |
| --- | --- | --- |
| Supplement Facts: | | |
| Servings per container | 60 | 30 |
| Serving size | 1 scoop (10g) | 2 scoops (20g) |
| L-Citruline | 2500 mg | 5000 mg |
| Citrulline Malate (2:1) | 1500 mg | 3000 mg |
| Beta Alanine | 1000 mg | 2000 mg |
| Glicerol Monostearate | 500 mg | 1000 mg |
| N-acetyl L-tyrosine | 500 mg | 1000 mg |
| Arginine AKG | 500 mg | 1000 mg |
| Creatine HCL | 500 mg | 1000 mg |
| Taurine | 250 mg | 500 mg |
| Caffeine Anhydrous | 250 mg | 500 mg |
| Ascorbic Acid | 250 mg | 500 mg |
| Agmatine Sulfate | 250 mg | 500 mg |
| L-Carnitine Tartrate | 250 mg | 500 mg |
| ALC | 250 mg | 500 mg |
| Deanol Bitartrate (DMAE) | 200 mg | 400 mg |
| Betaine Anhydrous | 150 mg | 300 mg |
| Creatinol o Phosphate | 100 mg | 200 mg |
| DMHA | 75 mg | 150 mg |
| Beta-cyclo-dextrin | 50 mg | 100 mg |
| Alpha GPC 99% | 50 mg | 100 mg |
| L-theanine | 50 mg | 100 mg |
| DMAA | 50 mg | 100 mg |
| Citrus Aurantium | 50 mg | 100 mg |
| Betaine HCL | 25 mg | 50 mg |
| Potassium | 25 mg | 50 mg |
| Hordenine HCL | 25 mg | 50 mg |
| Grape Seed P.E 95% OPC | 20 mg | 40 mg |
| Huperzine A | 10 mg | 20 mg |
| Vitamin B6 | 5 mg | 10 mg |
| N-methyl Tyramine HCL | 3 mg | 5 mg |
| Naringenin | 3 mg | 5 mg |
| Yohimbine HCL | 1 mg | 3 mg |
DIRECTIONS OF USE
Suggested Use: Mix 1-2 scoops with 8-10 ounces of cold water and consume 30-45 minutes before training
For your safety: Take 1-2 days off every 2-3 days of consecutive use
REVIEWS
There is no review
Atsiliepimas Atsiliepimas