Xtreme PWO formulas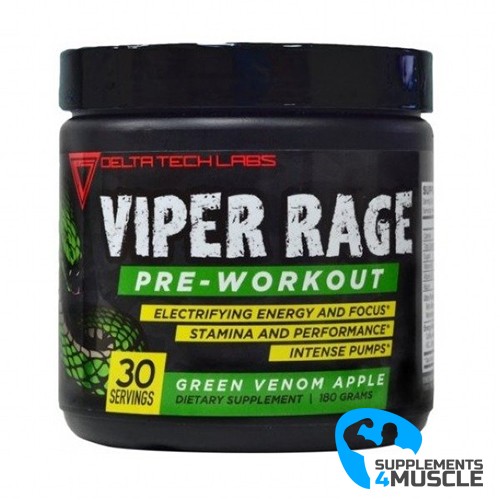 
Viper Rage DMAA 180g
50 mg Ephedra Extract
Contains Geranium Oil
4.0 g of pump blend
DESCRIPTION
COMPOSITION
DIRECTIONS OF USE
REVIEWS
DESCRIPTION
Viper Rage DMAA 180g
Viper Rage DMAA 180g is a revolutionary pre-workout supplement that promises to give users intense concentration and energy levels during exercise. The novel formulation contains potent stimulating compounds and nitric oxide boosters for the rapid development of muscle mass and a great muscle pump. Vitamins B contribute to a balanced nervous system and help enhance your mood.
The Viper Rage pre-workout supplement can make your workout more effective, help you lose fat, build strength, and put you in a better mood. It comes in two versions—Ultra Pump Blend with beta alanine, agmatine sulfate, creatine monohydrate, and l-citrulline and Energy Matrix Combo formulated with geranium, yohimbine, eferdia extract, and caffeine. The high dose of geranium in the first formula provides a strong stimulant to boost your central nervous system, increase alertness and performance, and accelerate your metabolism.
Caffeine Anhydrous has been shown to trigger thermogenesis and reduce hunger via the heightened production of adrenaline and noradrenaline. Surveys additionally confirm increased levels of neurotransmitters including dopamine, acetylcholine and serotonin in the brain, causing stimulation and improved cognitive performance. Consequently, the effects of caffeine on the body can help preserve the efficiency of exercise and maintain a cheerful state of mind despite calorie restriction.
Geranium Oil is an organic stimulant taken from the geranium plant with a powerful effect on the central nervous system. Athletes and bodybuilders are particularly capable of utilising the active ingredient, which is methylhexanamine. Promoting thermogenesis, it heightens the fat burning process. Evidentially, it also increases one's mental alertness, improving cognitive ability and creating an incentive on action. It is quickly absorbed into the bloodstream and can penetrate the blood-brain barrier delivering effects rapidly to the central nervous system. Research has demonstrated that pairing geranium with caffeine can add a 35% increase to the metabolism.
Yohimbine HCL is beneficial when fighting refractory adipose tissue, particularly in men near the chest and stomach area, and in women on the hips, buttocks, and thighs. It works by blocking alpha 2 receptors which allows for the slimming of resistant body parts. It is important to remember that when taken with carbohydrates, the effects of yohimbine will be minimal. Its efficacy increases when it is taken on an empty stomach before physical activity.
Caffeine Citrate has recently been embraced in the world of fitness due to its ability to raise caffeine levels more quickly in the bloodstream than other sources of caffeine.
Ephedra Extract is known to naturally boost the rate of metabolism and burn fat by increasing the basal metabolic rate of the body, inducing a caloric deficiency. As well as making it easier to monitor food intake and maintain a low-calorie diet, research has shown that the plant is a major source of flavonoids which are great for neutralizing free radicals in the body.
Beta Alanine helps supply the material needed to produce carnosine, which assists in slowing down the aging process. It is beneficial in the regulation and improvement of muscles, promoting endurance and strength. In regard to exercise, Beta Alanine can help reduce tiredness, enabling muscles to carry out activities more efficiently and grow quicker. If a person takes the amino acid, they might occasionally experience a tingle sensation known as paraesthesia - this is because the extra blood and oxygen being supplied to the muscles leads to blood vessels widening.
Agmatine Sulfate has been demonstrated to effectively promote the production of nitric oxide in the body, resulting in enhanced muscle pump feeling throughout exercise. Intensified vasodilation facilitates the directional flow of blood and essential sustenance to the engaged muscles, thus quickening the process of recovery and aiding in the formation of new muscle fibers. Investigations involving agmatine have shown that with its use, it can augment protein synthesis as much as twofold, which along with agmatine's properties, is associated with its ability for boosting the provision of nutrients to muscle fibers.
Creatine Monohydrate has been heavily researched and validated through many examination of physical activity, ranging from bodybuilders to sprinters. This form of creatine has been found to be completely safe and excellent for improving physical performance for male and female athletes alike.
L-Citrulline is instrumental in the production of nitric oxide and phosphocreatine, and also helps improve the utilization of oxygen, glucose, amino acids and creatine by cells. This can help speed up energy restoration as it lessens the number of lactic acid and ammonia in the muscles, increasing the level of creatine phosphate and ATP resynthesis. Comparing with other forms of arginine, Citrulline malate is more effective, even in the same dosage.
Vitamin B6 functions as a coenzyme in a variety of biological transformations in the body, such as the transamination and decarboxylation of amino acids. It is especially useful in the formation of serotonin and nicotinic acid from tryptophan. It is also needed in phosphorylation, and plays a role in the regulation of glycogenesis and glycogenolysis in muscle tissues. Additionally, it has a positive impact on the immune and hematopoietic systems. Finally, it can lower prolactin levels and thus elevate male libido.
Vitamin B12 helps maintain the healthy functioning of the nervous system and assists in metabolizing proteins and fats. In addition, it assists in keeping the homocysteine levels in balance, which helps the circulatory system. It additionally encourages the production of serotonin, which is a neurotransmitter that can support good mood, and works directly on brain cells to protect them from harm.
Niacin has a very crucial role in the peripheral nervous system. Mitochondrial activity can be upped by taking niacin as well. Additionally, this nutrient helps keep cholesterol regulated in the body and also involved in the manufacturing of several hormones, such as insulin, cortisol, and thyroxine.
COMPOSITION
Serving Size: 1 Scoop (6g)
Servings Per Container: 30
Amount Per Serving
Calories
5
Total Carbohydrate
1g
Sugars
0g
Vitamin B6
10mg
Vitamin B12
100mcg
Niacin
50mg
Ultra Pump Blend:
Beta Alanine, Agmatine Sulfate, Creatine Monohydrate, L - Citrulline
4g
Energy Matrix Combo:
Caffeine Anhydrous, Geranium Oil, Yohimbine HCL, Caffeine Citrate, Ephedra Extract
1.5g
DIRECTIONS OF USE
Due to extreme potency of this product, assess tolreance by mixing 1 scoop serving with 8 - 10 oz of water for the first couple of days before adding any extra scoops.
REVIEWS
There is no review
Atsiliepimas Atsiliepimas