Xtreme PWO formulas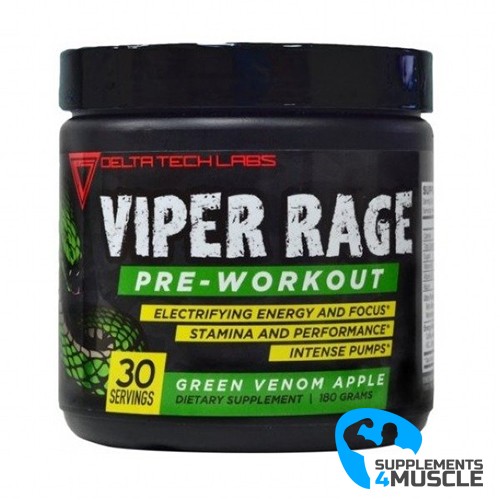 
Viper Rage DMAA 180g
50 mg Ephedra Extract
Contains Geranium Oil
4.0 g of pump blend
DESCRIPTION
COMPOSITION
DIRECTIONS OF USE
REVIEWS
DESCRIPTION
Viper Rage DMAA 180g
Viper Rage DMAA 180g a new pre-workout that ensures high concentration and energy during training. The advanced formula with the use of effective stimulating ingredients, pumping nitric oxide boosters allows for rapid growth of muscle mass with the effect of a muscle pump. Vitamins B promote proper functioning of the nervous system and boost mood.
The use of the Viper Rage pre-workout supplement increases the effects at the gym, accelerates fat loss, increases strength and improves mood. Two unique formulas: Ultra Pump Blend (beta alanine, agmatine sulfate, creatine monohydrate, l-citrulline) and Energy Matrix Combo (geranium, yohimbine, eferdra extract, caffeine). Strong geranium pre-workout recommended for athletes who like strong stimulants, stimulates the central nervous system, significantly improves alertness, increases exercise capacity and speeds up metabolism.
Caffeine Anhydrous - has a thermogenic effect and suppresses appetite, thanks to increased production of adrenaline and noradrenaline. It has been proven to increase the formation of such neurotransmitters in the central nervous system as dopamine, acetylcholine or even serotonin, which exerts a stimulating effect and increases cognitive function. The overall effect of caffeine on the body allows you to maintain the effectiveness of training and maintain a positive mood, despite the calorie deficit.
Geranium Oil - an organic, stimulating compound extracted from geraniums with a stimulating effect. Methylhexanamine is successfully used by athletes and bodybuilders. It is one of the strongest substances stimulating the central nervous system. The substance has a thermogenic effect, which effectively increases the fat burning process. Geranium increases motivation to act, improves intellectual ability and increases alertness. The compound is effectively and quickly absorbed into the bloodstream and has the ability to penetrate the blood-brain barrier. This allows it to act quickly within the central nervous system. Studies confirm that geranium in combination with caffeine increases metabolism by over 35%.
Yohimbine HCL - a substance that is helpful in the fight against refractory adipose tissue, mainly located in the chest and lower waist area in men, as well as hips, buttocks and thighs in women. Yohimbine HCL works by blocking α2 receptors, which clearly facilitates slimming and is helpful in carving slimming-resistant body parts. It is worth remembering that the effect of yohimbine is effectively eliminated by insulin. So taking this compound around carbohydrate meals is pointless. Yohimbine is particularly effective when used on an empty stomach, before exercise.
Caffeine Citrate - Caffeine Citrate has recently gained popularity in the fitness environment because it raises caffeine levels in the blood faster than other sources of caffeine.
Ephedra Extract - the plant contains alkaloids with a thermogenic effect thanks to which it increases the basic energy expenditure of the body causing a caloric deficit. It is therefore an effective way to increase the rate of metabolism and fat burning. In addition, supplementation with green spring extracts reduces appetite, which makes it easier to maintain a diet, especially during periods of low caloric supply. In addition, studies show that the plant is a source of flavonoids capable of scavenging free radicals in the body.
Beta Alanine - is necessary for the production of carnosine and building blocks that help prevent aging. The compound supports the proper functioning and development of muscles. The amino acid is known to reduce muscle fatigue, which can help your muscles work better during training. This in turn promotes muscle growth. Beta-Alanine is particularly helpful in intensive short-term workouts such as weight lifting. Some people taking beta-alanine may notice a slight tingling sensation known as paraesthesia. Tingling occurs because beta-alanine dilates the blood vessels, allowing more oxygen and blood to be delivered to the muscles.
Agmatine Sulfate - agmatine sulfate effectively increases the secretion of nitric oxide in the human body, which translates into a strong muscle pump feeling during training. Vasodilation supports the supply of blood and nutrients to working muscles, which significantly accelerates the regeneration process and builds new muscle fibers. In studies with the use of agmatine, it has been shown that its action can support protein synthesis even twice, which, in addition to the action of agmatine itself, is also associated with the action of increasing the supply of nutrients to muscle tissues.
Creatine Monohydrate - is one of the most studied forms of creatine in the world and has been thoroughly tested and ethically proven in many performance tests, including for physically active people as well as recreational athletes. Creatine monohydrate is ideal for a wide range of male and female athletes; from bodybuilders through the entire range to sprinters. It is completely safe, perfectly increases physical fitness.
L-Citrulline - participates in the synthesis of nitric oxide (NO) and phosphocreatine and oxygen glucose metabolism, thereby increasing the uptake of oxygen, glucose, amino acids and creatine and energy production through muscle cells. It reduces the concentration of lactic acid and ammonia in the muscles, thanks to which it allows the body to recover energy faster by increasing the level of creatine phosphate and ATP resynthesis. Citrulline malate is a much more effective form than high doses of arginine, as it is its precursor. At the same dose as arginine, it is more effective in increasing its amount in the body than arginine alone.
Vitamin B6- is a coenzyme of many enzymatic transformations in the body, among others amino acid transamination and decarboxylation. Particularly important is its participation in the transformation of tryptophan, which produces serotonin and nicotinic acid. It is necessary in the process of phosphorylation, affects glycogenesis and glycogenolysis in muscles, plays an important role in immune and hematopoietic processes. It reduces the secretion of prolactin, which has a negative effect on male libido.
Vitamin B12- is a vitamin responsible for the proper functioning of the nervous system, it also participates in the metabolism of proteins and fats and contributes to the proper level of homocysteine, supporting the circulatory system. Stimulates the production of serotonin - a neurotransmitter responsible for good mood. It also works directly on brain cells, protecting them from toxins.
Niacin - is extremely important for the functioning of the peripheral nervous system. Niacin increases the activity of mitochondria. In addition, it contributes to the proper maintenance of cholesterol in the blood, and also participates in the synthesis of sex hormones: insulin, cortisol and thyroxine.
COMPOSITION
Serving Size: 1 Scoop (6g)
Servings Per Container: 30
Amount Per Serving
Calories
5
Total Carbohydrate
1g
Sugars
0g
Vitamin B6
10mg
Vitamin B12
100mcg
Niacin
50mg
Ultra Pump Blend:
Beta Alanine, Agmatine Sulfate, Creatine Monohydrate, L - Citrulline
4g
Energy Matrix Combo:
Caffeine Anhydrous, Geranium Oil, Yohimbine HCL, Caffeine Citrate, Ephedra Extract
1.5g
DIRECTIONS OF USE
Due to extreme potency of this product, assess tolreance by mixing 1 scoop serving with 8 - 10 oz of water for the first couple of days before adding any extra scoops.
REVIEWS
There is no review
Atsiliepimas Atsiliepimas