Xtreme PWO formulas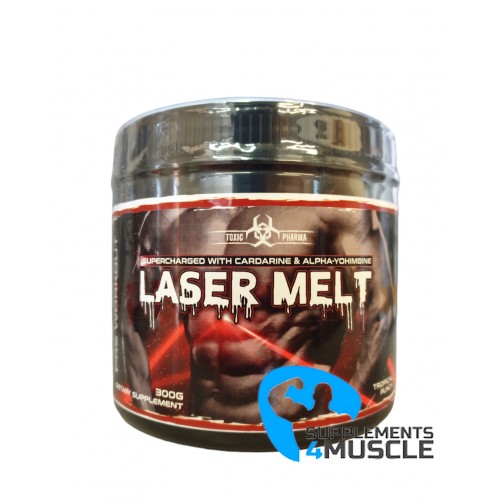 
DESCRIPTION
COMPOSITION
DIRECTIONS OF USE
REVIEWS
DESCRIPTION
Toxic Pharma Laser Melt 300g DMAA
SUPERCHARGED WITH CARDARINE & ALPHA-YOHIMBINE
This is a unique pre-workout perfect for any type of training. Regardless of whether you are building mass and strength, endurance or speed or you are sculpting the figure by reducing body fat. The product provides amazing energy, builds specific muscle mass and provides excellent regeneration during and between workouts.
Benefits:
increase in training capacity
strong motivation for training
supplementation of sweated vitamins
mega motivation for the toughest trainings
amazing pump and use during training
increasing oxygen carrying capacity in the bloodstream, improving aerobic capacity and endurance
quick renewal of energy between series
feeling great during and after training
Have you ever wondered what's the untold secret of thousands of fitness enthusiasts and bodybuilders across the world? Well, the answer is Toxic Pharma Laser Melt. This dietary supplement is enriched with ingredients like Vitamin C, Vitamin D, Vitamin B6, Vitamin B3, Beta-Alanine, Magnesium Carbonate Taurine, Creatine HCL, DMAA, DMHA, Yohimbine HCL, Alpha Yohimbine HCL, Cardarine and more. Toxic Pharma Laser Melt improves muscle size, mass, and definition and helps you achieve amazing muscle pumps like never before. Order Toxic Pharma Laser Melt now.
COMPOSITION
Serving size: 1 Scoop (10g)
Servings per container: 30
Amount Per Serving
Vitamin C
350mg
Vitamin D
250mcg
Vitamin B3
50mg
Vitamin B5
50mg
Vitamin B6
5mg
Vitamin B12
50mcg
Magnesium Carbonate
50mg
L-Citrulline
2500mg
Citrulline Di Malate
1000mg
Beta Alanine
1000mg
Creatine HCL
1000mg
N-Acetyl L-Tyrosine
500mg
Acetyl L-Carnitine
500mg
L-Carnitine L-Tartrate
500mg
Caffeine Anhydrous
350mg
Taurine
350mg
Norvaline
150mg
L-Theanine
100mg
DMHA
100mg
DMAA
60mg
Green Tea 98%
60mg
Synephrine HCL
50mg
Hordenine HCL
50mg
N-Phenethyl Dimethylamine Citrate
50mg
Halostachine HCL
30mg
Theobromine HCL
30mg
Higenamine
30mg
Grape Seed Extract
20mg
Cardarine (GW-501516)
12.5mg
Methyl Synephrine HCL
12.5mg
Gamma-Butyrobetaine Ethyl Ester HCL
12.5mg
Black Pepper Extract (std. to 95% piperine)
5mg
N-Methyltyramine HCL
5mg
Naringenin
5mg
Yohimbine HCL
2.5mg
Alpha-Yohimbine HCL
1mg

Other Ingredients:

Natural Flavour, Sucralose, Silicon Dioxide
DIRECTIONS OF USE
Suggested Use: Cosume one serving mixed with 250-350ml of water 15-30 minutes prior to training. Do not exceed more than 1 serving in a 24 hour period.
REVIEWS
There is no review
Atsiliepimas Atsiliepimas