PREWORKOUTS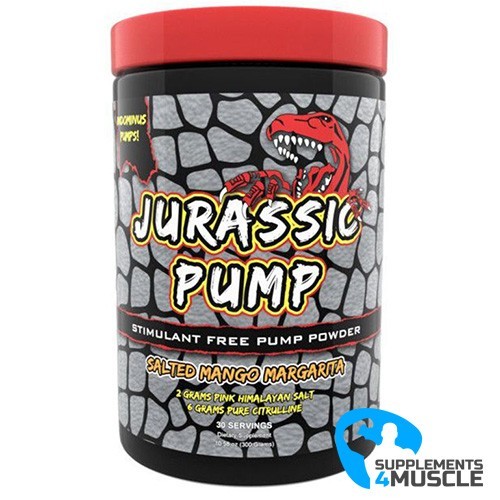 
Tim Muriello`s Jurassic Pump
2 GRAMS OF PINK HIMALAYAN SALT
Naturally Occurring Trace Minerals and All 6 Electrolytes
6 HUGE GRAMS OF PURE CITRULLINE
Overflowing N.O. Production
DESCRIPTION
COMPOSITION
DIRECTIONS OF USE
REVIEWS
DESCRIPTION
Tim Muriello`s Jurassic Pump
Do you want to find out what strength athletes use to achieve amazing feats at powerlifting events?
Do you want to understand how professional bodybuilders bring about extreme vascularity, veins that look thick enough to be drawn on with a Sharpie, as well as muscles that seem completely full, tight, pumped up, and intensely swollen?
The answer to all those questions is SODIUM!
sodium is a water-soluble element which, when ingested, expands the volume of veins, arteries, and the blood fluids themselves. Association of that with a nitric oxide booster like citrulline can create huge muscle pumps that feel like they might burst. On the day before bodybuilding competitions, participants sometimes consume a meal of pancakes and steak, which have been seen to contain high levels of sodium and as such allow the muscles to become as full as they can.
Sodium has a similar effect to creatine, being able to hydrate and increase the size of muscle cells both within and on the surface. This is vital for unlocking higher levels of strength and power, and it is why the greatest strongman and powerlifters will consume 2 grams of sodium before competing.
If ordinary table salt is not up to par, why consider going with Pink Himalayan salt instead? Is there really a difference between them?
Table salt is highly refined and may have additives, but all it basically has in it is sodium and chloride. So where does that leave all the other crucial electrolytes?
The Pink Himalayan Salt contains more than eighty minerals, elements, and electrolytes. It also comprises every one of the six electrolytes required to reach top performance, which includes sodium, potassium, chloride, magnesium, phosphorus and calcium.
This type of salt, referred to as Jurassic Salt, is a remnant from the Jurassic Era which has survived since Earth's beginning; some believe it to be the salt taken from vanished ancient oceans from many years past.
Jurassic Pump contains an incredible 6 g of L-Citrulline. A lot of other businesses try to deceive customers by trying to pass off Citrulline Malate as pure Citrulline, so they can hide how much Citrulline they are giving. They charge the full price for a 20-serving bottle, which is a complete rip-off.
Citrulline is able to be utilized by the body directly, avoiding the breakdown path of Arginine and leading to a large effect on Nitric Oxide production. This expedited increase of N.O. allows the blood vessels to become more relaxed and dilated, clearing a route for oxygen and essential nutrients to reach the muscles in operation.
In addition, you'll find one of the more underrated products to increase blood flow, Niacin, at a perfect strength - not too high and not too low. Niacin widens your veins and arteries inside the body, helping you reach an even greater level of energy! Supplement companies do not discuss Niacin very often, since you can purchase it cost effectively - which reduces earnings for these big corporations.
Jurassic Pump contains the supplement L-Norvaline as a means of avoiding having Nitric Oxide production blocked by Arginase, which is an enzyme that limits the manufacture of too much N.O.
Lastly, Jurassic Pump has Black Pepper Extract in it. This extract helps to stimulate the production of hydrochloric acid and digestive enzymes in the stomach, which helps to break down, digest, and assimilate all of the ingredients found in this supplement.
Unearth a stimulant-free way to build muscle that will leave your muscles so pumped they'll look like they've grown from the time of the dinosaurs with Jurassic Pump!
COMPOSITION
Serving Size: 1 Scoop
Servings Per Container: 30
| | |
| --- | --- |
| | Amount Per Serving |
| Niacin | 50 mg |
| Sodium (as Pink Himalayan Salt) | 780 mg |
| VasoRaptors Vasodilators: | |
| L-Citrulline | 6,000 mg |
| L-Norvaline | 250 mg |
| Jurassic Salt Sodium Pump: | |
| Pink Himalayan Salt (with Trace Minerals) | 2,000 mg |
| Bio-Available Assimilation: | |
| Black Pepper Extract (Piper nigrum)(fruit)(Bioperine®) | 5 mg |
Other Ingredients: Citric Acid, Natural FLavors, Silicon Dioxide, Sucralose, Turmeric (for color), Silica (anti-foam).
DIRECTIONS OF USE
Mix a 1 scoop serving with at least 16 ounces of water 45 minutes prior to exercise preferably in a shaker cup. Do not exceed 2 scoops daily.
REVIEWS
There is no review
Atsiliepimas Atsiliepimas