Xtreme PWO formulas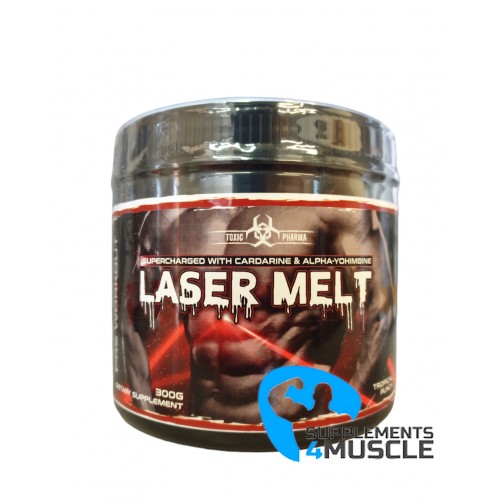 
DESCRIPTION
COMPOSITION
DIRECTIONS OF USE
REVIEWS
DESCRIPTION
Toxic Pharma Laser Melt 300g DMAA
SUPERCHARGED WITH CARDARINE & ALPHA-YOHIMBINE
This pre-workout is ideal for any kind of physical activity. Whether you are trying to increase strength, stamina, or velocity, or toning down fat, it can assist you. It's power will give you an extra kick for training, help you build muscles, and get you back to 100% in between exercises.
Benefits:
The capacity of training has risen significantly, providing a great drive to workout. Vitamins have been added to help supplement the process, making even the toughest training possible. While training, the body will experience an incredible increase of oxygen transporting, leading to improved aerobic health and stamina. Also, in between sets, energy is quickly regained, allowing to really enjoy the workout and feeling great about it afterwards.
Are you interested in learning the widely-acknowledged secret of many athletes and body builders? Toxic Pharma Laser Melt is the answer. Packed with a variety of vitamins, minerals and other chemical compounds, this supplement assists with size, mass and definition of your muscles, as well as increasing definition. Get your hands on Toxic Pharma Laser Melt now to get these exciting results.
COMPOSITION
Serving size: 1 Scoop (10g)
Servings per container: 30
Amount Per Serving
Vitamin C
350mg
Vitamin D
250mcg
Vitamin B3
50mg
Vitamin B5
50mg
Vitamin B6
5mg
Vitamin B12
50mcg
Magnesium Carbonate
50mg
L-Citrulline
2500mg
Citrulline Di Malate
1000mg
Beta Alanine
1000mg
Creatine HCL
1000mg
N-Acetyl L-Tyrosine
500mg
Acetyl L-Carnitine
500mg
L-Carnitine L-Tartrate
500mg
Caffeine Anhydrous
350mg
Taurine
350mg
Norvaline
150mg
L-Theanine
100mg
DMHA
100mg
DMAA
60mg
Green Tea 98%
60mg
Synephrine HCL
50mg
Hordenine HCL
50mg
N-Phenethyl Dimethylamine Citrate
50mg
Halostachine HCL
30mg
Theobromine HCL
30mg
Higenamine
30mg
Grape Seed Extract
20mg
Cardarine (GW-501516)
12.5mg
Methyl Synephrine HCL
12.5mg
Gamma-Butyrobetaine Ethyl Ester HCL
12.5mg
Black Pepper Extract (std. to 95% piperine)
5mg
N-Methyltyramine HCL
5mg
Naringenin
5mg
Yohimbine HCL
2.5mg
Alpha-Yohimbine HCL
1mg

Other Ingredients:

Natural Flavour, Sucralose, Silicon Dioxide
DIRECTIONS OF USE
Suggested Use: Cosume one serving mixed with 250-350ml of water 15-30 minutes prior to training. Do not exceed more than 1 serving in a 24 hour period.
REVIEWS
There is no review
Atsiliepimas Atsiliepimas