PREWORKOUTS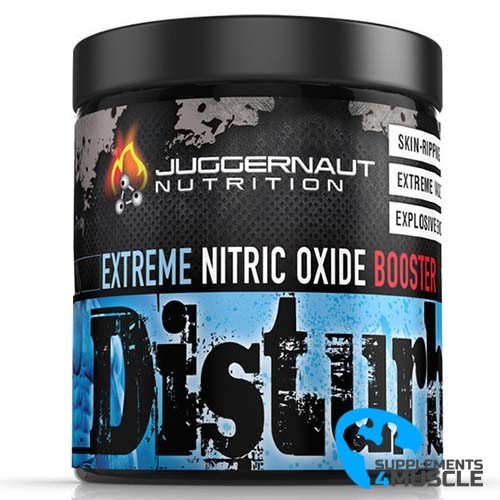 
Juggernaut Nutrition Disturb
DISTURB EXTREME NITRIC OXIDE BOOSTER
•SKIN-RIPPING PUMP
•EXTREME VASODILATION
•EXPLOSIVE ENDURANCE
DESCRIPTION
COMPOSITION
DIRECTIONS OF USE
REVIEWS
DESCRIPTION
Juggernaut Nutrition Disturb
Juggernaut Nutrition Disturb was created for a variety of reasons. It increases the circulation of blood in the muscles during exercise without a jittery or stuttering feeling. Disturb offers optimum vascularity, making you look more ripped while also providing the muscle with more nutrients for superior growth. Once you try Disturb, you won't want any other pre-workouts!
Glycerol's purpose in the body is to monitor the amount of liquids in our blood and tissues. There are multiple positive advantages to this: better uptake of substances taken alongside Glycerol, quicker delivery of nutrients to cells, building of an anabolic state and more visible effect when it comes to the transportation of water between muscles and into the bloodstream. Additionally, there is a distinct 'pump' feeling felt during physical activity.
Agmatine has the capacity to act as a neuroprotector, anticonvulsant, antidepressant, anti-anxiety medication, and a painkiller. It additionally has the ability to increase the production of nitric oxide, resulting in an enhanced muscle pump.
L-Norvaline boosts the accessibility of arginine for eNOS, allowing it to be switched to citrulline and NO. The effects of this are improved blood circulation within the body, restricting platelet clumping, stopping leukocyte sticking to the endothelium, oxygenating cells and detoxifying them.
Citrulline malate 2:1 enables the production of NO (nitric oxide) and phosphocreatine, as well as allowing glucose to be metabolized. This leads to an increase of oxygen, glucose, amino acids and creatine uptake and gives more energy to muscle cells. Concentrations of lactic acid and ammonia are decreased in the muscles, creating a faster way for the body to restore its energy by raising creatine phosphate levels and restocking ATP. Citrulline malate is more effective to use than large quantities of arginine, as it is a precursor to it. When the same amount of doses are taken, it helps increase arginine quantities in the body more efficiently than when arginine is used alone.
COMPOSITION
Serving Size: 1 scoop 7,6 grams
Servings Per Container: 25
| | |
| --- | --- |
| | Amount Per Serving |
| Nitric Oxide blend | (6,150mgs) |
| Citrulline Malate 2:1 | 5,000mgs |
| Agmatine Sulfate | 1,000mgs |
| L-Norvaline | 150mgs |
| Peak Pump blend | (2,500mgs) |
| Glycerol Monosterate | 1,500mgs |
| Taurine | 1,000mgs |
Other ingredients: Artificial fruit flavor, sucralose, silicon dioxide.
DIRECTIONS OF USE
Instructions: As a dietary supplement take 1 scoop a day. For best results take 20-30 min. before training with an 8oz glass of water.
REVIEWS
There is no review
Atsiliepimas Atsiliepimas