Xtreme PWO formulas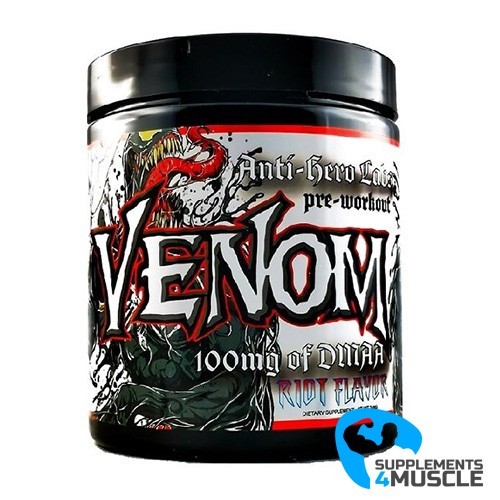 
DESCRIPTION
COMPOSITION
DIRECTIONS OF USE
REVIEWS
DESCRIPTION
Anti-Hero Labs VENOM 100mg DMAA
Venom is currently one of the strongest pre-workout formulas based on DMAA. A truly explosive formula of powerful stimulants: ephedrine, synephrine, caffeine and hordenine will put even the most demanding athlete on even feet. As one of the few energy supplements, it allows you to obtain the maximum muscle pump with simultaneous increase of lipolysis, real impact not only on training, but directly on the image of the entire body.

The product composition is selected to provide the most effective activity aimed at building muscle mass without unnecessary fat tissue. With a new pre-workout from Anti-Hero Labs, there is no place for boredom during training. Exceptional arousal, extraordinary energy, increased lean muscle mass and improved fitness at the gym are just some of the benefits of pre-workout.

Gain strength on the most hardcore workouts with the new Venom preparation that will make you want to leave the gym, and every hour of exercise will become a minute. We assure you that Venom is a really strong pre-workout so we recommend it to advanced users who tolerate psychoactive substances well.

Beta Alanine - is necessary for the production of carnosine and blocks building proteins that help prevent the aging of the body. The compound supports the proper functioning and development of muscles. Amino acid is known for reducing muscle fatigue, which can help your muscles work better during training. This in turn promotes muscle growth. Beta-Alanine is particularly helpful in intensive short-term training such as weight lifting. Some people taking beta-alanine may notice a slight tingling sensation known as paraesthesia. A tingling arises because beta-alanine dilates blood vessels, allowing more oxygen and blood to be delivered to the muscles.

1,3 DMAA - works great both as a stimulant and as a fat burner, especially in combination with caffeine and other substances stimulating the nervous system and intensifying the phenomenon of thermogenesis. This strong active substance effectively provides strong stimulation. Indirectly stimulates the increase of the adrenaline level in the body and directly activates adrenergic receptors. It provides a strong increase in energy, arousal and concentration. In combination with caffeine, its effectiveness increases. Geranium stimulates the release of dopamine after penetration into the nervous system, thanks to which it provides focus and a good mood that is crucial during training.

Agmatine Sulfate-agmatine sulfate is one of the newest and most exciting dietary supplements with many physiological benefits, including as a pre-workout measure to support overall sports performance. It is a biogenic amine and is the highest quality form of agmatine sulphate on the market.

Ephedra Extract - another powerful stimulant that guarantees an unforgettable experience after each workout. Ephedra stimulates the nervous system and improves the function of beta-adrenergic receptors, releasing fatty acids, which leads to increased lipolysis and release of energy, as well as to increase heat production.

L-Norvaline is an organic chemical compound from the group of branched chain amino acids belonging to non-protein a-amino acids. Norwalina is an arginase inhibitor, thereby increasing arginine concentration. The biologically active enantiomer is L-norvaline. Norwalina is used to regenerate muscle tissue after exercise. Its natural origin is nuts, meat and cereals. It intensifies the anabolic and anti-catabolic action of arginine, affecting the increase of exercise capacity (strength and endurance) and causes more effective blood supply and nutrition of muscle tissue. Norwalina supports the supply of nutrients and vitamins to the muscles, which enhances and accelerates muscle building.

Synephrine HCL- is one of the most popular components of the elite fat burners and in large part it is responsible for their operation. There are many thermogenic products on the market that effectively reduce fat tissue, and synephrine in the most diverse forms is the substance that connects them all. Its effect on fat loss has been proven many years ago, and the popularity of this compound is still growing primarily due to the high effectiveness and relatively low risk of such effects as headaches or worsening well-being. Synephrine in the Venom product is a source of pharmaceutical grade hydrochloride, so we only supply the active substance to the body, which of course is associated with higher efficacy.
Choline B-Tartrate-choline is a substance necessary for the proper functioning and construction of every cell of our body. It occurs in the body in compounds called phospholipids, the most-known of them and the most-occurring is lecithin. Phospholipids perform a lot of functions in our body, build cell membranes and function as relays in the nervous system (most likely they participate in the "creation" of memory). An important function of choline is its participation in the transport and metabolism of cholesterol and other fats - it reduces their deposition in the vascular wall and gallbladder, and also affects the liver (also reducing fat deposition) and kidneys (regulates the amount of urine excreted).

Hordenine HCL- is a natural phenylethylamine compound that occurs in small amounts in various plants. This supplement works primarily through the release and protection of norepinephrine, which translates into increased metabolism, energy supply as well as a decrease in appetite. Users use Hordenine for three main effects: fat loss, appetite control and energy boost

Caffeine Anhydrous - has a thermogenic effect and suppresses appetite due to the increase in the production of adrenaline and norepinephrine. It has been proven that it causes the formation of such neurotransmitters as dopamine, acetylcholine or even serotonin in the central nervous system, which exerts a stimulating effect and increases cognitive functions. The overall activity of caffeine on the body allows you to maintain the effectiveness of training and positive mood, despite the calorie deficit.
COMPOSITION
Servings Size: 1 Scoop (8.2g)
Servings Per Container: 30
| | |
| --- | --- |
| | Amount  Per Serving |
| Spider Venom Formula | 7700mg |
| Beta Alanine, Agmatine Sulfate, Caffeine Anhydrous (250mg), L-Norvaline, 1`3 DMAA (100mg), Synephrine HCL, Choline Bi-Tartrate, Hordenine HCL, Ephedra Extract | |
Other Ingredients: Maltodextrin, Citric Acid, Sucralose, Acesulfame-K, Natural & Artificial Flavors, Calcium Silicate.
DIRECTIONS OF USE
Consume 1 serving 15-30 minutes prior to training. Do not exceed 1 scoop within 24 hours. Do not consume with other stimulants.
REVIEWS
There is no review
Atsiliepimas Atsiliepimas