PREWORKOUTS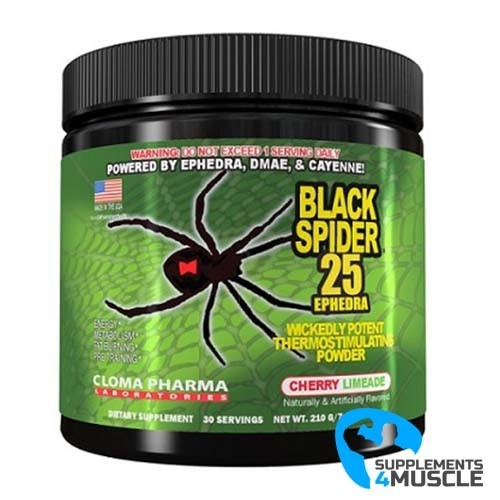 
Cloma Pharma Black Spider Pre-Workout
Black Spider Pre-Workout was made for those who are serious about hitting the gym but can't seem to find the energy at the end of the day. You can even use it to start your day and dramatically boost your productivity.
DESCRIPTION
COMPOSITION
DIRECTIONS OF USE
REVIEWS
DESCRIPTION
Cloma Pharma Black Spider Pre-Workout
Cloma Pharma Black Spider Pre-Workout was crafted for those who have difficulty getting motivated for the fitness center at the end of their day or alternatively those who need a pick-me-up first thing in the morning. With 25 mg of ephedra, you can expect the perfect quantity of a thrust without overwhelming your body. It also incorporates a selection of herbal thermogenics, like theobromine, panax ginseng, and white willow bark, to provide you with an additional lift.
What makes Black Spider pre-workout so successful?
The benefits of Black Spider Pre-Workout can be attributed to the many scientifically validated components, the star being ephedra. In addition to that, some other highly effective elements are located as well.
Guarana
Raising the metabolic rate, curbing hunger, and increasing alertness and energy (1,2)
Panax Ginseng
Enhancing brainpower (7)
Uplifted spirits (8)
Facilitating slimming (3)
Green Tea Extract
Eliminates free radicals
Increases metabolism
Helps burn fat (4, 5)
Who is the ideal user for Black Spider pre-workout?
Black Spider Pre-Workout is suitable for any and all individuals. Containing thermogenics and a limited quantity of ephedra, it can be an excellent complement to multiple workouts. Does this sound like something that would fit your lifestyle? If so, Black Spider Pre-Workout might be an excellent choice for you.
You have a frantic lifestyle, but wish you had more stamina. Coffee isn't supplying you with the energy necessary to get you going. You are so exhausted that you can't even push yourself at the gym. You are not pleased with your fitness, and you yearn for an improvement that leads to a higher amount of fat burn.
Do I need to combine Black Spider pre-workout with another dietary supplement?
Black Spider Pre-Workout can be used as a pre-workout boost. You can pair it with non-stimulant ingredients if you take it before exercising. Examples of this include:
Beta Alanine, Creatine, and Glutamine
As Black Spider Pre-Workout has a high concentration of energy, it is advised not to combine it with any other caffeine or Ephedra-based supplements. If you need guidance on what is the best pre-workout combo for you, please reach out to us.
Is it safe to consume Black Spider Pre-Workout supplements?
The consumption of Black Spider Pre-Workout is usually viewed as secure. As is the case with numerous nutrient supplements, you may be feeling an increase in your heart rate and blood pressure. This probably won't be something you will be aware of. If you have had a previous medical difficulty, this could be an issue. If you have had a past with your heart, you should consult your physician before taking Black Spider Pre-Workout.
Reviews of CLOMA PHARMA's BLACK SPIDER Pre-Workout Supplement
If you're seeking a pre-workout supplement with Ephedra, Black Spider is worth a shot. It has numerous ingredients and is one of the most recent Ephedra-infused pre-workouts being sold.
COMPOSITION
Serving Size: 1 Scoop (7g)
Servings Per Container: 30
| | | |
| --- | --- | --- |
| | Amount Per Serving | %DV |
| Niacin | 20mg | 100% |
| Vitamin B6 (as pyridoxine HCL) | 2mg | 100% |
| Vitamin B12 (as methylcobalamin) | 1000mcg | 16.667% |
| Folic Acid | 200mcg | 50% |
| Calcium (as Dicalcium Phosphate and Calcium Silicate) | 45mg | 5% |
| Sodium (as Sodium Chloride) | 39mg | 2% |
| L-Arginine (as HCL) | 1000mg | ** |
| Choline Bitartrate | 300mg | ** |
| Caffeine Anhydrous | 300mg | ** |
| DMAE (as bitartrate) | 300mg | ** |
| N-Acetyl L-Tyrosine | 300mg | ** |
| Inositol | 300mg | ** |
| DL-Phenylalanine | 300mg | ** |
| Yohimbe Bark (Extract) Powder 8% | 50mg | ** |
| Griffonia simplicifilia seed (extract) natural of 5 HTP | 50mg | ** |
| Cayenne Pepper Fruit Powder | 30mg | ** |
| Mormon Tea (ephedra viridis) Leaf Powder | 25mg | ** |
| White Willow Bark Powder | 20mg | ** |
| Citrus Aurantium Fruit Extract (30% Synephrine) | 20mg | ** |
| Evodia Rutaecarpa Fruit Powder (Extract 4:1) | 4mg | ** |
| Black Tea Leaf Extract 60% Polyphenols | 3mg | ** |
**Daily Value (DV) not established
Other ingredients: Pineapple fruit powder, citric acid, natural and artificial flavors, silicon dioxide, acesulfame potassium, sucralose, dicalcium phosphate, organic beet root powder (color).
DIRECTIONS OF USE
DIRECTIONS: FOR WEIGHT MANAGEMENT: Mix 1 serving with 6-8 oz of cold water early in the morning each day. AS A PREWORKOUT: Mix 1 serving 20 minutes before training. FOR ENERGY: Take 1 serving when needed. DO NOT EXCEED 1 SERVING DAILY.
REVIEWS
There is no review
Atsiliepimas Atsiliepimas