Xtreme PWO formulas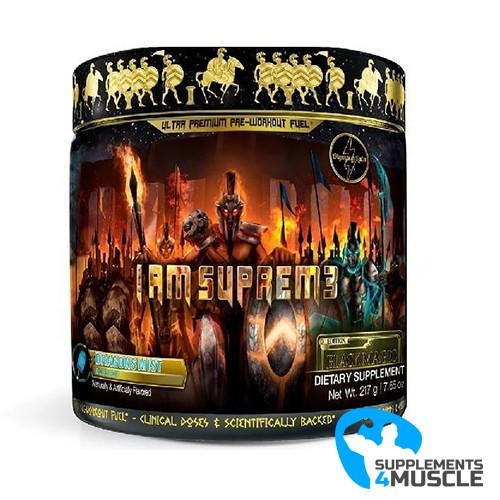 
Olympus Labs I Am Suprem3
Tunnel Vision Focus
Insane Energy
Extreme Pumps
Maximum Endurance
DESCRIPTION
COMPOSITION
DIRECTIONS OF USE
REVIEWS
DESCRIPTION
Olympus Labs I Am Suprem3
Olympus Labs I Am Suprem3 is a remarkable and scientifically-researched pre-workout supplement that employs four distinct blends to boost muscle pump, endurance, energy, focus, and assimilation. It is incredibly powerful with an array of practical applications, making it one of the most effective supplements on the market. The nuanced and unique combination of ingredients offer a great stimulation, unrivaled muscle pump, and a markedly improved mood - all of which can be felt within only 15 minutes!
I'm Suprem3, offering top-notch workouts without any exhaustion! Before trying out any exercise program, it's important for all those who take their physical activity seriously that the quality of the product is excellent.
Olympus Labs is definitely worth adding to one's training plan due to their use of the best ingredients at the appropriate dosages coupled with swift results.
L-Citrulline is linked to the production of nitric oxide (NO), as well as phosphocreatine and glucose use in aerobic metabolism. This increases the ability for oxygen, glucose, amino acids, and creatine to be taken in and allows for improved energy production in muscle cells. Additionally, this supplement diminishes the amount of lactic acid and ammonia in the muscles, and allows the body to restore energy quickly through a higher creatine phosphate level and ATP resynthesis.
Agmatine Sulfate is a by-product of the amino acid Arginine and is a type of biogenic amine derived from organic ammonia. It is a common ingredient in supplements and training nutrients, typically used to help produce pre-workout concoctions to stimulate the body and intensify the 'muscle pump'. Agmatine acts in various ways, such as stimulating the synthesis of nitric oxide (NO2), thus enhancing blood flow and nutrient delivery to muscle cells and easing neuropathic pain and cognitive processes. It is popular among athletes, as it helps to boost performance, strength and endurance.
The consumption of pomegranate fruit extract has been noted to increase the body's antioxidant potential. Studies have indicated that increasing the antioxidant activity in the testicles helps with the production of testosterone. In addition, pomegranates contain compounds with strong antiestrogenic effects. Through a related study, the extract was found to decrease oxidative stress, enhance semen quality, and raise testosterone levels. After ingesting pomegranate extract for two weeks, humans showed a drop in blood pressure and saw a 24% augmentation in free testosterone.
Vaso6 is an innovative oligomer which results in a rise in nitric oxide production. The key source of its origin is, among other things, grape seed extract. What makes Vaso6 special is that it is a patented blend which only contains active GSE elements that change circulation. For optimal protein synthesis, it can be advantageous to initiate anabolic processes prior to beginning your workout, in order to take advantage of their complete potential. If you are aiming to get exceptional protein synthesis, it is beneficial to start your anabolic window before engaging in exercise.
Caffeine Anhydrous is known to ignite thermogenesis and suppress hunger through the amplified output of adrenaline and noradrenaline. What's more, it has been verified that it can stimulate the formation of certain neurotransmitters, such as dopamine, acetylcholine, and serotonin, in the central nervous system. This stimulating effect can heighten cognitive tasks and bolster a positive attitude despite caloric shortfalls associated with exercise. In summary, caffeine's general influence on the body permits a person to remain motivated throughout their physical activity.
Eria Jarensis extract functions as a neuromodulator on the central nervous system, granting a range of advantages to cognitive functions. It promotes positive mood by raising the amount of dopamine and nor-adrenaline in the body. Dopamine is accountable for improving the sensation of well-being, resulting in the extract from Eria Jarensis giving an ecstatic effect, in addition to diminishing the feeling of anxiousness. Moreover, dopamine and noradrenaline are associated with heightened mental sharpness and focus. It has a similar impact to DMAA - inducing arousal, intense focus, alertness, and euphoria.
DMHA sourced from the root of the Juglans Regia tree has a bronchodilating effect, allowing for a better aerobic capacity. Additionally, it brings about vascular constriction which improves the rate of oxygen flow. DMHA does not lead to mental fogginess and heightens senses that wouldn't normally be achieved with DMA. It has also been noted to increase the levels of dopamine and norepinephrine. As a result, it reduces the feeling of pain that one endures and prevents physical and mental fatigue. This in combination with its ability to drive concentration and suppress appetite makes DMHA a powerful and desirable ingredient.
Theacrine is an alkaloid similar to caffeine that has a similar effect as far as energy levels are concerned. It is thought to be synthesized from caffeine and stored in the highest concentration in Chinese tea Camallia sinensis, alongside caffeine and theobromine. Its effect is much longer than caffeine and does not cause unpleasant side-effects, such as an increase in blood pressure, or an increase in tolerance.
Sceletium Tortuosum has phosphodiesterase inhibiting powers that assist in vasodilatation and cognitive enhancement. This plant's alkaloids are known to have adaptogenic properties which cope with fatigue, fretfulness, and other strain that can't be handled by a human body. It increases the body's resilience to stress, reduces emotional tension, helps relax, and enables higher concentration while working on a task or studying for tests. It may even decrease the cortisol levels present in the body.
ST1M-X is a blend of ingredients that includes Corynanthe Macroceras extract, yohimbine and its derivative, korynantynę. The components act as a monoamine oxidase inhibitor, raising adrenaline levels in the body. Furthermore, they interact with adrenergic receptors, intensifying their stimulant capabilities. The Corynanthe Macroceras extract provides a significant psychomotor stimulus and boosts the burning of surplus fat.
AstraGin is a combination of extracts from the bark of trees and pseudo ginseng bark. It is useful in supplement form because it enhances the absorption of other components. Additionally, it can help to stabilize insulin levels and the metabolism of carbohydrates, as well as make the body more resilient to stress.
COMPOSITION
Serving Size: 2 Scoops (10.6 grams)
Servings per Container: 20
| | | |
| --- | --- | --- |
| | Amount Per Serving | %DV |
| Incredible Pump & Endurance Matrix: | | |
| L-Citrulline | 5g | ** |
| AGmass™ Agmatine Sulfate | 1g | ** |
| Pomegranate Powder Extract | 1g | ** |
| Vaso6™ (Gallate-Enhanced Oligomers) | 300mg | ** |
| Intense Energy Matrix: | 678mg | ** |
| Caffeine Anhydrous (300mg), Eria Jarensis Extract, Julgans Regia Extract, ST1M-X™ As C.Macroceras Extracted For Alkaloids | | |
| Immaculate Focus Matrix: | 100mg | ** |
| TeaCrine® 40% [Tasteless] (Theacrine) | | |
| KannaEase™ | 25mg | ** |
| (as Sceletium Tortuosum Standardized For Alkaloids (Total Alkaloids >= 0.5%) & 0.2% Mesembrine) | | |
| Maximum Absorption Matrix: | 50mg | ** |
| AstraGIN® Proprietary Blend [Astragalus Membranaceus Extract (Root) & Panax Notoginseng Extract (Root)] | | |
** Daily Value (DV) Not Established
DIRECTIONS OF USE
As a dietary supplement, take (1) scoop 30 minutes prior to workout with 8-12 oz water. Once tolerance has been assessed, up to (2) scoops may be taken 30 minutes prior to workout with 8-12 oz of water.
REVIEWS
There is no review
Atsiliepimas Atsiliepimas