Xtreme PWO formulas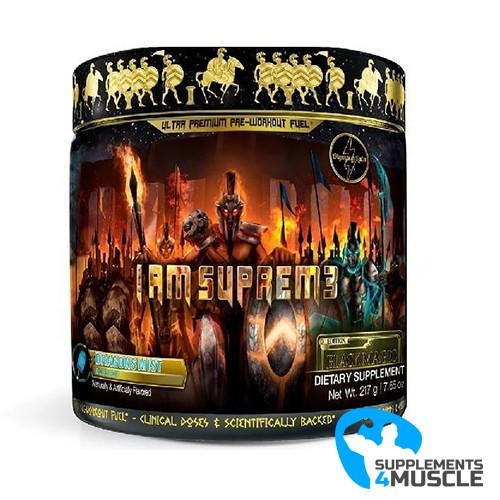 
Olympus Labs I Am Suprem3
Tunnel Vision Focus
Insane Energy
Extreme Pumps
Maximum Endurance
DESCRIPTION
COMPOSITION
DIRECTIONS OF USE
REVIEWS
DESCRIPTION
Olympus Labs I Am Suprem3 is a new, unique pre-workout supplement based on a strong, proven formula. It contains four effective blends: providing an amazing muscle pump and promoting endurance, increasing energy, increasing concentration and increasing the assimilation of ingredients. The product's operation is really hardcore and multifaceted, which significantly affects the final results. Thanks to the use of effective and strong ingredients and synergy of action, the preparation is one of the best supplements on the market. The right mixes are an innovative solution for any athlete who counts on decent stimulation, achievement of an amazing muscle pump and a better mood during training. You will not have to wait long for the effects of the preparation because after 15 minutes you will feel its spectacular effect.

I am Suprem3 will give you amazing workouts without any weariness!

Before the training is recommended for all active people, for whom, in addition to the product, what matters is its quality.

Olympus Labs thanks to the use of the best ingredients in the right doses and quick effects is undoubtedly worth add to the training plan!

L-Citrulline - participates in the synthesis of nitric oxide (NO) and phosphocreatine and aerobic glucose metabolism, thereby increasing the uptake of oxygen, glucose, amino acids and creatine and energy production through muscle cells. It reduces the concentration of lactic acid and ammonia in the muscles, allowing the body to recover energy faster by increasing the level of creatine phosphate and resynthesis ATP.

Agmatine Sulfate - agmatine sulphate. It is a metabolite of arginine, a chemical compound of the genus of biogenic amines (derivatives of organic ammonia that arise as a result of decarboxylation of amino acids). This ingredient is often used in a variety of supplements and training nutrients. Most often, however, it is used for the production of pre-workout preparations, which are to stimulate the body and intensify the so-called "muscle pump". Agmatine is characterized by a very wide spectrum of activity. It stimulates the synthesis of nitric oxide (NO2), and thus improves blood supply and nutrition of muscle cells, eliminating pain of neuropathic origin and supporting cognitive processes. Agmatine enjoys great popularity among athletes, because it allows you to improve performance, strength and endurance

Pomegranate extract - pomegranate fruit extract. It is known that the consumption of fruit increases the antioxidant potential of the body, and studies have shown quite clearly that increasing the antioxidant activity in the testes results in better testosterone production. Pomegranates are the source of several strong antiestrogenic compounds. During the study, the pomegranate extract significantly reduced oxidative stress, improved sperm quality and increased testosterone levels. In humans, after two weeks of consumption of pomegranate extract, the blood pressure dropped significantly and the increase in free testosterone increased by 24%.

Vaso6 is an advanced oligomer that leads to increased synthesis of nitric oxide. Its natural source of origin is, among others, grape seed extract, but importantly Vaso6 is a patented compound containing only active GSE ingredients that really change blood flow. It is crucial to achieve the maximum protein synthesis and it is worth to start anabolic processes before the training to fully use their potential. If you care about supernatural protein synthesis, it's worth starting your anabolic window before you start your workout.

Caffeine Anhydrous - has a thermogenic effect and suppresses appetite due to the increase in the production of adrenaline and noradrenaline. It has been proven that it causes the formation of such neurotransmitters as dopamine, acetylcholine or even serotonin in the central nervous system, which exerts a stimulating effect and increases cognitive functions. The overall activity of caffeine on the body, allows you to maintain the effectiveness of training and maintain a positive mood, despite the calorie deficit.

Eria Jarensis extract - acts as a neuromodulator on the central nervous system, giving many benefits to cognitive functions. Provides effects that improve mood by increasing the level of dopamine and nor-adrenaline in the body. Dopamine is responsible for increasing the sense of well-being, and therefore the extract from Eria Jarensis provides a euphoric effect, and at the same time reduces the feeling of anxiety. Dopamine and noradrenaline are also associated with increased mental alertness and concentration. It has an effect similar to DMAA - it ensures agitation, great concentration, alertness and euphoric effect.
Julgans Regia extract - DMHA obtained from the Juglans Regia root. DMHA has a relaxant effect on the bronchi, thanks to which our aerobic capacity increases, moreover it has decongestant activity (narrowing blood vessels, causing an increase in the oxygen flow rate), does not cause "stupor" and sharpens the senses that could not always be experienced with dmaa. It has also been shown to increase the concentration of dopamine and norepinephrine. Thanks to DMHA, the pain threshold is felt (the same pain will be less pronounced after taking the substance). Essentially, the substance reduces fatigue and allows for a significant increase in exercise intensity. Increases concentration and suppresses appetite.

Theacrine-theacrine is an alkaloid which structurally resembles caffeine and also activates similar signaling pathways. Under natural conditions, theacrine is most likely synthesized from caffeine and then stored. It is believed that this substance is in the highest concentration in Chinese tea Camallia sinensis, where it is found next to caffeine and theobromine. This substance effectively increases the energy level in the body, and its action is very similar to caffeine with the difference that it works much longer, shows a slower increase in tolerance and does not cause unpleasant effects. In addition, the substance does not increase blood pressure.

Sceletium Tortuosum - a phosphodiesterase inhibitor that induces vasodilation and improves cognitive function. It is a source of alkaloids with adaptogenic and stressful effects. Increases the tolerance of the body to stress, eliminates excessive emotional tension, facilitates relaxation. Favors concentration on the task performed and reduces the nervousness felt before exams or caused by work pressure. It can lower cortisol levels.

ST1M-X is a proprietary mixture containing the extract of Corynanthe Macroceras. It contains yohimbine and its derivative - korynantynę. The substances act as a monoamine oxidase inhibitor, thereby increasing the adrenaline level in the body. In addition, they combine with adrenergic receptors, which additionally stimulates their stimulating effect. Extract from Corynanthe Macroceras provides a strong psychomotor arousal and increases the burning of unnecessary fat.

AstraGin- a patented blend of bark extracts and false ginseng bark extracts. In supplementation it is used because of the ability to increase the absorption of other active ingredients. In addition, it can also promote insulin sensitivity, favorably affecting the metabolism of carbohydrates. In addition, it can show adaptogenic efficiency, increasing the body's tolerance to stress factors.
COMPOSITION
Serving Size: 2 Scoops (10.6 grams)
Servings per Container: 20
| | | |
| --- | --- | --- |
| | Amount Per Serving | %DV |
| Incredible Pump & Endurance Matrix: | | |
| L-Citrulline | 5g | ** |
| AGmass™ Agmatine Sulfate | 1g | ** |
| Pomegranate Powder Extract | 1g | ** |
| Vaso6™ (Gallate-Enhanced Oligomers) | 300mg | ** |
| Intense Energy Matrix: | 678mg | ** |
| Caffeine Anhydrous (300mg), Eria Jarensis Extract, Julgans Regia Extract, ST1M-X™ As C.Macroceras Extracted For Alkaloids | | |
| Immaculate Focus Matrix: | 100mg | ** |
| TeaCrine® 40% [Tasteless] (Theacrine) | | |
| KannaEase™ | 25mg | ** |
| (as Sceletium Tortuosum Standardized For Alkaloids (Total Alkaloids >= 0.5%) & 0.2% Mesembrine) | | |
| Maximum Absorption Matrix: | 50mg | ** |
| AstraGIN® Proprietary Blend [Astragalus Membranaceus Extract (Root) & Panax Notoginseng Extract (Root)] | | |
** Daily Value (DV) Not Established
DIRECTIONS OF USE
As a dietary supplement, take (1) scoop 30 minutes prior to workout with 8-12 oz water. Once tolerance has been assessed, up to (2) scoops may be taken 30 minutes prior to workout with 8-12 oz of water.
REVIEWS
There is no review
Atsiliepimas Atsiliepimas