Xtreme PWO formulas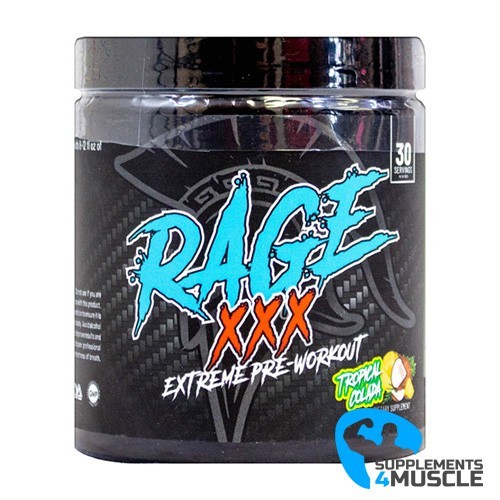 
DESCRIPTION
COMPOSITION
DIRECTIONS OF USE
REVIEWS
DESCRIPTION
Centurion Labz Rage XXX is a new pre-workout preparation based on two formulas: Strength and Performance Blend and adding energy to intensive training - Energy and Focus Blend. The product is recommended for advanced users expecting a strong stimulating preparation, while obtaining the maximum muscle pump.

Rage XXX increases self-confidence, adds energy, supports long-lasting, exhausting training sessions. Two forms of yohimbine improve mental condition and promote the loss of resistant body fat. DMHA stimulates the central nervous system, strengthens cognitive functions. It also allows you to increase the pain threshold, reducing overall fatigue and affects self-control and full focus even in stressful situations.

Beta Alanine - is necessary for the production of carnosine and blocks building proteins that help prevent the aging of the body. The compound supports the proper functioning and development of muscles. Amino acid is known for reducing muscle fatigue, which can help your muscles work better during training. This in turn promotes muscle growth. Beta-Alanine is particularly helpful in intensive short-term training such as weight lifting. Some people taking beta-alanine may notice a slight tingling sensation known as paraesthesia. A tingling arises because beta-alanine dilates blood vessels, allowing more oxygen and blood to be delivered to the muscles.

Betaine Anhydrous - it contributes to the increase of the body's efficiency and improvement of the nervous system. An additional advantage that is associated with the use of betaine is better hydration of cells. Like glycine, betaine absorbs water when absorbed into the cell. This results in better hydration of the body and increase the feeling of the muscle pump during training. The main extracellular transporter of trimethylglycine in the body is the BGT-1 transporter. In addition, betaine stimulates the production of the vasodilator - nitric oxide. Generally, the ingredient provides better blood supply to the muscles and their nutrition.

L-Taurine - an amino acid whose particularly high concentrations are noted in highly developing organisms. It affects cognitive abilities, is often recommended as an effective form of support for learners. It improves mental functions, it also has a positive effect on the mood. The effectiveness of taurine in this field is so important that it is recommended as one of the measures to compensate for the discomfort caused by excessive consumption of alcohol.

Caffeine Anhydrous-caffeine has a thermogenic effect and suppresses appetite due to the increase in the production of adrenaline and noradrenaline. It has been proven that it causes the formation of such neurotransmitters as dopamine, acetylcholine or even serotonin in the central nervous system, which exerts a stimulating effect and increases cognitive functions. The overall activity of caffeine on the body, allows you to maintain the effectiveness of training and maintain a positive mood, despite the calorie deficit.

2-Aminoisoheptane - is a stimulant that has other names, such as dmha or octodrine. DMHA has a relaxant effect on the bronchi, thanks to which our aerobic capacity increases, furthermore it has a decongestant activity (narrowing blood vessels, causing an increase in the oxygen flow rate), does not cause "stupor" and sharpens the senses that could not always be experienced with dmaa.

Hordenine HCL- is a natural phenylethylamine compound that occurs in small amounts in various plants. This supplement works primarily through the release and protection of norepinephrine, which translates into increased metabolism, energy supply as well as a decrease in appetite. Users use hordenine for three main effects: fat loss, appetite control and energy boost.

Theophylline Anhydrous-theophylline has a caffeine-like effect, has a positive effect on breathing and improves blood flow. Theophylline, being a phosphodiesterase inhibitor, contributes to an increase in the intracellular concentration of cyclic AMP, thereby enhancing thermogenic and lipolytic processes and increasing the ability to concentrate and reducing fatigue. These properties make theophylline a valuable supplement to the composition of fat-burning supplements and pre-workout preparations.
Rauwolfia Vomitoria- root extract Rauwolfia vomitoria, plants from the Apocynaceae family, a shrub that naturally grows over tropical regions of Africa, brought to other continents, including Asian. It has antioxidant, anti-inflammatory and analgesic properties, supports carbohydrate and insulin metabolism, counteracts cancer and improves mental health. High standardization of the rauwolscine extract, in other words, yohimbine or isohimine, focuses the action of the product on the nervous system and the loss of unnecessary body mass. Inhibiting the operation of the cholinergic system, it increases the concentration of adrenaline, stimulating the body to function and intensifying the lipolysis process. By decreasing α2-adrenergic receptor activity, it increases adenylyl cyclase and cyclic adenosine-3 ', 5'-monophosphate (cAMP), enhancing the oxidation of fatty acids in the mitochondria. It promotes the burning of previously stored adipose tissue in areas of the body rich in α2-adrenergic receptors, mainly the lower abdomen and on the hips.

Yohimbine HCL - a substance that is helpful in the fight against the so-called resistant fat tissue, located mainly in the thorax and lower waist areas of men and hips, buttocks and thighs in women. Yohimbine works by blocking the α2-type receptors, which clearly facilitates slimming and is helpful in sculpting body parts resistant to slimming. It is worth remembering that yohimbine effectively eliminates insulin. Thus, taking this compound around carbohydrate-containing meals is pointless. Yohimbine is especially effective on fasting, before physical exercise.

Vitamin B6 - pirodine is involved in zinc metabolism, improves magnesium absorption, is a coenzyme for glycogenesis (glycogen synthesis) and glycogenolysis in muscles, supports the synthesis of proteins and nucleic acids, is involved in the transformation of tryptophan into serotonin (the hormone of happiness).

Vitamin B3- leads to improved functionality of the central nervous system. The increase in activity in the mitochondrial nuclei, which are found in the nucleus accumbens, contributes to the improvement of the mental condition of a human being, which is manifested in: increased self-confidence, reduced effects of perceived stress and reduced anxiety. In addition, niacin exerts an influence on the proper concentration of cholesterol in the blood, participates in the synthesis of red blood cells and improves the condition of the skin, hair and nails.

COMPOSITION
Serving Size: 1 Scoop (9.4g)
Servings Per Container: 30
| | | |
| --- | --- | --- |
| | Amount Per Serving | %DV |
| Vitamin B6 (as Pyridoxine HCL) | 2.5mg | 141% |
| Vitamin B3 (as Niacin) | 30mg | 187.5% |
| Strenght and Performance Blend | | |
| Beta Alanine | 3200mg | ** |
| Betaine Anhydrous | 2500mg | ** |
| L-Taurine | 1000mg | ** |
| Energy and Focus Blend: | 692.2mg | ** |
| Caffeine Anhydrous, 2-Aminoisoheptane, Hordenine HCL, Theophylline Anhydrous, Rauwolfia Vomitoria Root Extract (Std. min 90% Alpha Yohimbine), Yohimbine HCL | | |
DIRECTIONS OF USE
As a dietary supplement, take one (1) Scoop with 8-12 fl oz of water. New users may wish to assess tolerance with 1/2 scoop.
REVIEWS
There is no review
Atsiliepimas Atsiliepimas