Xtreme PWO formulas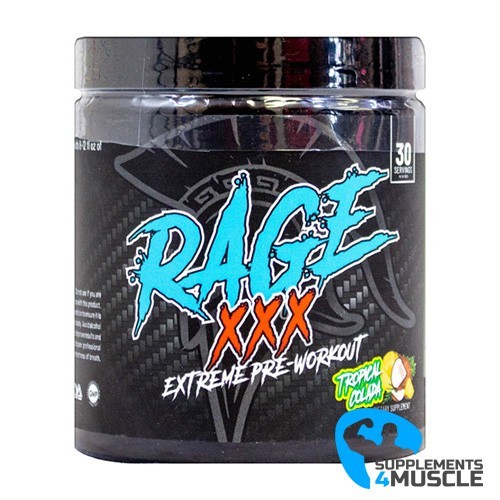 
DESCRIPTION
COMPOSITION
DIRECTIONS OF USE
REVIEWS
DESCRIPTION
Centurion Labz Rage XXX
Centurion Labz Rage XXX is a fresh pre-workout supplement with two different formulas; the Energy and Focus Blend and the Strength and Performance Blend. It is designed for experienced users who want a powerful stimulant, as well as the maximum muscle pump.
Rage XXX has been known to boost self-esteem, provide energy, and enable long and difficult training sessions. The two forms of yohimbine enable one to persevere mentally and facilitate more effective weight-loss. DMHA helps stimulate the CNS, boosts cognitive abilities, makes one more tolerant to pain, diminishes exhaustion, and enables an individual to maintain focus and restrain, despite challenging predicaments.
Beta Alanine is an amino acid required in order to create carnosine and it helps thwart the aging process by blocking the formation of proteins. It also bolsters the proper functioning and growing of muscles, in addition to fighting off muscle fatigue. This is especially useful in short-term intense workout routines, like weightlifting. An additional perk of taking beta-alanine is a tingling feeling known as paraesthesia. This is the result of the compound dilating blood vessels and helping them to transfer more oxygen and blood to the muscles.
Betaine Anhydrous helps to boost the body's functioning and maintain the health of the nervous system. Additionally, betaine is helpful for improving the hydration of the cells, since it is able to attract water molecules once it has been absorbed into the cell. Overall, this enhances the body's hydration levels and contributes to the sense of a 'muscle pump' that is experienced during exercise. The BGT-1 transporter assists with shuttling trimethylglycine throughout the body. Moreover, with its ability to stimulate nitric oxide production, betaine can work to widen blood vessels, allowing for improved blood flow, and better supply of nutrients, to the muscles.
L-Taurine - an amino acid that is particularly prominent in high-growth organisms - has been found to boost cognitive ability and is often recommended as an effective support for students. It not only enhances mental functions, it also does wonders for one's mood. It is so powerful in this regard that it is endorsed as a form of remedy for any unease caused by excessive alcohol intake.
Anhydrous caffeine has been demonstrated to increase the production of adrenaline and noradrenaline, and consequently has thermogenic and appetite suppressing effects. Furthermore, it has been discovered to generate the neurotransmitters dopamine, acetylcholine, and serotonin which induce a stimulating effect and improve cognitive functions. All in all, caffeine's combined effects help to keep people energized during workouts, and helps them to stay in good spirits despite a calorie deficit.
2-Aminoisoheptane, otherwise known as dmha or octodrine, is a stimulant with a bronchodilatory effect which enhances our aerobic capacity (narrowing blood vessels, causing an increase in the oxygen flow rate) . Additionally, it  acts as a decongestant, causing a widened flow of oxygen without inducing "stupor". In comparison to dmaa, it also amplifies your senses.
Hordenine HCL is a substance found in nature that occurs in small amounts in plants. It operates mainly through amplifying and preserving norepinephrine, leading to more energy, increased metabolism and decreased hunger. Consumers of hordenine use it for three primary reasons: to help with fat loss, appetite regulation and energy amplification.
Theophylline Anhydrous has a caffeine-like behavior which improves respiration and boosts the circulation of blood in the body. It is a phosphodiesterase inhibitor, raising the level of cyclic AMP inside the cells, and in turn encouraging the breakdown of fat and an increase in attentiveness and a decrease in tiredness. These characteristics make theophylline a great addition to both fat-burning and pre-workout supplements.
Rauwolfia vomitoria, which belongs in the Apocynaceae family, is a shrub native to tropical areas of Africa that has made its way to other parts of the world, like Asia. This extract boasts antioxidant, anti-inflammatory, and analgesic powers, aiding in the metabolism of carbohydrates and insulin, countering cancer, and improving mental health. The concentrated rauwolscine or isohimine extract is used to primarily target the central nervous system and stimulate fat loss. By blocking cholinergic system activity, adrenaline levels increase, stimulating the body and boosting the lipolysis process. This then reduces α2-adrenergic receptors, triggering an increase in adenylyl cyclase and cAMP, resulting in more fatty acid oxidation in the mitochondria. Furthermore, it stimulates the burning of stored adipose tissue commonly located in the lower abdomen and hips.
Yohimbine HCL can help tackle that difficult fat that usually resides in the thorax and lower waist in men, and the hips, buttocks, and thighs in women. It helps give shape to places where slimming often fails to have an effect. It is important to note that yohimbine can effectively counteract insulin, so it shouldn't be taken alongside meals that contain carbohydrates. The best time to take it is while fasting or prior to exercise.
Vitamin B6's compound pyridine is important for the metabolism of zinc, helping with the absorption of magnesium, aiding in the creation and breakdown of glycogen in muscles, and facilitating protein and nucleic acid synthesis. It is also used in the conversion of tryptophan into serotonin, the hormone responsible for happiness.
Vitamin B3 can help upgrade how well the central nervous system functions. Boosting the activity in mitochondria, which are in the nucleus accumbens, has effects on improving an individual's mental wellbeing. This might include increased assurance, a reduced amount of stress and worries. Also, niacin can ensure that the cholesterol levels are accurate, contribute to the production of red blood cells and better the quality of skin, hair, and nails.
COMPOSITION
Serving Size: 1 Scoop (9.4g)
Servings Per Container: 30
| | | |
| --- | --- | --- |
| | Amount Per Serving | %DV |
| Vitamin B6 (as Pyridoxine HCL) | 2.5mg | 141% |
| Vitamin B3 (as Niacin) | 30mg | 187.5% |
| Strenght and Performance Blend | | |
| Beta Alanine | 3200mg | ** |
| Betaine Anhydrous | 2500mg | ** |
| L-Taurine | 1000mg | ** |
| Energy and Focus Blend: | 692.2mg | ** |
| Caffeine Anhydrous, 2-Aminoisoheptane, Hordenine HCL, Theophylline Anhydrous, Rauwolfia Vomitoria Root Extract (Std. min 90% Alpha Yohimbine), Yohimbine HCL | | |
DIRECTIONS OF USE
As a dietary supplement, take one (1) Scoop with 8-12 fl oz of water. New users may wish to assess tolerance with 1/2 scoop.
REVIEWS
There is no review
Atsiliepimas Atsiliepimas