Xtreme PWO formulas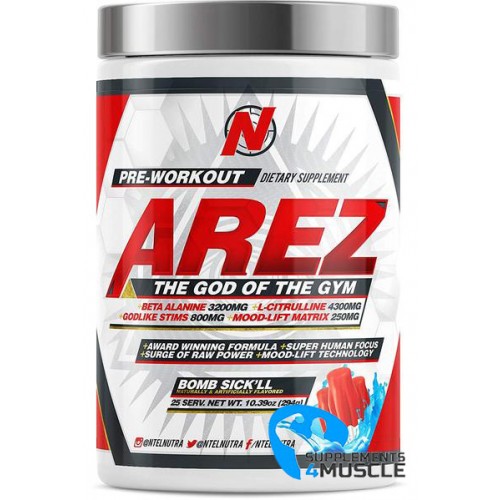 
DESCRIPTION
COMPOSITION
DIRECTIONS OF USE
REVIEWS
DESCRIPTION
NTel Nutra Arez 311g
WHAT HAPPENS WHEN GODS COLLIDE?
NTel Nutra Arez 311g is an incredible fusion of Arez Black and Arez White pre-workouts, granting you with both muscle pumps and additional focus during your gym sessions. Become the leader of the gym with this amazing supplement that comes in delicious flavors such as Sets on the Beach, Baja Blue Wave, Rainbow Sherbert, and Bomb Sick'll. By taking NTel Nutra Arez 311g, you will gain muscle mass, size, and definition like never before, as well as an energy boost that exceeds your expectations.
Turn to NTel Nutra Arez for the ultimate edge. Its key ingredients like beta-alanine can significantly increase the carnosine concentration in your muscles. Not only that, the active and non-active stimulants provide an increase in your mental performance. Including improved alertness, focus and concentration so that you can accomplish everything you set out to do and surpass your personal goals. Keep up with your daily activities and reduce your worries with this consequential supplement.
Using NTel Nutra Arez helps you enhance your workouts with more extreme pumps and longer and harder work outs. It also increases muscle mass and size and gives your muscles a fuller and more defined look. It prevents fluid retention and bloating and improves vascularity in your muscles. Buy it today from Supplements4muscle.com, one of the most trusted and reliable names in sports, fitness, and bodybuilding supplements. It's perfect for contest prep, off-season, and bulking and will help you become bigger and stronger in no time.
COMPOSITION
Serving Size: 1 scoop (12.4g)
Servings Per Container: 25
| | |
| --- | --- |
| Nutrition value | 1 portion |
| Niacin (as Nicotinic Acid) | 20mg |
| Hyper-Pump Catalyst | |
| L-Citruline | 4,3g |
| Beta-Alanine | 3,2g |
| Betaine Anhydrous | 1g |
| Niacin (as Nicotinic Acid) | 20mg |
| GODLIKE Energy Surge | |
| Lotus Leaf Extract 10:1 | 300mg |
| Beta Phenylethylamine HCL | 200mg |
| Caffeine Anhydrous | 300mg |
| Grains of Paradise Extract | 5mg |
| Devil Pepper Extract | 225mcg |
| MIND X MUSCLE Fusion | |
| Alpha GPC 50% | 100mg |
| Hordenine HCL | 20mg |
| Huperzine A 1% | 100mcg |
| Mood-LIFT Matrix | |
| Chinese Skullcap 4:1 | 200mg |
| N-Methyltyramine HCL | 50mg |
| Anti-Crash Protocol | |
| Velvet Bean Extract | 185mg |
| Anti-Adapt Regimen | |
| Rhodiola Rosea | 100mg |
Other Ingredients: Citric Acid, Silica, Malic Acid, Natural and Artificial Flavoring, Tartaric Acid, Calcium Silicate, Sucralose, Acesulfame Potassium (Ace K), FD&C Yellow 5, FD&C RED 40
DIRECTIONS OF USE
Suggested Use: As a Dietary supplement, mix 1 scoop of Arez with 8 ounces of cold water. Consume 15 to 30 minutes prior to training. Do not consume Arez within 4 hours prior to bedtime. Do not consume more than 1 scoop of Arez per day.
REVIEWS
There is no review
Atsiliepimas Atsiliepimas