PREWORKOUTS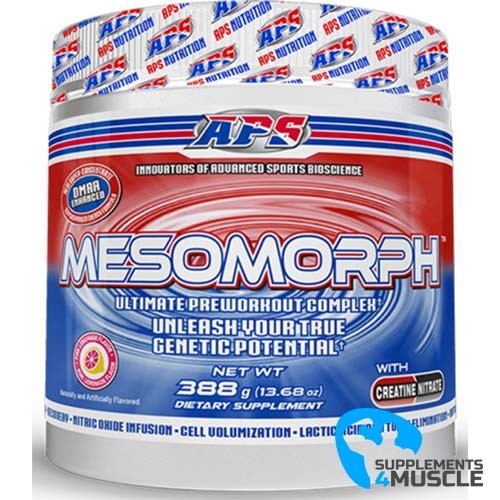 
APS Mesomorph DMAA US VERSION
The Ultimate Preworkout Complex... Unleash Your True Genetic Potential! 
DESCRIPTION
COMPOSITION
DIRECTIONS OF USE
REVIEWS
DESCRIPTION
APS Mesomorph DMAA US VERSION
APS Mesomorph DMAA US VERSION one of the best pre workout of all time! Mesomorph, the complete pre-workout powder that is the only product on the market to deliver FULL CLINICAL DOSAGE AMOUNTS of its state-of-the-art ingredient! No fillers and no crash!
No fillers means no upset stomach or bloating!
Alpha-Male aggression.
Endless endurance. The last rep feels like the first allowing you to push harder & longer.
Up to 4 times more muscle-building, energy-igniting active ingredients over other leading brands.
Over 4000mg of beta alanine and over 5000mg of citrulline malate in each serving!
Most comprehensive Thermo-energy matrix ever put in a pre-workout powder.
Skin-splitting vascularity and insane pumps!
Maximize Strength, Stamina, & Recovery!
Eliminate Lactic Acid & Toxins!
Boost Immunity & Eliminate Free Radicals with Optimal Antioxidant Delivery!
Why is Mesomorph so effective?
Mesomorph is the first to deliver full doses of its key active, pharmaceutical grade, & muscle swelling ingredients......not half doses typically seen in these types of formulas. These ingredients include Beta-Alanine, L-Citurline, an ample amount of the super supplement Icariin 50, not seen in other powders, and Creatinol-O-Phosphate for maximum performance!
COMPOSITION
Serving Size: 15.5 grams (one round scoop)
Servings Per Container: 25
Amount Per Serving
%Daily Value
SYNTHENOX-CARNOSINE/NITRIC OXIDE COMPLEX:
Beta Alanine, L-Citrulline DL-Malate 2:1, Arginine Alpha Ketoglutarate
6,500mg
*
MESOSWELL-CELL VOLUMIZING ATP MATRIX:
Di-Creatine Malate, L-Taurine, Creatine Nitrate, Ascorbic Acid 300mg 500%**, Creatinol-O-Phosphate, Agmatine Sulfate
4,500mg
*
NEUROMORPH-NEURO ENERGIZED STIMULANT MATRIX:
Glucoronolactine, Methylxanthine Anhydrous, 3,7-Dihydro-3,7-Dimethyl-1H-Purine-2,6-Dione, Naringin (fruit), Geranburn™ (1,3-Dimethylamylamine HCL)
1,870mg
*
*Daily value not established
**Percentage Daily Values are based on a 2,000 calorie diet
Other Ingredients: Malic Acid, Natural & Artificial Flavours, Acesulfame-K, Sucralose, Silicon Dioxide, FD&C Red #40.
DIRECTIONS OF USE
Suggested Use: Once tolerance has been determined, mix one scoop of Mesomorph® with 8-10oz of water, stir adequately, and consume on an empty stomach approximately 30-40 minutes prior to exercise.