Xtreme PWO formulas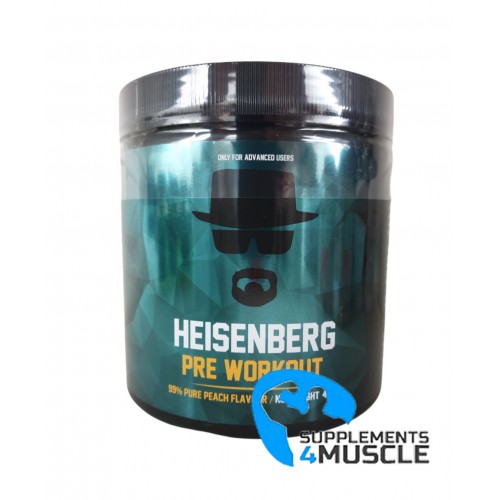 
DESCRIPTION
COMPOSITION
DIRECTIONS OF USE
REVIEWS
DESCRIPTION
Heisenberg Pre-Workout 420g
Have you ever questioned why fitness buffs and bodybuilders are the stars of the gym, and why those who can't seem to gain substantial muscle mass don't have that same success? The answer is Heisenberg Pre-Workout.
This formula contains Citrulline Malate, Arginine AKG, Beta-alanine, Taurine, Creatine Monohydrate, Agmatine Sulfate, Creatine nitrate, L-Ascorbic Acid (Vitamin C) and etc.
Take your weight lifting routine to an advanced degree and feel tremendous strength, an increased blood supply, and plentiful energy while exercising!
Why choose Heisenberg Pre-Workout 420g? This ultimate pre-workout extreme formula will provide you with an explosive burst of energy and physical performance when you need it. It will help make your workout sessions more productive, improve your performance, and promote increased energy and stamina. It also helps improve your sense of wellbeing, is completely safe and made from natural and potent ingredients, and promotes lean muscle gains. Additionally, it naturally increases testosterone while reducing estrogen, boosts muscle mass, size, and definition, and enhances protein synthesis and nitrogen retention levels.
Get the boost you need to make your workouts more effective with Heisenberg Pre-Workout. Experience improved performance during your training sessions with increased energy levels and greater focus. Skip the plateaus you've been reaching with this advanced pre-workout supplement and increase intensity. Buy your 420g Heisenberg Pre-Workout now to maximize your gym results!
COMPOSITION
Container size: 420g
Serving size: 14g (one scoop)
Servings per container: 30
Amount per serving
Citrulline Malate 
3500mg
Arginine AKG
3000mg
Beta-alanine
2500mg
Taurine
1000mg
Tyrosine
500mg
Agmatine Sulfate
750mg
Creatine nitrate
500mg
Creatine Monohydrate
500mg
Anhydrous Caffeine
300mg
L-Ascorbic Acid (Vitamin C)
200mg
Vitamin B6
50mg
DMAA 1.3
70mg
Yohimbine HCL
8mg
DIRECTIONS OF USE
Recommended use: mix 1 scoop with 200ml of water. Drink 1 serving size about 30 minutes before your workout.